News > Voices
Bringing the world to students
Thu., June 16, 2005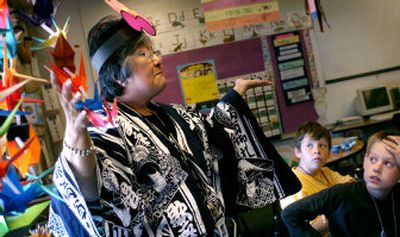 Opportunity Elementary School student Chet Doan became a world traveler Friday.
"I got to visit the Caribbean and Switzerland, all before lunch," said Doan, 9, who just arrived in Japan. "And I still get to go to Australia and Spain."
It was International Day at the Central Valley school, where 26 classrooms were transformed into countries like the Dominican Republic, Tanzania, Spain, Ukraine and Lebanon.
Students selected five countries they wanted to visit throughout the day.
"Many of these kids will not have the opportunity to experience other cultures," said Principal Tammy Campbell. "So this is a way to bring the world to our children."
In Lillian Smith's classroom, students were working hard on a paper hat in the shape of an Ume, a Japanese plum blossom.
Smith's daughter made the same hat as a first-grader living in Japan, where Smith taught for the U.S. Department of Defense for 19 years.
"This is their chance to be world travelers," Smith said dressed in a kimono, a traditional Japanese robe. It's an experience they will always remember."
Japan was 6-year-old Jeremy Percival's third stop
"I went to India," he declared. When asked what he learned about India, Percival said, "they don't eat cows."
According to his itinerary, he also had been to Mexico and still had Italy and Ghana to visit after lunch, which included different cuisines from selected countries.
"This is by far the best thing we do all year," said fourth-grade teacher Dina Murphy. Smith and Murphy both hosted Japan in their classrooms.
Unlike Smith, who focused on old Japanese traditions, Murphy shows the students visiting her room a Microsoft PowerPoint presentation of modern-day Japan.
"They get to see that the cities look very similar to our own. They see things like Mug root beer and McDonalds," Murphy said. "It helps them see that this is a culture not very different from our own."
Local journalism is essential.
Give directly to The Spokesman-Review's Northwest Passages community forums series -- which helps to offset the costs of several reporter and editor positions at the newspaper -- by using the easy options below. Gifts processed in this system are not tax deductible, but are predominately used to help meet the local financial requirements needed to receive national matching-grant funds.
Subscribe now to get breaking news alerts in your email inbox
Get breaking news delivered to your inbox as it happens.
---