News > Home
Make sure bargain's real
Thu., June 16, 2005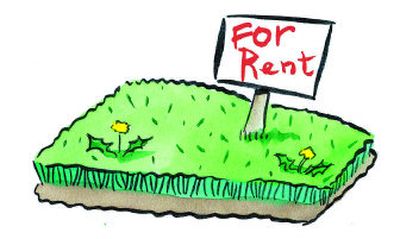 The warm summer months – while kids are out of school and days are long and sunny – are a busy time at area apartment complexes. For the savvy shopper, it's a good time to compare deals. Competing for business, those with space to rent may offer enticements to lure renters.
Incentives typically include:
Move-in discounts. Apartment owners are willing to forgo the deposit and for a buck, or a steep discount, sign you up for a lease.
One month free rent. Same deal. If you sign up for a year or more, you get one month free.
No deposit. Most leases require first and last month's rent as a deposit. To bring you onboard, agents may be willing to skip the deposit.
Freebies. Free utilities, cable or high-speed internet service or washer and dryer.
Gifts. Check ads for free gifts like a DVD player, gift certificate or other bonus at sign-up.
Apartment rental incentives are great, but Bill deWeber, president of the Inland Empire Rental Association warns that they shouldn't be the first thing you consider.
When shopping for an apartment, and weighing enticements and incentives, a renter should always do his or her homework. Make sure that the discount is real.
"You want to make sure the discount that is being offered is a real discount," de Weber says, "and not just added to the year's rent."
Compare other factors before signing a lease. Is the apartment complex convenient to your workplace? Is it close to shopping and recreational facilities?
Check out the make-up of the community. If you are a young, single, person you may require a different set of amenities than you might find in a complex that is home to retirees and senior citizens. Likewise, an empty-nester might prefer a quiet community without a bustling clubhouse.
For those with children, proximity to schools and school bus stops are important factors in choosing a rental. The important thing is to choose wisely.
Zan Deery, communications and investigations director at the Better Business Bureau, says a renter should take a few simple steps before signing a lease.
"Call us and ask questions," Deery says. "Get specific information about rental agents; find out if there have been complaints."
Deery recommends making another trip, alone, to the apartment community that interests you. "Talk to some of the other tenants when the manager isn't around," she says. "That kind of feedback is valuable."
She also advises prospective renters to take time to consider any deal. "You should be able to take the contract home and read it before you hand it back over," she says.
"It's just like shopping for a car," deWeber says. "Find what works the best for you, find your best deal, and then talk incentives."
He makes the point that ultimately, the right apartment matters more than the extras that were offered.
"In a few months, when you realize you are in an apartment you don't really like," deWeber says, "that incentive won't seem so great."
Local journalism is essential.
Give directly to The Spokesman-Review's Northwest Passages community forums series -- which helps to offset the costs of several reporter and editor positions at the newspaper -- by using the easy options below. Gifts processed in this system are not tax deductible, but are predominately used to help meet the local financial requirements needed to receive national matching-grant funds.
Subscribe now to get breaking news alerts in your email inbox
Get breaking news delivered to your inbox as it happens.
---