Sports
Pathon is where he wants to be
Thu., June 16, 2005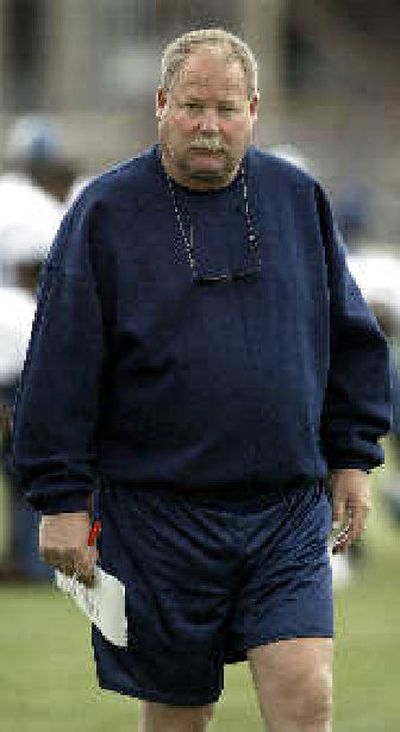 KIRKLAND, Wash. – The virtues of patience not only landed Jerome Pathon his dream job, they also earned him a realistic chance at a coveted starting spot.
Pathon lingered through free agency for 50 days before finally signing a contract with the Seattle Seahawks on April 21. He waited until the day before the draft to sign a three-year contract worth just more than $3 million – mere chump change by NFL standards.
In the end, Pathon was happy with the results.
"I came to the place where I wanted to be," he said. "You always have intentions, and sometimes not all your intentions are met in free agency. I'm thankful for that and happy to be here."
What Pathon may have sacrificed in riches, he made up for in proximity. A native of Vancouver, British Columbia, and University of Washington product, Pathon got to return to the Pacific Northwest.
Now that Koren Robinson has been released, Pathon has a shot at starting. He is third among Seattle's current receivers in career receptions (259) and looked like the front-runner to replace Robinson at split end when camp began.
But coach Mike Holmgren said Tuesday that he was concerned with Pathon's conditioning, adding that Bobby Engram has the inside track on the starting job.
"Jerome has to get going a little bit," Holmgren said. "I don't think he's in great shape. Our receivers run all the time; they're going all the time. He's just got to learn how to do things."
Pathon admits that he needs to shed about five more pounds to get down to his natural playing weight of 193. But he added that his weight is typical for this time of year.
"He's entitled to his opinion," Pathon said Wednesday of Holmgren's comments. "He's the head coach, and he can say whatever he wants to say. But at the same time, it's still the off-season. We still have to go into the desert (at training camp in Cheney) and run around for two or three weeks, right? I think I'll find a way to get into condition then."
Pathon, 29, alternated as the New Orleans Saints' No. 2 and No. 3 receiver last season. His 34 receptions were a career low for seasons in which he played at least 11 games.
The off-season saw plenty of wide receivers change teams, from Randy Moss to Derrick Mason to Plaxico Burress, and Pathon kind of got lost in the shuffle. After visits to Detroit and Seattle, he opted to sign with the team that plays in the same city where he attended college.
"Geographically, there really wasn't a comparison between Seattle and Detroit," Pathon said. "I don't know if you've ever been to Detroit, but it's like living out in Renton. It's like living out in the suburbs. There's really no atmosphere."
Between his ties to UW and his B.C. roots, Pathon should have a pretty good following on home Sundays in the fall. Before that can happen, he'll have to earn playing time on a receiving corps that already includes veterans Engram, Darrell Jackson and Joe Jurevicius, as well as talented young prospects like Jerheme Urban and Taco Wallace.
"There are a lot of young receivers on the team that are good players too," Pathon said. "I don't see it as direct competition. I just have to stay focused, do my job out there and see what happens.
"I feel like I have something to prove every year. I've never proved that I was the best at my position. I'd like to prove that, and I'd also like to win a championship. There are a lot of goals that I haven't met yet that I'd like to meet."
Notes
Quarterback Matt Hasselbeck returned to the team after attending funeral services for one of his grandparents. "I felt a little stiff, a little rusty, like I was going though the motions," he said. "But it's pretty therapeutic just to be out there and keep your mind off things for a while." … Holmgren turned 57 on Wednesday. … The Seahawks signed two free agents: Texas tight end Brock Edwards and Clemson offensive lineman William Henry. Both were NFL Europe players who will fill roster allocations that were left open when cornerback Kevin House and tight end Tony Donald got hurt playing in Europe.
Local journalism is essential.
Give directly to The Spokesman-Review's Northwest Passages community forums series -- which helps to offset the costs of several reporter and editor positions at the newspaper -- by using the easy options below. Gifts processed in this system are not tax deductible, but are predominately used to help meet the local financial requirements needed to receive national matching-grant funds.
Subscribe to the sports newsletter
Get the day's top sports headlines and breaking news delivered to your inbox by subscribing here.
---