News > Voices
The 'institutions'
Thu., June 16, 2005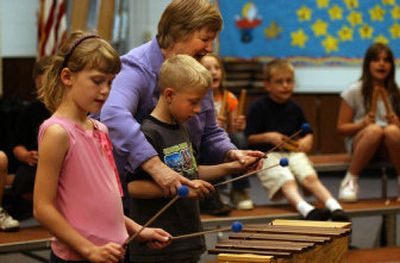 Together, East Valley School District music teachers Bruce Preuninger, Mary Jayne and Linda Wruble have more than 80 years of experience. Affectionately known as "institutions" within East Valley's music programs, the trio have spent the better part of a lifetime touching the lives of countless children across every grade level, teaching in nearly every East Valley School.
They have organized hundreds of concerts for children to show off what they know, and passed on the love of music to thousands of young musicians, singers and songwriters.
"It's been the best job, really, in the whole wide world," said Wruble, the music teacher at Skyview Elementary School. "I mean, how many people get to come to work and sing and dance every day?"
Preuninger, Jayne and Wruble will all retire this year, after 33, 27 and 25 years, respectively.
"I've been the luckiest person in the world, that's how I feel," Jayne said. "I have two great loves in my life; I love kids and I love music, and I've been able to combine those in my professional world. It doesn't get any better."
For Preuninger, the band teacher at Mountain View Middle School, his love of music and his desire to teach started when he was in the fifth grade on Spokane's South Hill.
He was in an All-City Band program that met once a week on Saturdays.
"That was back when there was very little competition for things to do on Saturday," he said. But after one day, he knew music would become his life's work.
"I was hooked. There was never a question from that point on that there could be anything as rewarding as teaching," Preuninger said.
Preuninger said he hopes to do some traveling when he retires. He'll continue to do some composing and arranging on the side, with hopes of publishing some of his work.
Jayne is the orchestra teacher at East Valley Middle School, and started with the district in 1986, after taking six years off to raise her children. She previously taught in Spokane Public Schools, helping to create an orchestra program at Garry Middle School when it opened in 1971.
She went on to become the music coordinator for grades kindergarten through eighth for Spokane, before taking leave.
Since her return to music in 1986, she said, she has watched as East Valley's program has grown exponentially.
"We had 135 orchestra kids in our entire district when I started," Jayne said. "Two years ago we topped out at 525. That's incredible"
Jayne, 57, plans to use her retirement to teach privately, and may volunteer to be a substitute teacher every once in a while.
Wruble, who also took time off from teaching to raise her children, has been with East Valley for 16 years. She came back as a substitute, and never left.
Her musical roots also go back to her childhood, when she was 6.
"I started our playing piano," Wruble said.
She had a great-uncle who played the fiddle, and she would accompany him. She played her first wedding when she was in the sixth grade in Creston, Wash., where she grew up.
Wruble plans to travel and spend time with her grandchildren, three of whom live in Texas. She also will continue to direct the choir at Foothills Community Church on Forker Road, where she is a member.
"Music is just the best medicine," Wruble said.
She remembers vividly how the Sept. 11, 2001 terrorist attacks on the World Trade Center in New York City and the Pentagon in Washington, D.C., trickled into her classroom.
"The kids came in that day, very somber," Wruble said. "So we just started singing, and right away that helped."
"Kids who have problems outside or even in school, can often find sanctuary in a band, choir or orchestra," Preuninger said.
The teachers talked about the challenges that future music teachers will face in the public school system, and the need to support the programs.
"We've been lucky, because our school board has been very supportive of our programs," Jayne said.
Music, art, and drama are usually the first programs cut from the schools to help foot the bill for new national mandates required under the No Child Left Behind Act.
With more emphasis on standardized testing, like the Washington Assessment of Student Learning, music simply takes a back seat, the teachers agreed.
"Ever since I started teaching, there has been a gray cloud hanging over the music and the arts," Preuninger said. "Every year it seems we have to make sure our programs are justified, educationally."
Wruble said the loss of music programs would be absolutely devastating; the performing arts are essential for a well-rounded education.
"We can't teach to the brain and the intellect if we don't reach the soul," Wruble said. "Music has that ability to reach into the soul. If we're not providing that, then we're not teaching to the whole child."
Local journalism is essential.
Give directly to The Spokesman-Review's Northwest Passages community forums series -- which helps to offset the costs of several reporter and editor positions at the newspaper -- by using the easy options below. Gifts processed in this system are not tax deductible, but are predominately used to help meet the local financial requirements needed to receive national matching-grant funds.
Subscribe now to get breaking news alerts in your email inbox
Get breaking news delivered to your inbox as it happens.
---