News > Business
Agents in training
Sun., June 19, 2005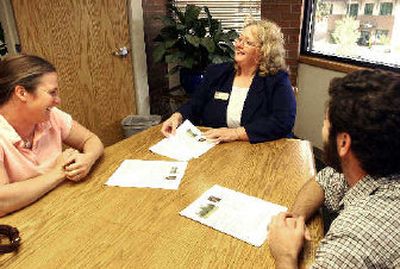 POST FALLS – Bill Hatch is deep into a lecture on real estate law. His students have been sitting for nearly two hours, but most are diligently tracking the details of Realtors' legal responsibilities in the sale of former meth houses. Contractors and waitresses jot down notes. Investors sit alongside housewives. The class's 58 pupils are a diverse lot with a common goal: They all want to sell real estate.
Scores of people are entering the competitive field of real estate, attracted by a sizzling national housing market, visions of lucrative commissions and a short educational commitment.
"You name anything else where you can go to school for two weeks, take a test, get finger-printed, and in a few years be making a salary in the six digits," said Denine Hilbert, a former paralegal who is enrolled in Hatch's class. "If you're good at sales," she believes, "you'll do well."
Hatch's "Real Estate 101" classes, taught at North Idaho College's Workforce Training Center, have waiting lists. Each year, he teaches six of the sessions, which prepare students to take Idaho's real estate licensing exam. At Pro Schools in Spokane, which offers a pre-licensing course for Washington residents, enrollment has doubled over the past year.
"Real estate's the hot sector of the economy right now," said Rob Higgins, executive vice president of the Spokane Association of Realtors. "People are looking at it, saying, 'Hey, that might be the area where I should be working.'"
Over the last two years, the number of Realtors represented in the Coeur d'Alene Multiple Listing Service grew by 60 percent, and the number of Realtors in the Spokane Multiple Listing Service grew by 30 percent.
The newcomers are joining an ultra-competitive field. Though prices and sales volume are setting records in both counties, inventory is tight, and new listings are hard to come by. Kootenai County has 1,000 Realtors, and just 1,250 homes for sale.
Hatch is blunt with students about their prospects. Turnover is notoriously high in real estate. The average real estate sales career lasts eight years, and many agents leave the profession after just one year, according to national statistics.
It isn't a get-rich-quick job, either. The median salary for agents was $39,300 in 2002, according to the National Association of Realtors. For brokers, it was $65,300. "It's sales and it's paid on commission only," said the Spokane Association of Realtor's Higgins. "It's a tough, tough business."
As part of his class, Hatch tells tales of his starving years selling real estate in the 1980s, when interest rates hit 18 percent.
"I don't pull any punches," he said. "I don't want people to go out the door thinking it's an easy life. …I scare a few off, but surprisingly few."
Hilbert is one of the undeterred. She signed up for the class with the intent of learning more about real estate investing. Friends encouraged her to get her license as well, telling the gregarious mother of four that she'd be a natural at sales. A few sessions into the class, Hilbert found the material so absorbing that she decided to take the exam.
Hilbert figured she was already selling North Idaho. The recent California transplant sends family and friends in the Mojave Desert glowing accounts of the region's scenery, weather, and quality of life. Some are considering moving north.
"While I'm bragging, I could make some money here," she said.
Hilbert, however, also takes a pragmatic view. She knows the real estate boom won't last forever. Analysts are already pondering the impact of speculative buying. Nationwide, nearly one in four homes purchased last year was for investment purposes, according to the National Association of Realtors. If real estate costs continue to rise – pricing first-time buyers out of a home purchase – demand will start to fall and the market will soften, some analysts believe.
"Eventually, this bubble will pop, and a lot of people will leave real estate," Hilbert said. "Maybe, I'll be one of them."
Kelly Hanson works as a trainer/mentor for GMAC Real Estate Northwest in Coeur d'Alene, coaching new agents through their first year on the job. A bit of extra guidance, he believes, makes the difference in whether a new agent will succeed.
Hanson's advice comes from experience. He started in real estate in 1988, with zero sales background, no financial cushion and a family to support. Before his first sale, Hanson sold off his pickup, cherished camera equipment and even camping gear to stay abreast of the bills. Six months to a year's worth of reserve income is critical for new agents, Hanson said. In some instances, he encourages new agents to keep their old job for a few months, before making a full-time leap into real estate.
"If a Realtor is hungry for a sale, and trying to force a sale through so they'll have income that month, they're hurting the public," Hanson said. "They're working for their best interests, not yours."
Hanson, a self-described introvert, also found it difficult to talk to new people. He'd previously worked as a cowboy, a truck driver, and a lumber grader. "None of those jobs required special communication skills," Hanson said. "The broker in his wisdom said, 'You need to go to Toastmasters, Kelly.' "
He credits the public speaking classes for making his career.
GMAC applicants also take a 45-minute real estate simulator test, designed to assess their ability to communicate, potential to work in sales, and emotional resilience. Rejection is a constant part of sales, Hanson said.
"I can teach the closing skills," he said. "The emotional resilience is something more difficult to teach."
Debra Coppernoll joined GMAC Real Estate Northwest last summer. Unlike Hanson, she had extensive sales experience. For nearly a decade, Coppernoll worked as the manager of a plus-sized women's apparel store. The job had parallels to selling real estate. Both fields require a tactful honesty.
"I talked people out of as many outfits as I sold to them," Coppernoll said. "But when you can help someone find something in their size, that's the right color, with a good fit, it's a real boost to their self-esteem."
She gives real estate the same single-mindedness, striving for the perfect house for each client. Her cell phone is on 6 ½ days each week. Some nights, she's still at the office at 10:30 writing contracts. And she attends at least one networking event each week, prospecting for potential clients.
Coppernoll sold 13 homes during her first year in the business, winning her office's "rising star" award. When she calculated her income from the first sale, the wages worked out to 92 cents per hour.
But Coppernoll can see herself continuing in real estate. She finds the work demanding, but emotionally rewarding.
"I can't think of anything better than helping someone find their dream home," she said. "It's like being Santa Claus, only better."
Local journalism is essential.
Give directly to The Spokesman-Review's Northwest Passages community forums series -- which helps to offset the costs of several reporter and editor positions at the newspaper -- by using the easy options below. Gifts processed in this system are not tax deductible, but are predominately used to help meet the local financial requirements needed to receive national matching-grant funds.
Subscribe now to get breaking news alerts in your email inbox
Get breaking news delivered to your inbox as it happens.
---