News > Nation/World
Copter crash 'surreal' for MBNA executive
Sun., June 19, 2005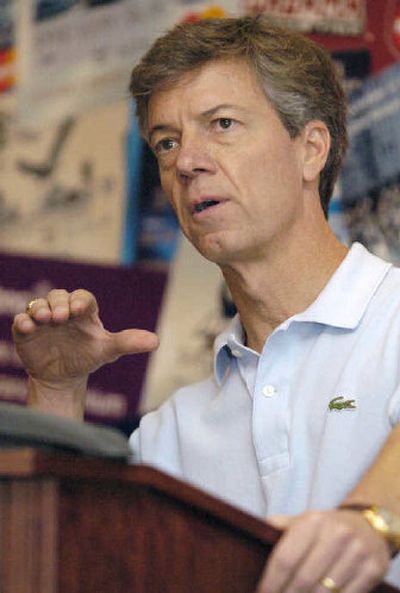 WILMINGTON, Del. – Holding his breath while submerged in New York's East River, Lance Weaver knew the door of the crashed helicopter had to be opened quickly or he and seven others trapped inside would drown.
"It was, for me, a bit of a surreal experience, where you think momentarily, 'This can't be happening,' " said the senior vice chairman of Delaware-based MBNA Corp. "Then you realize very quickly that it is, in fact, happening."
Weaver spoke about the harrowing crash Saturday at the company's headquarters in Wilmington. He was among six executives who were returning to Delaware after a meeting Friday when the helicopter went down just after takeoff.
Officials are faced with twin investigations after that helicopter and another crashed into the East River the same week, both within minutes of taking off. On Tuesday, a sightseeing helicopter crashed near the Wall Street heliport.
A total of 15 people survived the two crashes. One remained in critical condition Saturday.
"We're casting a big net right now," National Transportation Safety Board investigator Brian Rayner said at a news conference Saturday.
Weaver described the takeoff as typical but said the aircraft started losing altitude and crashed a minute later. The businessmen were turned upside-down in the river as water rushed in, forcing them to hold their breaths.
Weaver and Richard Struthers, a vice chairman of international and commercial lending, tried to open the door before they sank deeper.
"We were completely disoriented," Weaver said. "The cabin was full of water, and I knew in my mind that we needed to get that door open – that time was of the essence."
Struthers grabbed the handle, and Weaver heard the latch pop. Then the helicopter rocked slightly, allowing Weaver to throw his weight against the door and open it.
Weaver, the first one out, was instantly caught in the East River's strong currents. Struthers escaped next, grabbing the copter's tail. As Weaver drifted, he saw his colleagues emerge one by one from the sinking aircraft.
Weaver said he felt comfortable swimming amid the currents. But the others, including one of the pilots, Mark Schaberg, who remains in critical condition, struggled.
The other pilot, Blair Payton, "acted very heroically in making sure that the pilot who was much more injured was pulled up and out of that water, and he kept him afloat for a period of time – or I'm not sure he would have made it," Weaver said.
There were flotation devices on board, but no one had time to put them on, company attorney Louis Freeh said.
The executives were treated and released from a New York hospital.
Local journalism is essential.
Give directly to The Spokesman-Review's Northwest Passages community forums series -- which helps to offset the costs of several reporter and editor positions at the newspaper -- by using the easy options below. Gifts processed in this system are not tax deductible, but are predominately used to help meet the local financial requirements needed to receive national matching-grant funds.
Subscribe now to get breaking news alerts in your email inbox
Get breaking news delivered to your inbox as it happens.
---