Sports
Jacobsen aces test
Sun., June 19, 2005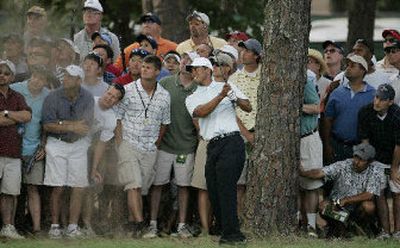 PINEHURST, N.C. – Peter Jacobsen knew his shot was good. Then he worried that it might have rolled over the green, like so many other at Pinehurst No. 2.
Not this one. Jacobsen's 7-iron was pure, and the ball plopped right into the hole after a couple of bounces for a hole-in-one Saturday in the third round of the U.S. Open, the first ace of the championship. More important, it was part of a 1-under-par 69 that put the 51-year-old Portland native and member of the Champions Tour in a tie for 11th.
Only leader Retief Goosen matched Jacobsen's score.
"If I said I thought I could win, I'd be lying," Jacobsen said. "I thought I could make the cut and play well. I've always been a fairly accurate driver, and always been a fairly good iron player. The U.S. Open is right down my alley."
He hasn't been in an Open since 1996, when he tied for 23rd at Oakland Hills behind winner Steve Jones, so after a victory in the U.S. Senior Open a year ago, Jacobsen was quick to take advantage of the USGA exemption to play at the course where good friend Payne Stewart won in 1999.
Putts drive Woods nuts
The routine was consistent, and increasingly painful, for Tiger Woods on the greens of Pinehurst No. 2.
Strike the putt, give it a little body English, then bend over in agony as if hit in the back of the head with a hammer.
Woods, trying to add the U.S. Open championship to the Masters title he won two months ago, endured one of his poorest putting rounds in a major. He needed 36 putts to get around in a 2-over 72, leaving him six shots off Goosen's pace.
"On most of my putts, I'm defensive, because they're uphill and then going straight away from me," Woods said. "If you hit it 3 feet past the hole, it's off the green. That's the nature of the putts. If you get a hair aggressive, it's off the green."
Woods missed the first green and the 18th green, but hit the middle 16 greens in regulation. For the Open, he leads the field in greens hit in regulation (42) but is 83d and last in putting (100 putts).
Snowman chills Mickelson
Phil Mickelson saw his long-shot chances of an Open victory vanish on the fourth hole when he drove his ball out of bounds and made a triple bogey 8.
Mickelson, the runner-up to the late Payne Stewart in the 1999 Open at Pinehurst No. 2, wound up with a 72, posting 16 pars and a birdie in addition to what players refer to with disdain as a "snowman." He is at 218, 11 strokes behind Goosen.
"I'm not going to go into the final round defeated," Mickelson said. "I feel that I'm going to give it everything I can."
Els considers brief break
Ernie Els is badly in need of some time off, and he might be willing to miss two of his favorite golf courses to recharge his batteries.
After twice turning potential birdies into double bogeys and shooting a 72, Els said he would skip the Barclays Classic next week at Westchester so he could go home to England. The other tournament he had planned to play between now and British Open is the Scottish Open at Loch Lomond, and he might miss that, too.
"I probably need a good break, come back with a bit of fire," Els said.
Every Every must have his day
Most amateurs would be happy simply to make the cut at the U.S. Open. Yet even as he did that, Matthew Every still thought about what might have been.
The rising senior at the University of Florida shot a 3-over 73 in the third round, staying in front of Ryan Moore of Auburn, Wash., in the race for low-amateur honors. Every's total of 221 leads Moore by two.
"I feel like I've done 75 percent of the job this week, but it's just been 25 percent just missing, not holing enough putts and really not hitting enough fairways," Every said.
Moore, the defending U.S. Amateur champ who turns pro next week at Westchester, shot a third-round 75 to match his score from the first round.
"The difference between the first round and this round is leaps and bounds," he said. "Unfortunately, the score is the same."
Local journalism is essential.
Give directly to The Spokesman-Review's Northwest Passages community forums series -- which helps to offset the costs of several reporter and editor positions at the newspaper -- by using the easy options below. Gifts processed in this system are not tax deductible, but are predominately used to help meet the local financial requirements needed to receive national matching-grant funds.
Subscribe to the sports newsletter
Get the day's top sports headlines and breaking news delivered to your inbox by subscribing here.
---