News > Spokane
Left with the pieces
Sun., June 19, 2005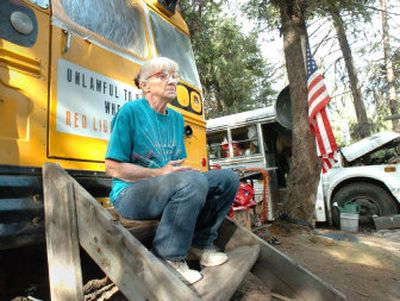 CUSICK, Wash. – The memories come back in pieces: A bus sitting in a clearing on a mountainside. The biting chill of the February morning. Two young faces pressed against the windows of the bus, watching.
In her two decades as a social worker, Edith Vance had seen children living in horrifying conditions. And she had witnessed the emotional – sometimes violent – responses of parents when the state intervened to remove their children. Still, she was as unprepared as anyone when the events of Feb. 16 spun into motion.
The scenes have played again and again in her mind. She can see the 35-year-old father sprinting from the yellow school bus, a machete grasped tightly in one hand. She can see the sheriff's deputy start down the mountainside, pursued by the man. She watches her friend and co-worker turn and flee behind a truck.
And then, she can see the man turn toward her, the weapon raised in his hand as he moves through the woods. She is too stunned to run.
He catches her easily. He is younger, stronger. She turns away just as he swings the machete. It lands on the back of her head, slicing her scalp, knocking her to the ground. The man straddles her, swinging the blade again and again as she covers her head with her arms.
Time slows. Each second stretches out like minutes. All she can do is pray. She recites the Hebrew words she learned as a little girl at a Jewish day school in Tennessee:
Shema Israel, Adonai Elohenu, Adonai Echad.
Hear O Israel: The Lord is Our God. The Lord is One.
As the last word slips from her mouth, the shots ring out.
Life in the margins
Washington state had been a dream for Russell since he first visited in 1993.
Then nine years ago, in a car laden with camping gear, Bryan Russell returned for another visit, driving from Denver to Washington state. This time, his girlfriend, Stephanie McFee, and his mother rode with him. As they headed north from Spokane, the road shifted from pavement to gravel to dirt, until at last the car climbed up a steep mountain road and came to rest on 20 acres in one of the most remote locations in Eastern Washington.
Here, Russell would build a home and start life anew. An unemployed lathe operator, Russell promised McFee a life of quiet solitude, the perfect place to raise a family. He envisioned a home among the pine trees surrounded by the Colville National Forest, with a view across the valley below.
But the hillside was so isolated, so far from the bustle of neighbors, McFee fought back tears. She was devoted to Russell. She liked his sense of humor and his artistic style – in his spare time he made tie-dyed clothes. When she met him in Denver in 1993, she didn't mind that he lived in a bus on the outskirts of the city. He paid only $50 a month in rent, she said.
After that trip to Eastern Washington, Russell returned to Colorado, working at Coors Ceramics and trying to save money.
It wasn't until 2002 that Russell moved his family, including two young children, to live in a bus in the woods that he had dreamed of. He had persuaded his mother to invest in 20 acres. They hauled drinking water in a barrel and used a gasoline generator to power lamps and a small radio. A wood-burning stove kept them warm on winter nights.
Russell began work on a cabin and made plans for another home on the property. But even as he seemed poised at last to realize his dream, it would quickly sour.
Over the years, he'd had a few run-ins with police. At 16, he stole a car stereo, according to his mother, Marcia Stevenson. While staying with McFee's family, he once struck her stepfather.
For families living in the margins in the rural West, it can sometimes feel that just being poor is against the law. But it is not against the law to live in yellow and white school buses with no running water or electricity. In the countless backroads wending through the timbered mountains of the Inland Northwest, it is not even uncommon.
So the condition of families like McFee and Russell's did not surprise Edith Vance, 52, a Child Protective Services social worker in the region for more than a decade.
In a typical month, Vance worked 30 cases – almost twice the caseload of 17 that is recommended by national child advocacy groups. She was one of two social workers patrolling Ferry County, a 2,200-square-mile area running north from Lake Roosevelt to a rugged and porous length of the Canadian border.
By many measures, it is one of the poorest counties in Washington state.
In the most recent census, per capita income was slightly more than $17,000, or about 74 percent of the state average. Ferry County has the highest percentage of people in the state of Washington receiving food stamps, and one of every three people rely on government health programs.
Vance knew that poverty can be a poor measure of parenting skills. The daughter of immigrants who survived the Holocaust, she grew up in Memphis, Tenn., surrounded by poverty. A social worker who handled immigrant families inspired her to pursue social work.
She quickly learned the dangers of the job.
On her first case after graduate school, a father in Tennessee retrieved a shotgun from his bedroom and told her it was time to leave.
"Nobody's taking my boy out of here," he said. Vance was able to resolve the incident peacefully.
Throughout her career in Tennessee, Texas and Washington, Vance routinely wept when she had to remove children from their parents' care. She believed it was a social worker's responsibility to help families and to protect children. But sometimes those dual responsibilities placed her at a crossroads: Preserve the family or protect the child?
'Horrible screaming'
During the winter of 2002, the temperature in the Inland Northwest often dipped into the teens. In January, it snowed 17 days. Six miles east of Curlew, Russell and McFee – with a 2-year-old son and a 1-year-old daughter – relied on a wood-burning stove for warmth.
The following winter, the family moved into an apartment in Republic. They survived on $440 a month in welfare, as well as food stamps. They lived in subsidized housing. With the help of a state program, McFee got a job at a gas station, and Russell did data entry work for Ferry County.
In December 2003, a social worker visited the home after an anonymous caller expressed concerns about the family's living conditions.
According to testimony later provided by a CPS social worker, the home was in such disarray that it constituted a health and safety risk to the children. McFee allegedly admitted to smoking marijuana and drinking even while she was pregnant with the couple's third child. She later tested positive for marijuana, according to the CPS worker's testimony.
Two months later, the social worker closed the case after McFee left for Denver, where she gave birth to the couple's younger son. In the meantime, Russell's mother, Marcia Stevenson, continued to live in the buses on the hillside.
In December 2004, Vance responded to a complaint about the couple's care of their children. She heard "horrible screaming" coming from an apparent fight inside the apartment in Republic.
Inside, she found soiled diapers, bags of garbage and empty beer cans lying around the apartment. The living room carpet was black with dirt, and the couple's youngest son was rocking back and forth inside a bassinet that was too small for him, Vance later testified.
"With the exception of one other house, this was the worst I had ever seen," she said.
McFee disputed Vance's account. She said she told Vance, "Why can't you people leave us alone?"
According to Vance, she returned to the apartment 72 hours later but could not locate the family. Without proof the children were living in Washington, the state ended their welfare payments. The family retreated to the buses on the mountain.
Cold to the touch
The mountains of Eastern Washington present unique challenges to social workers. Cell phones don't work. Tiny sheriff's departments may not have the resources to respond quickly. Hospitals can be dozens of miles away.
On Feb. 15, a child protection team, including representatives from law enforcement, public health and a child advocacy center, recommended that Vance visit the mountain retreat and re-evaluate the family's condition.
Vance patched together a team. Unnerved by her previous visit, she asked Deputy Carroll Sharp Jr. to go with her. Because budget cuts had left Vance's office understaffed, she asked a friend from another county, home-support specialist Sandra Kirk, to come along as well.
Under state law, social workers must have a court order to take children into custody. Vance did not have an order, but as a law enforcement officer, Sharp had the authority to remove the children if they were at "imminent risk of harm."
At 8 a.m., the team met at the turnoff along state Highway 21, then drove up the road. They had three car seats with them. Unless the children's situation had dramatically improved, the team planned to remove the children.
Smoke curled from a white bus labeled the "Joy Bus." While Vance and McFee waited outside, Kirk and Sharp went into the bus with Russell. Inside, the youngest child's leg was cold to the touch. The children were not dressed properly, knives and sharp objects lay within reach, and the bedding was filthy, according to Kirk. The family still had no running water, and a makeshift chimney vented the small stove through a bus window.
Standing outside the buses after the inspection, Sharp reportedly told McFee the conditions were "unacceptable." McFee broke down in tears. She begged him to let her take the children to a shelter.
Suddenly, Russell bolted from the bus, carrying the machete. He first raced toward Sharp, who retreated down the hill. Then Russell turned toward Vance. McFee tried to grab his shirt as he ran past. She screamed at him to stop.
Vance turned her head at the last moment. The machete opened a long gash on the back of her head. The blows broke her nose and right wrist, and left cuts and bruises on her arms.
Vance doesn't remember being afraid. The attack seemed to last minutes. In fact, within seconds, Sharp yelled out a warning, then fired his service revolver repeatedly. Russell tried to struggle to his feet, then fell back. Sharp told him not to move.
Vance heard him gurgling as he struggled to speak. He died in the arms of his mother, about 30 feet from the buses.
Kirk helped Vance to her feet while McFee kept repeating, "I'm sorry. I'm sorry. I'm sorry."
As Kirk guided her to a car, Vance looked behind her to see the two oldest Russell children peeking from the window of the bus, witnesses to it all.
The scars remain
In the hours and days after the attack, well-wishers flooded Vance with cards, flowers and telephone calls. A flood of e-mail messages jammed the state's computer system. State officials labeled it the worst attack ever on a Washington social worker.
The Legislature passed a bill establishing a work group to re-evaluate worker safety issues. Several people recommended the department purchase satellite phones for rural workers. When asked whether social workers should be armed, Vance testified that she would not feel comfortable carrying a weapon.
"I don't want a gun, and I don't want pepper spray," Vance said. "I'm just not that kind of person."
Four months after the attack, the scars remain. Vance's right hand is so weak she can't open a jug of water. In a nightmare, Russell pursued her through her home. Driving past an old school bus one day, she flashed back to the day on the mountains.
"I kept seeing him bolt out of the back of the bus," Vance said in a recent interview. "I can see his face. I see him darting out of that bus, holding that thing like a baseball bat."
She returned to work last month, arriving at work at 5:30 a.m. on her first day, nearly three hours early. A few weeks later, during a training session on how to respond to an armed assailant, both Vance and Kirk struggled to keep their composure.
"The minute they started talking about it, I saw (Sharp) shooting the man," Kirk said recently. "There's no way anyone could have gone through that and not be affected. It will stay with me for the rest of my life."
Vance consulted with a counselor and her rabbi in Spokane. While she has found some peace, she said, she remains uneasy with her dual responsibilities as a social worker.
"We work with a double-edged sword," Vance said. "If we go in and take a child from a home, people are angry. If we don't do anything, and the child is injured or killed, then we get it from the community. There are no easy answers here."
On a home visit this month, she saw an ax sitting on a pile of wood near the door. She hesitated for a moment, and regained her composure. Then she knocked.
'Everybody had choices'
Stephanie McFee watched her family implode that February morning. She has not been able to put it back together.
Her three children – ages 6, 5 and 1 – are in state foster care in Kennewick. She visits them once a month from the shelter where she is living in Sunnyside, Wash. On Friday, she withdrew from an upcoming dependency hearing, and agreed to seek grief counseling, anger management and parenting classes in hopes of reuniting with her children.
McFee cannot excuse Russell's attack. But she continues to blame others. She is angry.
"Everybody had choices that day, and everybody made wrong decisions," she said. "He was trying to do right for his children and protect them from a system that is messed up."
Russell's mother, Marcia Stevenson, still lives on the mountain. The cabin remains unfinished. Sunlight peeks through the thin gaps in the plywood. Outside, children's toys lie on the ground. A wash basin hangs next to an American flag. A trail leads to a second clearing, with views of the surrounding mountains, where Russell hoped to build a second home for the family.
McFee said she will continue to fight for her children. She said she stopped drinking and smoking marijuana. She takes life skills classes and attends church.
She is eight months pregnant, carrying the last child of Bryan Russell.
Local journalism is essential.
Give directly to The Spokesman-Review's Northwest Passages community forums series -- which helps to offset the costs of several reporter and editor positions at the newspaper -- by using the easy options below. Gifts processed in this system are not tax deductible, but are predominately used to help meet the local financial requirements needed to receive national matching-grant funds.
Subscribe now to get breaking news alerts in your email inbox
Get breaking news delivered to your inbox as it happens.
---