News > Spokane
Luigi's raises $2,600 for burn victims
Sun., June 19, 2005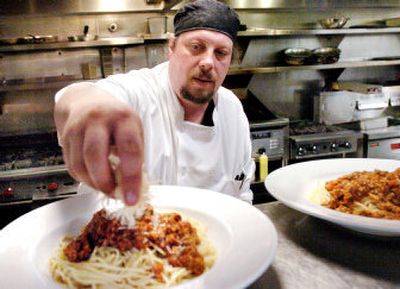 Tara Brown looked around the room Saturday afternoon and didn't know any of the people giving money to help her son and his friend who were critically burned in a freak fire two weeks ago.
"I used to hate Spokane until this happened," Tara Brown said. "It's just amazing how everyone's pulling together."
On Saturday afternoon, 250 people came to Luigi's Italian Restaurant in downtown Spokane to buy spaghetti dinners to benefit the medical trust funds of Alex Brown and his friend Brian Ashmore. The event raised about $2,000 from the price of dinners and tips that were donated by waiters. Another $600 was given in a collection box.
The feed was organized by Precious Angels Children's Center, where Brian has attended preschool for more than a year.
"There's just going to be such a long period of recovery," said Kim Kazmark, a co-owner of the center. "We wanted to do what we can to defray the cost."
Fire investigators believe the two 4-year-olds caught fire June 4 after they had been playing with gasoline. Flames likely were ignited by static electricity created from sliding down a plastic slide.
The boys were burned on more than half of their bodies. They remain at Harborview Medical Center in Seattle and likely will stay a few more months, the families said.
Kids at Precious Angels were visited by firefighters this week to talk about fire safety.
"It's just traumatic to have it hit so close to home," Kazmark said. "This is the first time of grief for a lot of these children."
Brian's classmates have sent Brian a video of them wishing him well.
"They come up to me about everyday and say they prayed for Brian last night," said Kayla Danner, Brian's preschool teacher.
Tara Brown was in town briefly before heading back to Seattle to be with Alex. She said her son is in good spirits and is feeding himself.
"It's going to take a long time and a lot of surgeries to get it done," Brown said.
Brian remains on a ventilator but has communicated with his mom, Theresa Ashmore, by squeezing her hand, said Brian's grandmother Shannon Ward.
"He's a strong little guy," Ward said. "He's a fighter."
Luigi's owner, Marty Hogberg, didn't know the two families but agreed to host the event as soon as he was approached, Kazmark said.
"This one kind of got me right away because I have young children, as well, and accidents do happen," Hogberg said.
Local journalism is essential.
Give directly to The Spokesman-Review's Northwest Passages community forums series -- which helps to offset the costs of several reporter and editor positions at the newspaper -- by using the easy options below. Gifts processed in this system are not tax deductible, but are predominately used to help meet the local financial requirements needed to receive national matching-grant funds.
Subscribe now to get breaking news alerts in your email inbox
Get breaking news delivered to your inbox as it happens.
---