News > Nation/World
Pope Benedict undergoes 'identity shift'
Sun., June 19, 2005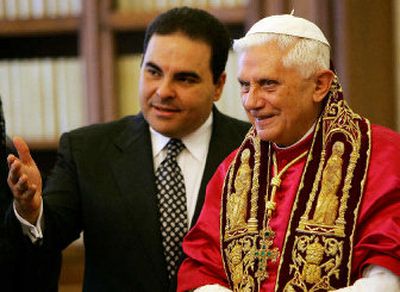 VATICAN CITY – He has a new name and a new job. Two months into his reign, the papal persona of Benedict XVI, the former Cardinal Joseph Ratzinger, is beginning to take shape, and it's taking many by surprise.
Ratzinger had long been portrayed as the stern German theologian who guarded the church's doctrinal orthodoxy for nearly 24 years. Since his election April 19, a new, warm and smiling Benedict has emerged.
Far from a dour professor, the new pope rides standing and waving in open vehicles, willingly has his picture taken donning a Hawaiian lei or a firefighters' helmet, and at a recent public audience spoke to an apparently terminally ill nun on a cell phone handed to him by a man in a wheelchair.
"When you become pope you take a different name, a different job, and if not an identity crisis, you undergo an identity shift," said David Gibson, a former Vatican Radio reporter who is writing a book about Benedict.
While this crowd-pleasing side is new, some elements of the old Ratzinger remain. He goes about his papal duties efficiently: In his first pilgrimage outside Rome, he spent more time in his helicopter than on the ground. He remains the professor, speaking off-the-cuff to explain a particular point and issuing dense, logical speeches on key theological issues.
Yet he is constantly running late – and to the surprise of many – seems to like his new job.
"He looks like he's enjoying being pope," said Rabbi David Rosen, who worked with the former Ratzinger for many years on improving relations with Jews.
Those who worked with Ratzinger aren't surprised to see the 78-year-old white-haired Benedict bending down to kiss a small baby, reaching out to shake the hand of an elderly well-wisher, or patting the cheek of a cheering teenager. They say the sensitivity was always there, just not so visible.
"To me he's the same fellow I knew before in a different suit," Rosen said after a recent meeting with Benedict.
The new pope has set an informal, cordial style for his official visits. He personally welcomes visitors into his private study, spends time chatting after the formal session, and at the end walks guests to door – often ending the visit past its scheduled length.
"He is a very warm, friendly and sincere person," Slovak President Ivan Gasparovic said Friday after an audience with the pope.
Local journalism is essential.
Give directly to The Spokesman-Review's Northwest Passages community forums series -- which helps to offset the costs of several reporter and editor positions at the newspaper -- by using the easy options below. Gifts processed in this system are not tax deductible, but are predominately used to help meet the local financial requirements needed to receive national matching-grant funds.
Subscribe now to get breaking news alerts in your email inbox
Get breaking news delivered to your inbox as it happens.
---