News > Nation/World
Bombers spread death in Iraq
Mon., June 20, 2005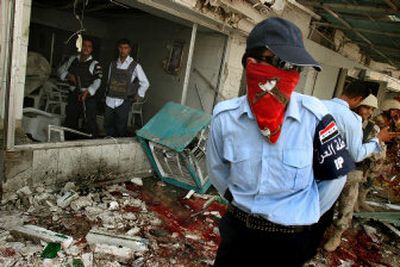 BAGHDAD, Iraq – A suicide bomber disguised as a policeman blew himself up in the middle of a morning roll call today outside a traffic police headquarters in the northern Kurdish city of Irbil, killing at least 20 and wounding 50, officials said.
The bomber joined the gathering of some 200 traffic policemen in a courtyard at 8 a.m., police Col. Mohammed Saleh and Lt. Col. Abdul-Salam Zibari said.
The attack occurred on a main street that leads to the oil-rich northern Iraqi city of Kirkuk, which is south of Irbil, police said.
Irbil is one of two major cities in Iraq's northern Kurdish region. The area has been largely sheltered from the incessant violence wracking the remainder of Iraq, but it has seen several major bombings blamed on militant Muslim groups.
The bombing came a day after Foreign Minister Hoshyar Zebari said there are many relatively stable areas in Iraq, such as Irbil and Basra in southern Iraq.
Iraq's Kurds make up 15 percent to 20 percent of Iraq's estimated 26 million people. The community had been oppressed for decades by Iraq's Sunni Arab minority, but has been empowered since Saddam Hussein's ouster two years ago. Iraq's new president, Jalal Talabani, is a Kurd.
Monday's attack came amid a surge in violence since the Shiite-led government of Prime Minister Ibrahim al-Jaafari was announced April 28. On Sunday, a suicide bomber blew himself up in a popular Baghdad restaurant, killing 23 people, including policemen.
The explosion was the bloodiest attack on a day of relentless insurgent violence that claimed at least 45 lives across the country despite twin U.S- Iraqi offensives against militant smuggling routes and training centers west and north of Baghdad.
The American military announced the death of the first U.S. Marine since the operations, code-named Spear and Dagger, began Friday and Saturday respectively in Anbar province.
About 1,000 U.S. forces and Iraqi soldiers are participating in the operation. U.S. Marines reported killing 15 insurgents in battles near Fallujah, the Anbar province town 40 miles west of Baghdad and a perennial insurgent stronghold.
Meanwhile, the Iraqi tribunal investigating members of Saddam Hussein's regime released a videotape Sunday showing testimony by the ousted dictator's cousin, nicknamed "Chemical Ali" for his alleged role in the 1988 chemical attack that killed at least 5,000 people in the Kurdish town of Halabja.
Ali Hassan al-Majid and seven other former officials were shown testifying before an investigating judge and signing statements. The tribunal did not say when the tape was made, but one of the documents signed by al-Majid was dated June 16.
It was the third such tape released by the panel this month. On June 15, the tribunal released a video showing the questioning of three former senior officials – including Saddam's half brother Sabawi Ibrahim. Saddam himself appeared on an earlier tape.
Early Today, insurgents attacked a Baghdad police station with suicide car bombs, rocket-propelled grenades and small arms fire, killing at least eight policemen and one baby, the U.S. military and Iraqi police said. At least 23 were wounded.
The attack on the Baya police station began just before dawn and included at least three car bombs, rocket-propelled grenades and small arms fire, police Capt. Talib Thamir said.
In Sunday's deadliest attack, a bomber detonated his explosives-laden vest at the Ibn Zanbour restaurant, 400 yards from the main gate of the heavily fortified Green Zone – U.S. and Iraqi government headquarters. The cafe was popular with Iraqi police and soldiers.
Local journalism is essential.
Give directly to The Spokesman-Review's Northwest Passages community forums series -- which helps to offset the costs of several reporter and editor positions at the newspaper -- by using the easy options below. Gifts processed in this system are not tax deductible, but are predominately used to help meet the local financial requirements needed to receive national matching-grant funds.
Subscribe now to get breaking news alerts in your email inbox
Get breaking news delivered to your inbox as it happens.
---