News > Nation/World
Chicago taverns fading
Mon., June 20, 2005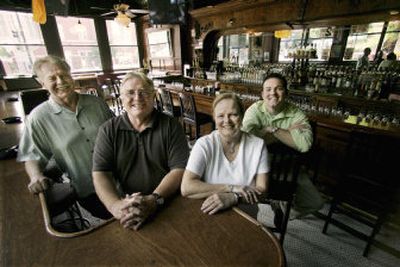 CHICAGO – Taverns and booze are entwined with Chicago's history and lore – from Al Capone's bootlegging empire to the tavern owner whose curse on the Cubs is blamed for keeping them out of the World Series for a half century.
But the dark, cool watering holes where for decades laborers dropped by for a belt on the way home are drying up. The city that once boasted as many 7,600 taverns in the early 1900s has just over 1,300 today.
Now Mayor Richard Daley is pushing an ordinance that would make it easier to close taverns – the latest volley in a battle against the kinds of liquor-selling establishments that some say are magnets for everything from prostitution to littering. Add to that rapidly changing neighborhoods and a growing number of upscale residents who'd rather see a bistro than a bar on the corner, and it keeps getting tougher to find an honest-to-goodness bar to belly up to.
"The neighborhood bar used to be the country club of the community," said John Kelly, whose father opened Kelly's Pub the day after Prohibition ended and who started running it in 1957. "They've kind of gone by the wayside."
It's a similar story in other cities, including Cleveland, Philadelphia and Boston. One official thinks the trend will continue, in large part because elected officials don't want to be seen as advocates for bars.
"If it's going to be (a liquor license) for a chi chi restaurant with a celebrity chef, wonderful," said Daniel Pokaski, chairman of the Boston Licensing Board. "But if it's for a corner bar, forget it … They are deathly afraid of their own shadows in those situations."
In Chicago's days gone by, poor and blue-collar neighborhoods looked to taverns as community centers, hiring halls, and banks. Often it seemed taverns were the only places to watch a ball game or just escape the sweltering heat.
Though those days were long gone by the time Daley took office in 1989, there still were well over 3,000 taverns in the city.
Intent on making Chicago a more attractive and family-friendly city, Daley pointed to the corner tavern. Careful to say he wasn't opposed to all of them, the mayor said some were havens for crime, garbage and noise. As evidence that the mayor is not trying to impose his own kind of Prohibition, city officials point out that the number of restaurants that serve alcohol has actually climbed in recent years.
Still, in Daley's first full year on the job, the Liquor Control Commission revoked 49 liquor licenses, compared with 11 the year before he took office. Since then, about 1,000 licenses for taverns, liquor stores and other businesses that sell liquor have been revoked.
Daley also dusted off a largely unknown law that allows residents to vote their precincts dry.
Since 1990, dozens of precincts have been voted dry, putting many taverns, liquor stores and restaurants out of business. Today, some 430 of the city's 2,706 precincts are dry.
Local journalism is essential.
Give directly to The Spokesman-Review's Northwest Passages community forums series -- which helps to offset the costs of several reporter and editor positions at the newspaper -- by using the easy options below. Gifts processed in this system are not tax deductible, but are predominately used to help meet the local financial requirements needed to receive national matching-grant funds.
Subscribe now to get breaking news alerts in your email inbox
Get breaking news delivered to your inbox as it happens.
---