Sports
Guardado putting up some All-Star numbers
Mon., June 20, 2005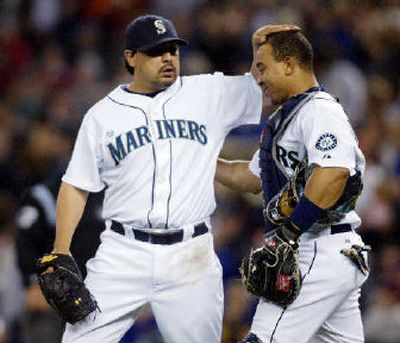 Mariners closer Eddie Guardado doesn't want to think about it, but others already are.
All-Star rosters will be set two weeks from Sunday, and there's growing sentiment – and evidence – that Guardado should be on the American League squad.
Guardado is second in the American League with 19 saves, an impressive number on a team that has won just 31 games. Even more impressive is that Guardado hasn't allowed a run in 14 outings, during which he has converted all 11 save opportunities and retired 35 of 38 hitters. He has a 1.38 earned run average and has 22 strikeouts with just five walks in 26 innings.
"If the (All-Star) game were today, he'd have to be on it," pitching coach Bryan Price said. "Just look at the numbers, the save opportunities, the saves, the ERA, the walks to innings pitched. I can't imagine anybody doing any better than that."
Bob Wickman of the Indians leads the A.L. with 20 saves. He has a 2.67 ERA with 11 walks and 15 strikeouts in 27 innings.
Guardado isn't into the All-Star talk now, even though the game in Detroit is 22 days away, on July 12.
"It would be an honor to represent the Mariners," he said. "I take it day by day and if I don't make it, I'll have more time during the break to spend with my family."
Guardado's success has been a blessing, Price said, especially considering where he could be right now had he listened to a doctor's advice last year.
Guardado suffered shoulder problems and a midseason MRI revealed a small tear in the rotator cuff. The Mariners' medical staff recommended surgery, which would have caused Guardado to miss most, if not all, of this season. Instead, he rehabbed it without surgery and, despite a hamstring injury that kept him from pitching much of spring training, has come back stronger than he was last year.
"His command was as good as anybody I saw last year before he went on the disabled list," Price said. "But this year he's got more velocity. He's throwing 87 to 90 (mph) whereas last year he was at 83 to 86. He lives on nerve and tremendous command, and now he's got arm strength and he's pain free."
Guaradado credits his success on the pinpoint location he has found after struggling with it early in the season.
"I'm able to keep the ball down where I need it to be," he said. "Early in the year I couldn't hit what I call the sweet spot. Now, I'm keeping the ball down with a little movement, and I'm hoping it stays that way."
Local journalism is essential.
Give directly to The Spokesman-Review's Northwest Passages community forums series -- which helps to offset the costs of several reporter and editor positions at the newspaper -- by using the easy options below. Gifts processed in this system are not tax deductible, but are predominately used to help meet the local financial requirements needed to receive national matching-grant funds.
Subscribe to the sports newsletter
Get the day's top sports headlines and breaking news delivered to your inbox by subscribing here.
---