News > Nation/World
Suit may cause misery for Stephen King
Mon., June 20, 2005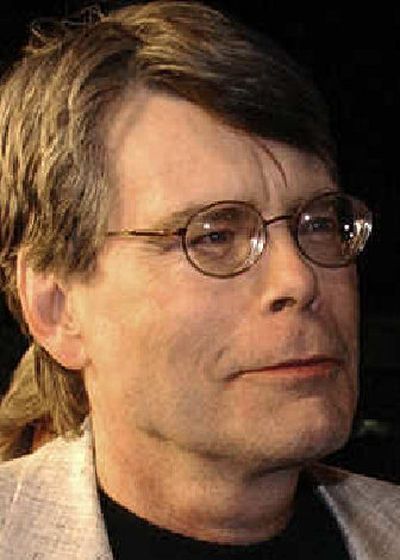 HACKENSACK, N.J. – In the chilling book-turned-movie "Misery," a famous author is held hostage by a psychotic nurse who tortures him into writing one more novel, whacking his feet with a sledgehammer when he doesn't write it the way she wants.
In reality, a New Jersey woman claiming to be the psycho nurse wants Stephen King to stop writing about her.
Anne Hiltner, a Hightstown, N.J., freelance writer, says she is the inspiration for King's sadistic nurse, Annie Wilkes, a character that netted an Oscar for actress Kathy Bates in 1991. Hiltner, 58, filed a $500 million federal lawsuit this month against the author, his publishers and several movie studios, accusing them of violating her privacy.
The lawsuit also accuses King and his distributors of defamation, copyright infringement and violation of antitrust laws for using her private diaries to create psychic Sally Druse, a similarly frightening character in King's television miniseries "The Journals of Eleanor Druse: The Kingdom Hospital Incident," which aired last year. The jumbled lawsuit doesn't detail how King allegedly pilfered the diaries or what was in them.
It's not the first time Hiltner has sued King for privacy or copyright infringement. In a similar 1991 suit that was ultimately dismissed, Hiltner accused King of breaking into her home and stealing several manuscripts written by her and her brother.
"We're aware of her suit, and steps are being made to dismiss everything she's done," said King's longtime agent, Arthur B. Greene.
Hiltner declined to comment.
Although the suit may not worry King or the movie executives, it does bring to light what experts say is a rare type of copyright lawsuit. Most copyright suits in Hollywood accuse writers of ripping off ideas and stealing scripts, but Hiltner and others claim their identities were hijacked.
That's what former boxer Chuck Wepner has claimed in a lawsuit against Sylvester Stallone. Wepner, now a Bayonne, N.J., liquor salesman, accused Stallone of using his 15-round fight against Muhammad Ali as inspiration for the "Rocky" movies – and then emblazoning Wepner's name on movie posters and across a 25th anniversary DVD.
"Hollywood loves putting out movies that are based on true stories," said Wepner's lawyer, Anthony Mango. "But Stallone has used Wepner's name in promotional materials without getting his consent or compensating him."
Wepner's $45 million suit, filed in 2003, is still pending.
The biggest hurdle for cases such as Wepner's and Hiltner's is the First Amendment right to free speech – a broad argument frequently used to fight copyright suits, said New York University Law School Professor Rochelle Dreyfuss, who specializes in intellectual property.
After all, musical artists often use the names and stories of famous people in songs without compensation. That practice was challenged when civil rights pioneer Rosa Parks sued the rap group Outkast for using her name in a 1998 song title. The suit was settled in April without an admission of wrongdoing.
Even when stories are based on true events and no real names are used, authors will still include a disclaimer that the characters are fictional.
Local journalism is essential.
Give directly to The Spokesman-Review's Northwest Passages community forums series -- which helps to offset the costs of several reporter and editor positions at the newspaper -- by using the easy options below. Gifts processed in this system are not tax deductible, but are predominately used to help meet the local financial requirements needed to receive national matching-grant funds.
Subscribe now to get breaking news alerts in your email inbox
Get breaking news delivered to your inbox as it happens.
---