News > Nation/World
Agents foil plot against official
Tue., June 21, 2005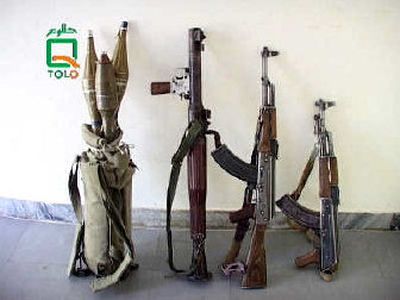 KABUL, Afghanistan – Afghan intelligence agents scuttled a plot to assassinate outspoken U.S. Ambassador Zalmay Khalilzad, swooping down on a station wagon carrying three Pakistanis armed with Kalashnikovs and rocket-propelled grenades, officials said Monday.
The arrests came days after President Hamid Karzai and U.S. officials warned that foreign fighters were slipping into Afghanistan to cause mayhem ahead of parliamentary elections.
The men, armed with rocket-propelled grenades and assault rifles, were arrested Sunday in northeastern Laghman province, just 150 feet from where Khalilzad had planned to inaugurate a road with Afghanistan's interior minister, two senior Afghan officials told the Associated Press.
The officials said agents were lying in wait after intelligence forces were tipped off about the plot in advance. Khalilzad, who is to be the next U.S. ambassador in Iraq, canceled his appearance at the road opening at the last minute and was never in danger. The interior minister, Ali Ahmad Jalali, also canceled his appearance.
Presidential spokesman Jawed Ludin confirmed the arrests, and Deputy National Security Director Abdullah told privately owned Tolo TV that the men were all between the ages of 19 and 23.
Afghan television broadcast a video of the suspects in custody – all wearing traditional shalwar khameez and sporting thin mustaches – sitting on a brown sofa and being questioned by a man off camera. They identified themselves as Murat Khan, Noor Alam and Zahid and said they were from Pakistan.
None confessed on camera or was asked any questions about the planned attack.
But the two senior officials said the men had admitted their guilt to intelligence agents and told authorities they were in Afghanistan "to fight jihad," or holy war.
A State Department official confirmed that the assassination attempt had been thwarted but gave no details.
He said several plots against Khalilzad, Karzai and other senior officials had been foiled, but he didn't give details.
Khalilzad, 54, became America's top diplomat in Afghanistan in November 2003 after serving as Washington's special representative here.
Local journalism is essential.
Give directly to The Spokesman-Review's Northwest Passages community forums series -- which helps to offset the costs of several reporter and editor positions at the newspaper -- by using the easy options below. Gifts processed in this system are not tax deductible, but are predominately used to help meet the local financial requirements needed to receive national matching-grant funds.
Subscribe now to get breaking news alerts in your email inbox
Get breaking news delivered to your inbox as it happens.
---