News > Spokane
Breaking the cycle
Tue., June 21, 2005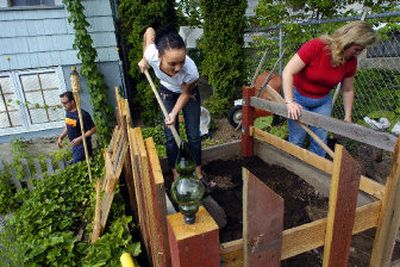 Naisia Bailey was 8 years old the last time she saw her dad.
That was nine years ago, just before he was convicted and imprisoned for rape, kidnapping and 13 other crimes.
As the child of a felon, Bailey easily could have followed in her father's footsteps. Studies show that 70 percent of children with a mom or dad behind bars are likely to end up incarcerated themselves.
Instead, the girl met two adults who changed the course of her life.
Through Big Brothers Big Sisters of the Inland Northwest, Lerria and Tony Schuh of Spokane became the support and stability that Bailey had lacked throughout childhood. From the time she was a 9-year-old attending Garfield Elementary School, the couple included her in their family activities and met her for lunch once a week at school.
"They were there for me," said Bailey, now 17 and recently graduated from North Central High School. "They were the one constant in my life."
Children who have a parent in prison or jail often lead chaotic lives marked by poverty, substance abuse and exposure to criminal activities, according to the Child Welfare League of America. They're also at greater risk for alcohol and drug abuse, poor grades in school and juvenile delinquency.
To prevent these kids from repeating their parents' mistakes, Big Brothers Big Sisters recently collaborated with the Department of Corrections and Educational Service District 101 to launch "Mentoring Children of Promise." Funded by a $130,000 federal grant this year, the program matches children who have a parent serving a state or federal sentence with adult mentors who spend time with them on a regular basis.
Nationwide, as many as 2.5 million kids have one or both parents in prison. In Washington state, about 17,000 inmates have children, according to the Department of Corrections. As many as 3,200 children in Eastern Washington have a mom or dad behind bars, according to estimates.
Healthy relationships – such as the one established between the Schuhs and their "little sister" – can stop that cycle of incarceration, said Kristy Stender Bratcher, project coordinator at ESD 101. Mentors not only provide a child with attention and guidance, she said; they also offer that much-needed sense of order in a life often defined by confusion and inconsistency.
Studies show that having a caring adult in a young person's life increases that child's likelihood of attending class, performing well in school and graduating, Bratcher said. A mentor also decreases the chances of drug use as well as self-destructive and violent behavior.
Even before her dad was convicted by a military jury in 1997, Bailey's childhood already was marked by instability. By the time she was in the fifth grade, she already had attended eight different schools in Spokane because her mom moved around a lot.
"I never really had any friends," said Bailey, recalling times when other kids at school beat her up or made fun of her because she's biracial. "It was hard because we'd always move in the middle of the year."
Bailey's relationship with the Schuhs began after Lerria Schuh became her "lunch buddy" through Big Brothers Big Sisters' school-based mentoring program. They started off playing checkers, eating with her friends and other activities once a week at Garfield. At the end of the school year, Bailey told her she hoped she would see her over the summer.
That's when Lerria Schuh, along with her husband, decided to go through the extensive background checks to become one of Big Brothers Big Sisters' first couple matches. They also met Bailey's mom and made plans to get together with the child at least once a week.
"We just molded her into the family," said Tony Schuh, a child counselor at Sacred Heart Medical Center.
Because they have three young children of their own, they simply included Bailey in all their activities – from gardening or visiting the grandparents to camping trips and other weekend events.
After the first year or two, Bailey became part of the family. When Lerria Schuh became pregnant with their third child, the couple decided to buy a van so that they could continue bringing Bailey along on their family outings. They got to know her friends, discovered her love for milkshakes and grew accustomed to her quirky habits that included keeping all her belongings in Wal-Mart plastic bags.
Recently, they've started talking with her dad, Napolean Bailey, who calls once in a while from prison in Beaumont, Texas. During their conversations, the girl's father often expresses his gratitude, said Tony Schuh.
As part of the mentorship program, Dennis Mitchell, a local author and motivational speaker, often visits prisons and jails to talk to the parents of these at-risk kids. Having spent eight years behind bars for first-degree robbery, Mitchell talks to inmates about his own experience and how he turned his life around. He usually tells them about his 5-year-old son, Dennis Jr., and how the boy was killed by a drunken driver in 1982, when he was still in prison.
"The worst possible tragedy that can happen to any parent is the loss of their child," he said. "I felt a lot of guilt. Had I been home taking care of my son, then maybe this would not have happened to him."
His son's death spurred him to take responsibility for his actions, said Mitchell, co-founder of Omni International, a training company for businesses and president of Dennis Mitchell Empowerment Seminars.
Mitchell and others involved with Mentoring Children of Promise also have tried to find adult role models within churches and other faith communities through MCP's Amachi Program. Amachi – a West African word that means "Who knows but what God has brought us through this child?" – already has recruited volunteers from half a dozen churches in the Inland Northwest.
About 34 of the nearly 800 children currently served by Big Brothers Big Sisters have an incarcerated parent, said Brusan Wells, development director for the local agency. Mentoring Children of Promise hopes to identify other kids in the area who have a mom or dad behind bars, regardless of where their parents are imprisoned.
"It's our goal that these children have positive role models," said Wells. "We're not about taking away the parent's role in their lives; we're about adding another support system for the child."
Last summer, Bailey moved in with the Schuhs – a rare occurrence for most Big Brothers Big Sisters matches. But the teen was getting into too many fights with her mom, missing too many school days because she was sick, watching her grades at North Central continue to plummet.
She had nowhere else to go, so she sought help from the one place in town where the door was always open.
The Schuhs became her legal guardians, and Bailey suddenly found herself in a home with lots of kids and lots of rules to follow. Lerria and Tony Schuh also peppered her with questions: "Where are you going?" "What time will you be home?" "Who's going with you?"
During this past year with the Schuhs, Bailey got a job, became president of North Central's DECA team and also landed on the school's honor roll. She won a scholarship from the North Spokane Exchange Club and will attend Anne Arundel Community College in Maryland this fall.
Schuh's children, ages 4, 6 and 8, now consider Bailey their big sister. During North Central High School's graduation, Lerria Schuh burst into tears as she watched Bailey walk across the stage to receive her diploma.
"She has helped me grow as a person," said Lerria Schuh. "She's given a lot to our life."
Bailey, who plans to return to Spokane next summer, is storing most of her stuff at the Schuh household while she's off at college. She knows that no matter what happens, she will always be welcome in their home.
"They're like family," said Bailey. "They're my big brother and sister."
Local journalism is essential.
Give directly to The Spokesman-Review's Northwest Passages community forums series -- which helps to offset the costs of several reporter and editor positions at the newspaper -- by using the easy options below. Gifts processed in this system are not tax deductible, but are predominately used to help meet the local financial requirements needed to receive national matching-grant funds.
Subscribe now to get breaking news alerts in your email inbox
Get breaking news delivered to your inbox as it happens.
---