News > Spokane
Drought worry not over
Tue., June 21, 2005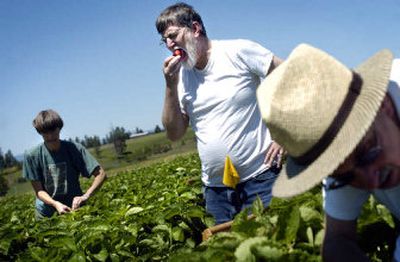 Straddling a strawberry row at Knapp's farm in Green Bluff Monday, Linda Novak cheered when she heard today's forecast: High temperatures are expected to reach the lower-to-mid-90s – a blazingly hot first day of summer.
"She'll regret it," Novak's sister, Sharon Cornett, said.
The women don't miss the humidity of their native Chicago, but Novak was getting tired of this spring's sometimes cool, wet weather. She dismissed her sister's cynicism with a solution – a trip to Lake Coeur d'Alene.
Local farmers, on the other hand, welcomed the recent rainy periods after this year's dry winter, though they're also ready for some heat now.
"We're not experiencing any drought," said farmer Marilyn Beck, of Harvest House and Orchards at Green Bluff. Beck said she shakes her head when she hears television weather forecasters say the farmers love the rain. "I don't know what farmers they're talking about."
This year's dismal snowfall was followed by one of the wettest Mays and early Junes on record, said Jonathan Fox, a meteorologist with the National Weather Service. Between May 1 and June 19, 4.32 inches of precipitation fell at Spokane International Airport, making that stretch of late spring the seventh-wettest since 1881. The same period last year actually saw more rain, but 2.19 inches of it fell in just one day, perhaps making the tail end of spring 2005 feel soggier.
Today's forecast is for temperatures almost 20 degrees higher than the June 21 average.
The wet weather has eased the region's drought concerns, but hasn't erased them. The National Weather Service's Climate Prediction Center released a map Thursday that categorizes the Inland Northwest as "drought ongoing, some improvement" – the second driest of its classifications.
Mike Hayes, climate impact specialist with the National Drought Mitigation Center, said conditions would be "extremely serious" across the Northwest without the spring rain.
"The interesting thing about the Northwest was how dry it was over the winter. Then about March 15, storms started rolling in," he said. "The winter was more spring-like and the spring was more winter-like."
Snowmelt accounts for 75 percent of river flows. While snow is captured in water reservoirs, it also acts like a reservoir itself, melting slowly throughout the spring, Hayes said.
Snow usually lingers in the high countries until early August, but it has already melted in most places, said water supply specialist Scott Pattee of the Natural Resources Conservation Service.
"Zero. Zero. Zero. And, oh, zero," Pattee said as he read the snow levels at North Idaho tracking stations. He later found one spot at a 6,000-foot elevation that has 25 percent of its normal snow level.
For years, 1977 was the driest winter on record. "We pretty much beat 1977 all the way around this year," he said.
Allen Garr, the fire management officer for the Colville National Forest, said the recent rain has dampened large, downed logs – a major fuel during wildfires – but it hasn't soaked them like mountain snow does. Then, the rainfall came during the growing season, creating an abundance of foliage that also fuels forest fires.
In anticipation of wildfires at high elevations in late summer and at low-to-mid-elevations sooner, the Forest Service is staffing itself at the same level as last year, which was the largest force in 20 years.
Today's heat is expected to ease up by evening, when a thunderstorm could come through, Fox said.
Temperatures should drop to the 70s for the rest of the week, with chances of precipitation each day.
Back at Knapp's farm, red berries basked in the sunshine Monday like the chubby faces of freckle-cheeked children. Beck, of Harvest House, said the weather conditions have produced the most beautiful crops of fruits and vegetables in recent years.
"Look at the size of those," said Stuart Waguild, of Spokane, pointing at the strawberries.
Waguild, who is retired, planned to beat today's heat by going fishing. His wife, Leah, had other plans. "I'll probably be canning strawberry jam," she said.
Local journalism is essential.
Give directly to The Spokesman-Review's Northwest Passages community forums series -- which helps to offset the costs of several reporter and editor positions at the newspaper -- by using the easy options below. Gifts processed in this system are not tax deductible, but are predominately used to help meet the local financial requirements needed to receive national matching-grant funds.
Subscribe now to get breaking news alerts in your email inbox
Get breaking news delivered to your inbox as it happens.
---