News > Business
Hot properties
Tue., June 21, 2005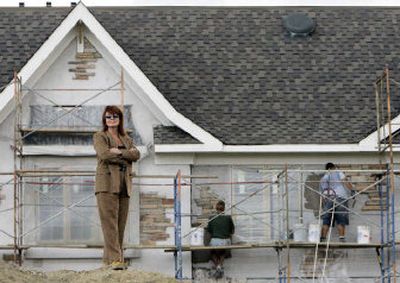 WASHINGTON — Home builder Marsha Elliott is selling two units in a brand new stucco and stone duplex. But the buyer isn't planning to move in or rent.
Hoping to capitalize on rapidly rising home prices, the buyer intends to sell the units shortly after the July closing, Elliott says. It's part of the speculative activity in the sizzling housing market that is drawing concerns from Federal Reserve Chairman Alan Greenspan and others.
In Elliott's suburban Chicago development, the buyer locked in a deal months ago to purchase each unit for $775,000, she says. They are currently selling for $840,000 apiece, an 8.4 percent jump in price.
Seeking to discourage such activity, Elliott now includes a provision in her contracts that gives her the option of buying back a property at the original price if the owner wants to sell within 18 months after closing. Other sellers are taking similar steps.
"If the buyer doesn't find someone to flip the property to right after closing, it sits empty. Is it going to be maintained? Is it an open invitation to vandalism? And, does it have a negative impact on the overall community? Absolutely," says Elliott, president of Terrestris Development/MLC Homes.
Three percent of home buyers sell in a year or less, according to a survey by the National Association of Realtors.
While a vacant house can be a turnoff to house hunters, buying and quickly unloading a house to make a profit can help drive up prices.
Speculative activity, surging home prices and renewed interest in risky mortgages such as interest-only loans are all byproducts of the booming housing market.
Greenspan said it appears unlikely that a national housing bubble will develop and pop, sending prices tumbling. At the same time, he said, "There do appear to be, at a minimum, signs of froth in some local markets where home prices seem to have risen to unsustainable levels."
House prices nationwide rose 12.5 percent over the 12 months ending March 31, according to figures compiled by the Office of Federal Housing Enterprise Oversight.
During that period, Nevada posted the biggest increase, 31.2 percent. California ranked second with a gain of 25.4 percent, followed by Hawaii, with a 24.4 percent increase, the District of Columbia, with a 22.2 percent rise, and Florida, with 21.4 percent.
"Speculative activity may have had a greater role in generating the recent price increases than it has customarily had in the past," Greenspan says. He said a big part of the quickening pace of home turnover may reflect the purchase of second homes — either for investment or vacation.
Over the last four months, home builder Mark Livingston, president of Bridgeport Development Group, has sold 19 brick houses in the Oklahoma City area to investors, who live in California, Nevada and Israel. The houses, which range in price from $130,000 to $185,000, are being rented out by a leasing company, he says.
He also builds in Phoenix, where home prices over the course of a year surged 19.4 percent. "It hasn't happened to us, but I do know instances where people purchased a home to be built — and before it is built — it is sold one or two times," Livingston says.
William Friedman, chief executive officer of Tarragon Corp., which builds condos in urban areas, especially Florida and New Jersey, says builders, owners and investors can have different takes on the concept of a housing bubble.
"Well, one man's bubbles are another man's champagne," Friedman says. But he adds: "Price increases that we've seen this year in lots of markets are clearly unsustainable. I mean, nothing goes up 20 percent a year indefinitely. "
David Seiders, chief economist at the National Association of Home Builders, says major builders worry about the consequences on the market should investors dump a large number of homes on the market quickly because of "some whiff of price problems."
To discourage investor buying, some builders are putting in their contracts a penalty of $50,000 if the home is sold within one year, he says.
For builders, "the question is: Are the sales durable? Will they stay off the market?" Seiders says.
Livingston, who survived the "nuclear fallout of the housing market" in the 1980s, offers some advice: Builders need to pay careful attention to the market and home buyers "have to be careful not to get in over their heads."
Increasingly borrowers are stretching to buy pricey homes, a concern to Fed officials.
When rates rise, these borrowers will be vulnerable. "There will be an interest rate shock coming down the line. It may be two or three years from now. But there's going to be a good percentage of home owners who will feel it," says David Lereah, chief economist at the National Association of Realtors.
Local journalism is essential.
Give directly to The Spokesman-Review's Northwest Passages community forums series -- which helps to offset the costs of several reporter and editor positions at the newspaper -- by using the easy options below. Gifts processed in this system are not tax deductible, but are predominately used to help meet the local financial requirements needed to receive national matching-grant funds.
Subscribe now to get breaking news alerts in your email inbox
Get breaking news delivered to your inbox as it happens.
---