News > Idaho
Idaho jailers put on leave after escape
Tue., June 21, 2005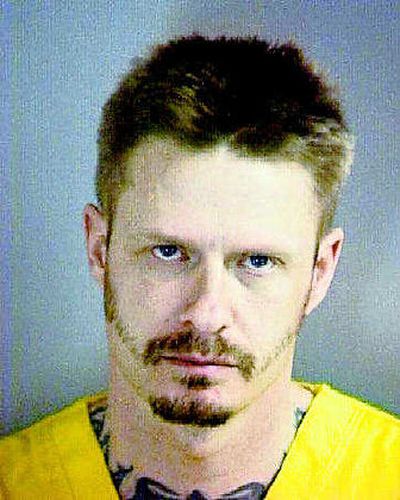 BOISE – Four Ada County Jail employees have been placed on leave following the weekend escape of an inmate awaiting trial on a charge of attempted murder of a police officer.
Ada County Sheriff Gary Raney said Monday that his office failed to keep the community safe when it allowed 39-year-old Harlan James Hale to run past guards, slip through unlocked doors and climb the perimeter fence to gain his freedom.
"We let the community down," Raney told a news conference. "It is ultimately my responsibility as sheriff to analyze what happened, and while I can't guarantee you that there will never be another escape, I can guarantee you I will do everything within my power to prevent it."
Raney did not identify the employees who were placed on administrative leave.
Hale, meanwhile, remained at large Monday night. Police believe he may be accompanied by Tracey Gonzales, a 36-year-old Boise woman for whom a $100,000 arrest warrant was issued Monday.
Officials have described Gonzales as a "close personal contact" of Hale's. Gonzales and her vehicle, a 1992 blue Toyota Tercel with Idaho license plate 1A JX611, have not been seen since Hale's escape.
Hale was in jail awaiting a Sept. 28 trial on charges of first-degree attempted murder of an officer, eluding police, three counts of assault and battery of a police officer, unlawful possession of a controlled substance and receiving stolen property.
Raney said Hale's network of family and friends extends from southeastern Idaho to eastern Oregon.
Hale bolted from the jail Saturday at about noon. He got away by hijacking a car from a nearby parking garage, officers said.
Raney said Hale escaped when jailers were moving him from an outdoor exercise area to his cell.
In a statement, Raney said three mistakes happened at the same time.
First, deputies removed Hale's restraints at his cell door, allowing him enough freedom to start running.
Second, deputies left two interior doors between the outdoor recreation area and the housing area unlocked after moving Hale through them. That allowed Hale to run from his cell to the outdoor recreation corridor.
Third, the lock on a chain-link security gate in the recreation area was not strong enough to stop Hale from breaking it and passing into a small area between the recreation pens and a housing facility.
From there, Hale climbed a chain-link fence to gain access to the roof, the statement said. He took a running leap to the ground and scaled a perimeter fence topped with razor wire.
Raney believes Hale had been plotting his escape since shortly after his March 9 arrest, following a car chase and shots fired at him by Boise and Garden City police officers.
His capture in Garden City — a town of about 11,000 residents surrounded by the city of Boise — ended a regionwide manhunt that began Feb. 28 when a Boise police officer pulled over a vehicle containing Hale and three other people. The four were suspects in a Twin Falls home invasion robbery that had been reported just hours earlier.
After another patrol officer arrived to assist at the traffic stop, one of the occupants of the car pulled out a gun and opened fire on the officers, police said. No one was injured.
Authorities have alleged that Hale was the shooter in that first incident but investigators do not believe he fired a shot when officers pinned him down in a field March 9 after he crashed his car into an irrigation ditch. Police fired at Hale at least 22 times without hitting him, and authorities later agreed to pay $7,000 to repair bullet hole damage in surrounding homes.
Raney said investigators believe that Hale had been amassing a getaway fund from money he received from acquaintances and from people who may have believed they were contributing to his legal defense.
Local journalism is essential.
Give directly to The Spokesman-Review's Northwest Passages community forums series -- which helps to offset the costs of several reporter and editor positions at the newspaper -- by using the easy options below. Gifts processed in this system are not tax deductible, but are predominately used to help meet the local financial requirements needed to receive national matching-grant funds.
Subscribe now to get breaking news alerts in your email inbox
Get breaking news delivered to your inbox as it happens.
---