News > Nation/World
Man shot inside Seattle courthouse
Tue., June 21, 2005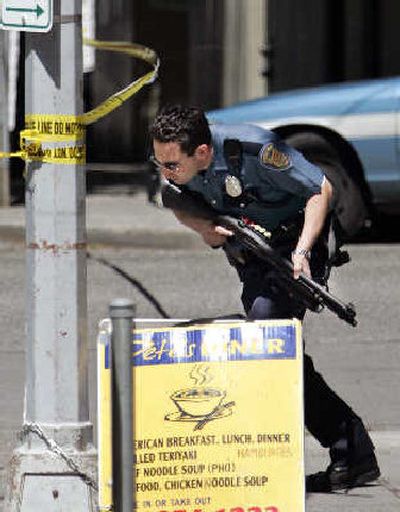 SEATTLE – A man carrying what appeared to be a hand grenade was shot to death Monday in the lobby of the downtown U.S. Courthouse after he walked inside the building and made threats, police said.
Police spokeswoman Carmen Best said the man died of his wounds.
The man, wearing a backpack strapped to his chest, entered the public lobby of the 10-month-old courthouse just before noon, carrying what appeared to be a "World War II-type" hand grenade, Police Chief Gil Kerlikowske said. Witnesses said the man tried to get past security, began shouting threats and then was shot when confronted by police and federal agents, police spokeswoman Christie-Lynne Bonner said.
Paramedics could not approach the man for more than an hour until bomb squad members determined it was safe. Kerlikowske said the backpack was examined and did not appear to contain an explosive device.
U.S. Marshal Eric Robertson said the entire 23-story federal building was evacuated, but some employees were allowed to return while the bomb squad worked. Streets surrounding the building also were cordoned off as dozens of police cars responded, jamming noontime traffic.
Chay Adams, 27, of Seattle, said she saw police shoot the man.
She was leaving the U.S. Marshals office on the ninth floor, where her father is a marshal. "There were a bunch of marshals running toward me with bullet proof vests and weapons … saying it would be in my best interest to leave," she said.
Adams and about eight other women were evacuated to the fifth floor, where she said she could see down into the atrium lobby. She saw police confront the suspect, who was sitting on a bench with a yellow backpack strapped to his chest.
The man appeared to be in his mid-50s, she said. He was nervous and kept clasping his hands, she said, but there was nothing unusual about him.
"If they wouldn't have known what happened, you wouldn't have paid any attention to him," Adams said.
She watched the man for a few minutes, then heard two shots fired from police, "one in the head and once in the chest," she said.
"With one shot, the man slumped over, and with the second shot, he slumped all the way over and his head ended up in his lap," Adams said.
Kim Kingsborough told Northwest Cable News she saw the man in the lobby before the standoff occurred.
"He just stood around for the longest time in the lobby, looking around," she said, then he tried to sneak across the reflecting pool that blocks off the main lobby from secured areas.
As officers approached him, Kingsborough said, the man shouted: "Don't come near me!"
Kingsborough said she had faith in the federal marshals who guard the building: "I knew I was in good hands."
Still, she said, "it is kind of scary."
Elizabeth Piontkowski, 21, of Des Moines, was on jury duty on the 14th floor of the courthouse shortly before noon when a court official told members the building had been locked down.
Jurors were told the building was being evacuated because of a bomb threat, Piontkowski said. They were ushered outside and told to move quickly.
Before exiting the building, Piontkowski said, she and other jurors could see police outside with their guns drawn. She said she didn't hear any gunshots.
"Then the cops started yelling at us to run and we started running down the street," she said.
The new federal courthouse opened last August. Many of the major security features of the $171 million high-rise at Seventh Avenue and Stewart Street are disguised. Even glass walls that permit ample sunlight are blast-resistant.
The new courthouse houses the U.S. Marshals Service, judges, support staff and court clerks, as well as the U.S. Attorney's Office, bankruptcy courts, and probation and pretrial services.
It holds 13 district courtrooms, five bankruptcy courtrooms, and 22 suites for judges and their staff. Secure hallways lead from cell blocks into the courtrooms, so prisoners don't contact the public – unlike in the old building.
Local journalism is essential.
Give directly to The Spokesman-Review's Northwest Passages community forums series -- which helps to offset the costs of several reporter and editor positions at the newspaper -- by using the easy options below. Gifts processed in this system are not tax deductible, but are predominately used to help meet the local financial requirements needed to receive national matching-grant funds.
Subscribe now to get breaking news alerts in your email inbox
Get breaking news delivered to your inbox as it happens.
---