News > Nation/World
Senate again stymies Bush on Bolton
Tue., June 21, 2005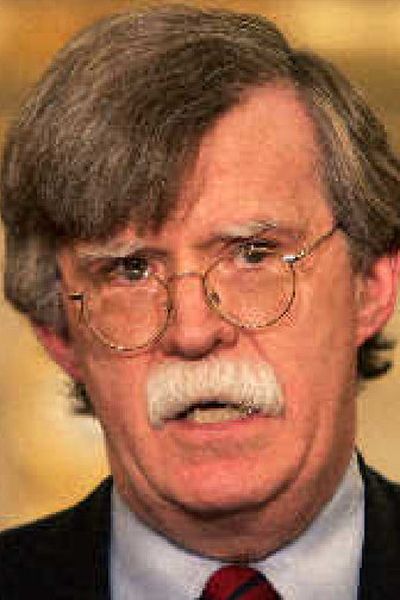 WASHINGTON – The Senate refused Monday for a second time to confirm John Bolton as U.S. ambassador to the United Nations, prompting his supporters to urge President Bush to bypass Congress and give the controversial nominee a recess appointment, which would last 18 months.
The vote was a setback for Bush, whose Republican Party controls the Senate, and the latest in a string of partisan impasses that also have stymied his efforts to appoint judges and re-structure Social Security. Some senators said a recess appointment now appears to be Bolton's only hope even though it would be politically contentious and would send him to the United Nations under a cloud. That action could come as early as July 2.
Republicans denounced Democrats as obstructionists after Monday's vote. But Democrats said Bush deserves the blame for tapping a nominee known for his combative style and criticism of the United Nations and then rejecting lawmakers' requests for documents related to Bolton's tenure at the State Department.
The Senate voted 54-38 to end debate on Bolton's nomination. That was six votes short of the 60 needed to stop filibusters in the 100-member chamber. It suggested that Bolton has lost ground since May 26, when 57 senators voted to end the filibuster before one of them switched for parliamentary reasons.
On Monday, Sen. George Voinovich, R-Ohio, joined 37 Democrats in voting against cloture. The three Democrats who voted to end debate May 26 did so again: Mary Landrieu of Louisiana, Ben Nelson of Nebraska and Mark Pryor of Arkansas. Eight senators did not vote, including Republicans John Thune of South Dakota, Norm Coleman of Minnesota and Conrad Burns of Montana.
Several senators said Bolton could have won a simple confirmation vote if the filibuster had been ended. But with no sign of a compromise between Democrats and the White House over the disputed documents, several lawmakers said they saw no strategy that would pick up the half-dozen votes needed to end debate and allow a confirmation vote.
A senior White House official said Monday night that Bush will still press for a confirmation vote but has no plans for further compromises on documents and is considering a recess appointment.
"It's time for the Senate to give an up-or-down vote now," Bush said at a news conference with European Union leaders before the Senate vote. "If they're interested in reforming the United Nations, they ought to approve John Bolton."
White House spokesman Scott McClellan did not rule out the possibility of a recess appointment but said, "We continue to urge the Senate to let him have an up-or-down vote on the floor." Opposition to Bolton, a former undersecretary of state for arms control, originally centered on his sharp criticism of the United Nations and his upbraiding of subordinates who differed with him on foreign policy. Over time, however, Senate Democrats focused on the administration's refusal to provide documents they said were needed to assess Bolton's fitness for the job.
Democrats wanted to test Bolton's claims about his role in preparing disputed testimony about Syria in 2003. They also demanded information related to his access to details from secretly intercepted conversations of foreigners and, in some cases, U.S. citizens. Democrats have asked whether Bolton was seeking secret information on rivals in the U.S. intelligence and foreign policy communities.
The administration repeatedly has said the Senate did not need the requested documents to determine Bolton's fate and accused Democrats of stalling. The White House made an 11th-hour bid Monday to break the impasse. Chief of Staff Andrew Card Jr. asked whether providing the Syria-related documents would satisfy Democrats, according to a Democrat familiar with the exchange.
But Sen. Joseph Biden Jr., Del., the Foreign Relations Committee's top Democrat, said it would not, reiterating his party's demand for all the intelligence intercepts Bolton had requested as well, Senate sources said.
In a floor speech shortly before the vote, Biden said: "It is totally unacceptable for the president of the United States … to try to dictate to the Senate how he, the president, thinks the Senate should proceed. … It is somewhat presumptuous, to say the least."
Bush strategists believe the president may benefit from the fight because most Americans distrust the United Nations and want changes. GOP strategists see no downside to the appointment other than that Democrats will protest the recess appointment and redouble efforts for the courts to intervene to prevent the practice.
"The American people know why I nominated him: because the U.N. needs reform, and I thought it made sense to send a reformer to the United Nations," Bush told reporters before the vote. "The U.N. is an important organization, and the American people … understand how important it is when the U.N. is reformed and is held to account."
Local journalism is essential.
Give directly to The Spokesman-Review's Northwest Passages community forums series -- which helps to offset the costs of several reporter and editor positions at the newspaper -- by using the easy options below. Gifts processed in this system are not tax deductible, but are predominately used to help meet the local financial requirements needed to receive national matching-grant funds.
Subscribe now to get breaking news alerts in your email inbox
Get breaking news delivered to your inbox as it happens.
---