Sports
This guy was born ready
Tue., June 21, 2005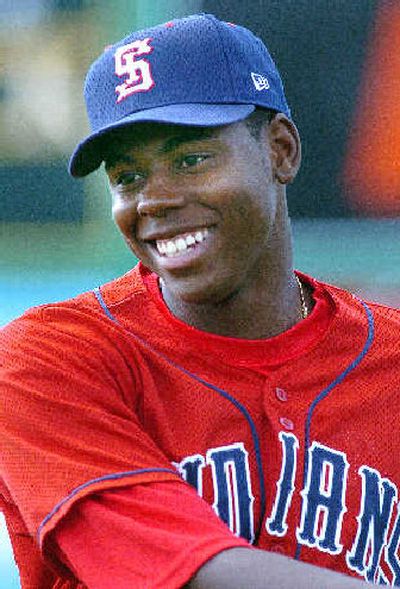 At 18 years old, John Mayberry Jr. apparently had it made.
Drafted by the Seattle Mariners 28th overall in 2002, all he had to do was sign a contract to begin his career playing professional baseball.
He decided it could wait three years.
Mayberry Jr. instead accepted a scholarship to Stanford, playing three years for the Cardinal and improving his draft stock enough to be selected 19th overall by the Texas Rangers this June, and begin his professional baseball career in Spokane.
The Indians open the season tonight at Eugene and open the home season Sunday at Avista Stadium against Everett.
The career delay was a calculated risk for Mayberry Jr., but he's got a shrewd adviser.
His father, John Sr., played 15 season in the major leagues, most notably with the Kansas City Royals in the mid-70s after the Houston Astros selected him sixth out of high school in the 1967 amateur draft. He compiled 255 home runs, 879 RBIs, two all-star appearances and finished second to Fred Lynn for American League MVP in 1975.
John Jr. had the chance to immediately follow in his father's footsteps, but an education at Palo Alto was too much to pass up.
"It was obviously a very difficult decision to put off pro baseball three more years," Mayberry Jr. said. "I wanted to be a well-rounded individual and get my education."
He's one quarter shy of a political science degree, which he plans to finish this winter after his first professional season.
First, Mayberry Jr., will get to start a dream he's been cultivating since he toddled around the Royals clubhouse while his dad was a coach.
"The biggest thing I remember was the spreads the Royals had after their games," said the 6-5 3/4, 230-pound Mayberry, who apparently didn't miss many. "I'd get to go down after the game, and they had some amazing meals down there. I was definitely one of the kids they thought would never leave."
Despite dabbling in basketball, if you can call 14 points and 10 rebounds as a senior forward at Rockurst High School in Kansas City dabbling, he was always cut out for baseball.
"I've played since I was about two or three years old," Mayberry Jr. said. "It's just one of those things that, because my dad is who he is, I had no choice but to grow up around the game, and I just naturally took a liking to it."
Before he completes the second leg of the father-son major league combo (They've already become the first to be drafted three times in the amateur draft's first round), he has some adjustments to make.
He'll be playing right field for the Indians, not first base, where his father played, and where Mayberry Jr. made all of nine errors during his career at Stanford.
It's an organizational decision, as the Rangers have Mark Teixiera, their fifth-overall pick in 2001, at first base, leading the majors in homers with 20. Texas also drafted Adrian Gonzalez, a first baseman, first overall in 2000 – and he's currently in Triple-A Oklahoma.
"I think about it in terms of lottery tickets," Spokane manager Greg Riddoch said. "If you've got more to offer and you can play more positions and you are more adept at those positions, you have a much better chance than a guy who's locked into one slot."
Riddoch isn't worried about the switch to right field, as Mayberry Jr. has played there in the Cape Cod League and with the World University national team, and is athletic enough to play there professionally.
He'll be tutored while in Spokane by hitting coach Mark Whiten, who spent most of his major-league career in right field.
He's also got to rediscover the swing he had in 2004 as a sophomore at Stanford, when he batted .333 with 16 home runs. In his final season, he slipped a little to .303 and eight homers.
"I didn't have the year I had last year," Mayberry, Jr. said. "It was kind of hard to stay consistent for whichever reasons, but my dad's played 15 years and with that experience you realize that sometimes the best swings are line-drive doubles and some years they're home runs. This year, they were doubles."
In his first batting practice session with the Indians, the second pitch he saw from Whiten came in high and tight, seemingly too far inside for his long arms to handle. Mayberry Jr. whipped his bat through the zone, got inside the ball, and crushed it out to left-center field.
Another issue for Mayberry Jr. to deal with will be living up to the legacy created by his father, which some handle well (Ken Griffey Jr.) and some don't (Pete Rose Jr.).
Mayberry Jr. knows one thing, though. He will be faster than his dad, who stole all of 20 bases in 15 seasons.
"I was kind of cracking jokes about being faster than him," Mayberry Jr. said. "I didn't get to see my dad play, but I have memories of him at a old-timers game off Ferguson Jenkins, and he hit one to the wall. For everybody else, it's a stand-up double. He got thrown out by 15 feet."
Indians outfielder Steve Murphy, who grew up playing baseball with Mayberry Jr. in Kansas City, where they attended the same high school, doesn't worry too much about him handling any perceived pressure.
"Being in Kansas City and having his dad be a Kansas City Royals hall-of-famer, he's used to the Kansas City media kind of being on him," Murphy said. "He's had it basically since his junior year of high school, you know, 'Hey, you're Big John's son, John Jr.,' and when he was getting into the draft, there were cameras at our practice and at our summer team, so he's used to the attention."
The positive aspects of having a big-league father easily outweigh the negatives, when Mayberry Jr. has to just make a phone call to talk with someone who's been through everything baseball has to offer.
"The biggest thing he said I would have to adjust to was just playing every day," Mayberry Jr. said. "In college you play three games a week, but here you're playing seven days a week. That's the biggest adjustment he said he had to make when he was drafted by the Astros, just staying focused through the entire year."
John Mayberry Jr. would like to create a legacy for himself outside of being just "Big John's son," but he admits there is one aspect of his father's career he would love to recreate.
"My dreams are just like everyone else's, to make my career in the big leagues and play 15 years."
"I mean, what more can you ask for?"
Local journalism is essential.
Give directly to The Spokesman-Review's Northwest Passages community forums series -- which helps to offset the costs of several reporter and editor positions at the newspaper -- by using the easy options below. Gifts processed in this system are not tax deductible, but are predominately used to help meet the local financial requirements needed to receive national matching-grant funds.
Subscribe to the sports newsletter
Get the day's top sports headlines and breaking news delivered to your inbox by subscribing here.
---