Sports
Three Splash teams qualify
Tue., June 21, 2005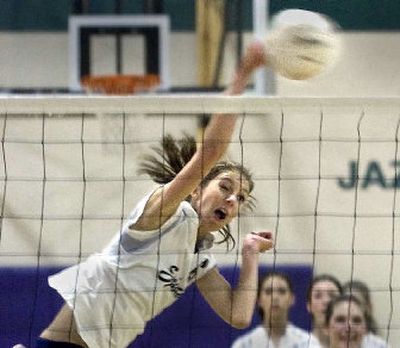 For the first time since the club was formed in 1996, Spokane Splash Volleyball Club has qualified all three of its teams for the 2005 USA Junior Olympic girls' championships, which will be held June 30-July 3 at the Salt Palace in Salt Lake City, Utah.
The Splash U-18, U-16 and U-15 teams, composed of girls from area high schools, will compete in the 26th annual event that draws the best teams in the United States in the 12-18-year-old age divisions.
The club, especially U-15 coach Eva Windlin-Jansen, is confident that it can contend in each division.
"I always like our chances because we compete well; we have a pretty well-rounded team," said Windlin-Jansen, who formerly coached at Gonzaga and Eastern Washington. "Even if we don't win the tournament, I think our season has been really good overall."
The Splash U-18 and U-15 teams were awarded the Evergreen Region (Inland Northwest/Western Montana) bids.
"There are not too many U-15 teams in this region," Windlin-Jansen said. "So obviously we had a little bit of an advantage, not a lot of competition to go against."
The U-16 team earned its second straight Junior Olympic berth after playing in the Pacific Northwest Qualifier tournament.
"It took a lot of hard work, a lot of passion all around, by the coaches and players and everybody coming together," Medical Lake freshman and Splash U-15 player Carly Dorshorst said. "We're going there to get the experience and the playing time because we are the underdogs. But I think it's going to be fun."
The teams and their coaches:
U-18 – Corina Beyer, Kasey Blevins, Rachel Bonertz, Sheridan Brett, Ivyanti Bush, Cassie Dobson, Kaitlyn Farley, Amy Herron, Katrina Johnson, Amy Lawson, Ashlee Lupfer, Mara Ryan, Karen Solum. Coaches – Steve Rupe and Wade Benson.
U-16 – Oceanna Bush, Jaclyn Duenas, Erica Ehlo, Janae Forney, Kristina Fruci, Megan Higgins, Hillary Johnson, Kelsey Kamitomo, Dristi Landwehr, Kayla Rekofke, Christine Topliff, Hannah Zimmerman. Coaches – Scott Davis and Rebecca Wood.
U-15 – Shannon Chan, Samantha Christensen, Amanda Dahlstrom, Carly Dorshorst, Hanna Jansen, Abby Kalk, Karyn Mockel, Emma Olgard, Keshia Rumberger, Meg Ryan, Brittany Weber. Coaches – Eva Windlin-Jansen and Ryan Van Ornum.
Baseball
In Junior American Legion play, University had blowout wins on back-to-back nights. Tom Peterson capped a 12-0 win over Central Valley on Tuesday with a walk-off grand slam in the sixth inning, then Travis Lewis added two home runs, including a grand slam of his own, in a 15-4 win over East Valley on Wednesday.
On June 13, Mead and Deer Park both posted dramatic victories. David Hennessey sealed a 7-6 Mead win over North Central, striking out two with a runner on third base to end the game, while Jordan Hoxie hit a walk-off double in the eighth inning to score Ben Rathbun and defeat Gonzaga Prep 2-1.
Hennessey also contributed with his bat in last weekend's AA Cranston Memorial Tournament in Coeur d'Alene. He was one of four Mead players with two hits in an 8-4 win over Prairie in Sunday's third-place game.
Jordan Poynor helped lead Mt. Spokane to the championship game, allowing one hit in five innings in an 8-0 win over Prairie. However, there would be no pitching gem Sunday, as Mt. Spokane fell to Coeur d'Alene 9-7 in the championship game.
Mt. Spokane enters the week tied with Gonzaga Prep for the North lead, both with 3-0 records. Rogers (2-0) and North Central (3-1) are a half-game back. In the South, University (5-1) leads Whitman County (4-1) by a half-game and Lewis and Clark (3-1) by one game.
•In Senior American Legion action Saturday, Cory Clifton doubled in the tying run and scored the winning run on a C.J. Wolfe single in the sixth, giving the Northstars a 7-6 win over Centennial in the Missoula Tournament. The Northstars advanced to Sunday's championship game, where they lost to Gillette, Wyo., 10-6.
In the Cranston Memorial Tournament, the Bandits finished second, falling to the Boise Senators 11-7 in the championship game.
The Cannons remain the only undefeated team in AAA at 3-0, followed by the Bandits at 6-1.
•The Spokane Crush U-11 baseball club, a Pony League team, won five straight games in an AAU state tournament in Wenatchee to qualify for September's national championships in Portland. The Crush crushed Bellingham 15-0 in the championship game to advance.
The players are: Blake Bozette, Matt Durant, Travis Key, Kelly Fitzpatrick, Michael Renner, Seth Wolfe, Blake Zimmerer, Matt Yorlano, Ben Goodwin, Chase Haack and Matt Miller. The coaches are Kevin Fitzpatrick and James Key.
Local journalism is essential.
Give directly to The Spokesman-Review's Northwest Passages community forums series -- which helps to offset the costs of several reporter and editor positions at the newspaper -- by using the easy options below. Gifts processed in this system are not tax deductible, but are predominately used to help meet the local financial requirements needed to receive national matching-grant funds.
Subscribe to the sports newsletter
Get the day's top sports headlines and breaking news delivered to your inbox by subscribing here.
---