News > Spokane
Field Day tests hams
Sun., June 26, 2005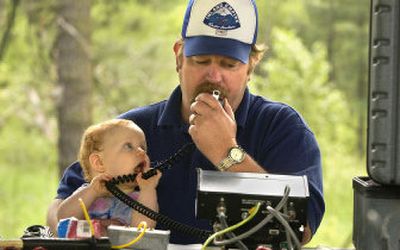 They don't always remember each other's last names, but they never forget their call signs.
In the world of amateur radio, Art Cowan of Spokane is better known as WZCOZ – "Whiskey, Zulu, Charlie, Oscar, Zulu," if you use the phonetic alphabet like other hams. He's the guy who spends at least five hours a day talking and using Morse Code to communicate with people from all over the world. They also know him as the local ham with the fancy equipment, including a station and tower at his home.
"You get on and you never know who you'll get," said Cowan, who was introduced to ham radio in 1949 when he was 8 years old. "You can talk to people anywhere in the world."
But ham radio is more than just a hobby for Cowan. It's also a community service, he said, a way to help others in the event of a widespread emergency. In areas without cell phone coverage, or when regular lines of communication fail during a crisis or natural disaster, amateur radio operators like Cowan can help coordinate rescue efforts and relief shipments to assist those in need. Locally, amateur radio operators have worked with emergency response teams during the 1991 firestorm and the 1996 ice storm.
On Saturday, hundreds of ham-radio enthusiasts in the Inland Northwest joined thousands of others throughout the United States and Canada for "Field Day," an annual event that tests their ability to communicate with each other during an emergency.
Simulating an actual crisis, they set up their equipment and stations while using batteries or generators, then spend the next 24 hours contacting other Field Day participants all over the continent.
Cowan and a dozen others set up a station at Valleyford County Park, about 10 miles south of Spokane along the old Palouse Highway. Since electricity wouldn't be available if disaster were to strike, their three radios were powered by 12-volt car batteries. To get their equipment up and running, the radio operators used a slingshot with fishing wire to string their antenna on a tree branch 40 feet from the ground.
"It's a training exercise," explained Tom Rose of Spokane Valley, also known by the call sign of KC7QGQ. But it's also a contest. The group that contacts the highest number of Field Day stations gets recognized by the American Radio Relay League Inc., in its monthly publication.
The sun, weather and other conditions in the atmosphere determine the band frequency and their ability to connect with other groups, explained Cowan. Last year, this group of local hams was able to communicate with about 300 other stations.
"CQ Field Day," a voice on the radio crackled.
"Whiskey, Seven, Golf, Bravo, Uniform," responded Rose, spelling out their club name for the event, as his 9-month-old daughter, Shelby, sat on his lap and played with the equipment.
Rose, who drives an STA bus, wrote the call name of the San Francisco station that made the connection. "Three, BEWA," he said, indicating the number of radios they had on battery power along with the fact that they're in Eastern Washington.
While most ham-radio operators usually talk about the weather or their equipment, there was little time for idle chitchat Saturday since their goal was to make as many connections as possible. "Have a good day," or "Good luck to you on Field Day," was the extent of their conversations.
Most ham-radio fans enjoy meeting people on the radio and talking one-on-one, said Charles Greeson, who had planned on spending the night at the park for Field Day. "It's a way to extend your hospitality," he said. "You end up talking to all sorts of people – doctors, lawyers, even famous people." Greeson said he once made contact with classic rock guitarist Joe Walsh of the Eagles.
About 1,450 people in the area belong to at least one of the five ham radio organizations in the Inland Northwest, including the Inland Empire WHF Radio Amateurs and the Amateur Radio Emergency Services. The youngest member with a license granted by the Federal Communications Commission is 6 years old, said Rose. The oldest member recently died; he was over 100, Rose said. About one-third of the local hams are women.
"It's a lot of fun," said Scott Lasater of Spokane, an amateur radio operator for the past 30 years. "I love talking to people and learning about their different backgrounds, hobbies and experiences."
Local journalism is essential.
Give directly to The Spokesman-Review's Northwest Passages community forums series -- which helps to offset the costs of several reporter and editor positions at the newspaper -- by using the easy options below. Gifts processed in this system are not tax deductible, but are predominately used to help meet the local financial requirements needed to receive national matching-grant funds.
Subscribe now to get breaking news alerts in your email inbox
Get breaking news delivered to your inbox as it happens.
---