News > Spokane
Kids catch up during summer
Sun., June 26, 2005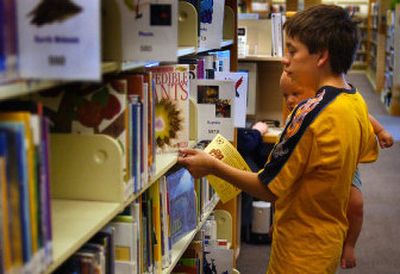 Mariah Langley wishes public school was year-round.
Her daughter, Caitlyn, 7, is struggling to read at grade level, and three months off isn't going to help.
"They go from attending school every day with a teacher constantly reminding them to read or write … to not thinking about it," Langley said. "In the summer they just lose a lot of what they have learned."
Instead of lobbying for year-round schools, Langley will settle for summer classes offered by the Central Valley School District to help her first-grader with reading.
"I just don't want her to fall behind," Langley said.
She is not alone.
Several area school districts noted that the popularity of summer academic programs as a way to close learning gaps is increasing each year.
This year, the Central Valley School District had to hire extra teachers to accommodate more than 100 students signed up for elementary and early literacy programs, which begin Monday. In addition, twice as many middle school students signed up for summer school than were expected.
Most summer school programs run Monday through Thursday and vary in length. The programs can cost anywhere from $75 to more than $100, with tuition waivers for students taking free and reduced lunch.
"Interest in these (summer) programs is growing significantly," said Emmett Arndt, a Spokane Public Schools official. "Some students need more time, and I think schools are accepting that responsibility to support students so they don't fall behind in the progress they need to make."
The provisions of the federal No Child Left Behind Act – which set the goal of having every child proficient in reading and math by 2014 – have created clear benchmarks that students must reach by each school year. If students are just barely there, a summer vacation from the books may do more harm than good.
Lewis and Clark High School will hold a summer school program for 180 incoming freshman students to help them with skills needed for high school, including those needed to pass the Washington Assessment of Student Learning test, often referred to as WASL. Other Spokane high schools have similar programs for incoming ninth graders.
The West Valley School District also is offering pre-WASL experience classes for ninth- and 10th-graders this summer.
"It's a clear indication that summer learning has become an extension of the regular school year, as a tool for reaching standards rather than just for those who need to make up credits or classes," Arndt said. "It's about student competency and the ability to perform on higher levels. It's more purposeful."
Beginning with the class of 2008, all 10th-grade students must pass the WASL, which tests fourth-, seventh- and 10th-grade students in reading, writing and math each year. Last year, a science section was added for students in fifth, eighth and 10th grades. Starting this year, a WASL in reading and math will be added for grades three, five, six and eight, as required by the federal law.
But some educators say it's not just the WASL that is driving interest in summer learning experiences, it's the achievement gap.
At the elementary level, especially in the early grades, literacy has become the primary focus.
"Reading is critical," said Tammy Campbell, the principal at Opportunity Elementary School. "Research is showing that kids that are not reading, and reading well, struggle in every other area."
Campbell, who is leaving Opportunity for an administration position with Spokane Public Schools in the fall, has put literacy at the top of her list.
Twice a month during the school year she visited the homes of some of her students, reading to them and their parents in an effort to establish essential reading skills in entire families.
"It's not just the WASL that matters," Campbell said. "We want children who can critically read a newspaper and figure out what their views are on politics, or figure out what is fact and what is fiction. We want them to be able to go into a museum and enjoy it. How are they going to do that if they can't read?"
With prodding from school districts, participation in local library summer reading programs has also increased by more than 1,000 students in two years. Spokane Public Libraries and the Spokane County Library District have teamed up for the program, which this year began June 20 and runs to July 29. Each student who reads 15 books will get a free book.
"That three-month gap in the summer can be challenging, especially when school starts up again in the fall," said Beth Gillespie, a communications specialist with the county library. "We've consistently heard that this program really makes a difference; they haven't fallen so far behind."
West Valley's summer program for students in grades one through five, called Jump Start, won't begin until Aug. 1 this year.
"It's closer to the beginning of the school year to help close that gap," said Jeff Smith, West Valley's summer program director. "We try to make it fun for the kids. Summer school is no longer a punitive or negative thing, and that's a good thing."
Local journalism is essential.
Give directly to The Spokesman-Review's Northwest Passages community forums series -- which helps to offset the costs of several reporter and editor positions at the newspaper -- by using the easy options below. Gifts processed in this system are not tax deductible, but are predominately used to help meet the local financial requirements needed to receive national matching-grant funds.
Subscribe now to get breaking news alerts in your email inbox
Get breaking news delivered to your inbox as it happens.
---