News > Nation/World
New insurgent attacks hit Iraq
Sun., June 26, 2005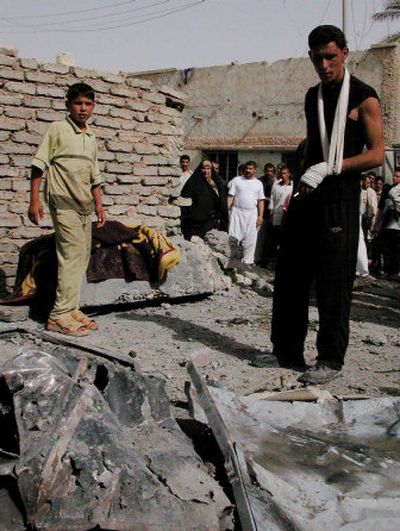 BAGHDAD, Iraq – A suicide bomber trailed by five cars loaded with armed insurgents slammed into a wall outside the home of an Iraqi special forces police officer Saturday in the Sunni triangle city of Samarra, killing at least nine people on the street, officials said.
In another attack in the same region, insurgents rounded up eight police at a checkpoint outside the western city of Ramadi, then marched them into their office and shot them to death, police said Saturday. The attack was on Friday.
The U.S. military also confirmed the deaths of two more Marines in Thursday's ambush in Fallujah. That brought the death toll from the suicide car bomb and ensuing small-arms fire to at least four Marines with a Marine and a sailor still missing and presumed dead, the military said.
The lethal ambush on a convoy carrying female U.S. troops in Fallujah underscored the difficulties of keeping women away from the front lines in a war where such boundaries are far from clear-cut. At least one woman was killed, and 11 of the 13 wounded troops were female.
The attacks in Fallujah, 40 miles west of Baghdad, and Saturday's suicide bombing in Samarra, 60 miles northwest of the capital, were startling indications that two major American military campaigns last year to eradicate insurgents in those cities may have failed. Both attacks signaled the reappearance of militants capable of carrying out sophisticated attacks.
The suicide bombing in Samarra targeted the home of Lt. Muthana al-Shaker, said police Lt. Qassim Mohammed. But the nine people killed were all on the street and al-Shaker was not injured, Mohammed said.
Two insurgents also died when a roadside bomb they were planting outside al-Shaker's house after the attack blew up, he said. That bomb was intended to kill police and emergency services members when they arrived at the scene, Mohammed added.
Elsewhere, three mortar rounds struck a crowded cafe in a predominantly Shiite neighborhood in western Baghdad on Saturday night, killing five civilians and wounding seven more, police said.
Gunmen also killed two policemen from a commando unit patrolling western Baghdad on Saturday, police 1st Lt. Thaer Mahmoud said. In addition, Iraqi police found the body of a slain uniformed policeman in another section of Baghdad, his hands bound behind his back and plastic wire around his neck, police Capt. Mohammed Izz al-Din said.
In a separate incident Saturday, gunmen killed three policemen on a road about 46 miles south of Amarah, police said.
But it was the Fallujah ambush that may prove the most troubling for the military.
The ambush suggested Iraqi insurgents may have regained a foothold in Fallujah, which has been occupied by U.S. and Iraqi forces since they regained control of the city seven months ago.
The women were part of a team of Marines assigned to various checkpoints around Fallujah. The Marines use females at the checkpoints to search Muslim women "in order to be respectful of Iraqi cultural sensitivities," a military statement said.
The female Marine killed Thursday was identified by the Defense Department as 21-year-old Lance Cpl. Holly A. Charette, of Cranston, R.I. Three male Marines also were killed, the military said. Charette was remembered Saturday as a popular high school cheerleader who liked helping people.
Local journalism is essential.
Give directly to The Spokesman-Review's Northwest Passages community forums series -- which helps to offset the costs of several reporter and editor positions at the newspaper -- by using the easy options below. Gifts processed in this system are not tax deductible, but are predominately used to help meet the local financial requirements needed to receive national matching-grant funds.
Subscribe now to get breaking news alerts in your email inbox
Get breaking news delivered to your inbox as it happens.
---