Sports
Texas has sky-high feeling for Young
Sun., June 26, 2005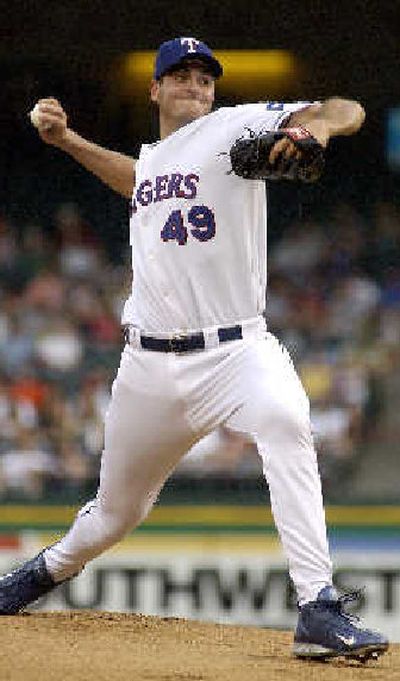 ARLINGTON, Texas – Chris Young looks like a basketball player, his 6-foot-10 frame towering above his teammates.
Instead of posting up under a basket, though, Young is on an elevated mound in the center of the infield – making him appear even taller. The baseball he holds is engulfed by his huge right hand.
Young is the tallest pitcher in Texas Rangers history and one of baseball's best rookies (7-4, 3.21 earned run average through 15 starts).
Still, he might have been trying to block shots in the NBA rather than throwing strikes if he hadn't made it to the major leagues late last season. The Sacramento Kings offered him a guaranteed two-year contract last fall.
"I always thought that if baseball didn't go well, there would be some opportunities with basketball," said Young, a two-year starter in baseball and basketball at Princeton who was drafted by Pittsburgh in the third round of the June 2000 baseball draft. "It wasn't completely out of the blue, but it was probably more than I thought at the time."
Texas made the decision easy for Young after he told manager Buck Showalter about the NBA offer that had been more than a year in the making.
Satisfied with the progress Young had made in six months after coming in a trade from Montreal at the end of spring training, the Rangers gave him a $1.5 million, three-year deal that includes a team option for 2008.
After going 9-5 with a 3.72 ERA in 23 games in Double-A and Triple-A, Young was pitching in a pennant chase last season for his hometown Rangers. He was 3-2 with a 4.71 ERA in five starts, his first victory coming at Fenway Park against eventual World Series champion Boston.
The 28-year-old right-hander gave up 10 runs (seven earned) over just 7 2/3 innings his first two starts this season, both against the Los Angeles Angels.
He lost again this week to the Angels, the team that holds a five-game lead over Texas in the American League West pennant chase.
In between the Angels, Young allowed just 16 runs over 11 starts. He threw eight shutout innings against Detroit and seven scoreless innings against Atlanta.
"He's tough because you're not used to seeing a pitcher that tall," said Braves outfielder Andruw Jones, who was 0 for 3 against Young. "It's hard to see where he's releasing his pitches."
Washington pitcher Jon Rauch, who is on the disabled list, is listed as an inch taller than Young, who is the same height as Randy Johnson of the New York Yankees.
While Young won't find out how he could have done in the NBA – his new contract includes restrictions on basketball activities – he's off to a pretty good start in the major leagues.
His ERA was fifth-best in the American League heading into the weekend (without the Angels games, it would be 2.18), and he has 74 strikeouts and 20 walks over 94 2/3 innings.
Local journalism is essential.
Give directly to The Spokesman-Review's Northwest Passages community forums series -- which helps to offset the costs of several reporter and editor positions at the newspaper -- by using the easy options below. Gifts processed in this system are not tax deductible, but are predominately used to help meet the local financial requirements needed to receive national matching-grant funds.
Subscribe to the sports newsletter
Get the day's top sports headlines and breaking news delivered to your inbox by subscribing here.
---