News > Business
Week in Review
Sun., June 26, 2005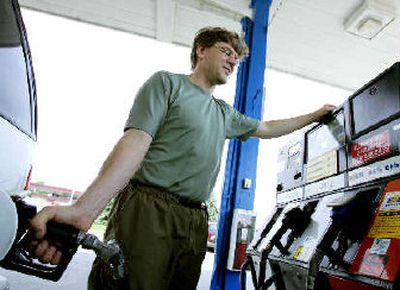 Oil prices reached a new high near $60 a barrel, even as the president of OPEC said the group would consider raising its output ceiling. Gasoline prices in the U.S. are about 40 percent higher than they were a year ago.
Tuesday
Adelphia Communications Corp. founder John Rigas was sentenced to 15 years in prison by a judge who blamed him for defrauding investors of his bankrupted cable company in one of the largest frauds in corporate history.
• The board of the Inland Northwest Technology Education Council (INTEC) agreed to spin off one of its programs as a stand-alone economic-development agency. INTEC's own status remains in doubt due to lack of funding.
Wednesday
The Inland Northwest Blood Center said it will cut four jobs and its hours of operation in response to a decline in revenue. The nonprofit center, which is the sole provider of human blood for Spokane-area hospitals, also is requiring its employees to pay part of their health-insurance premiums and managers are taking a voluntary pay cut.
• A renovation project to restore two historic buildings to their original appearance is continuing the momentum of the small-business district on Spokane's South Perry Street. Spokane resident John Stellwagen and his family bought the two buildings, on the southwest corner of Perry and 10th Avenue, and a development firm, Rencorp, is rehabilitating them.
Thursday
Spokane-based Itron reached a $1 billion milestone when the company's market capitalization — its shares outstanding multiplied by price per share — topped $1 billion for the first time. Itron shares traded at a 52-week high, up 65 percent from the price in September.
• About 11 percent of companies nationwide that once offered traditional pensions to their employees froze or discontinued those plans last year, a study found. About half of the companies that terminated their plans were financially troubled.
Friday
A proposed Wal-Mart store in Pullman has passed its first regulatory hurdle, with the city of Pullman preliminarily approving the measures Wal-Mart said it would undertake to address environmental impacts. Next comes a public comment period followed by further city review.
• China's third-largest oil producer made a hostile $18.5 billion bid Thursday for U.S. oil company Unocal Corp., marking the communist nation's most ambitious attempt yet to acquire a Western corporation and setting up a possible showdown with American politicians over national security issues.
Local journalism is essential.
Give directly to The Spokesman-Review's Northwest Passages community forums series -- which helps to offset the costs of several reporter and editor positions at the newspaper -- by using the easy options below. Gifts processed in this system are not tax deductible, but are predominately used to help meet the local financial requirements needed to receive national matching-grant funds.
Subscribe now to get breaking news alerts in your email inbox
Get breaking news delivered to your inbox as it happens.
---