Sports
Crowning glory
Mon., June 27, 2005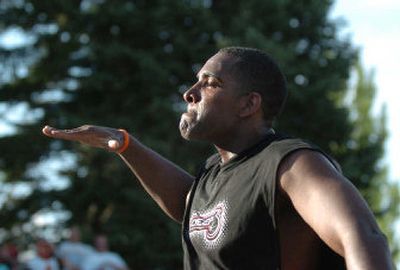 If this were the NCAA Tournament, perhaps the lack of upsets would be disappointing.
But for Rick Steltenpohl, in his last year at the helm of Hoopfest, it was a final affirmation of a job well done.
"We seeded the top 16 teams and the top four teams made it to the semis," he said on Center Court minutes before Battle in Seattle faced Team Atlanta for the men's Elite championship. "They get no advantages; they still have to play the same number of games. So to see that is very gratifying, just to see the crowds. Really I thought this was the most crowded tournament. And to me, that means people love it. That makes me very happy."
The happiest of all, however, ended up being the four players from Battle in Seattle, which took the 2005 trophy after making it just as far in 2004, but falling short in the championship game.
Bolstered by the addition of ex-NBAer Evric Gray, Battle in Seattle won a rematch of last year's title game against Happy Wife Happy Life in the semifinals before finishing off Team Atlanta in the finals 20-15.
"Last year we got a taste of what it's like to get to the finals and win," said Chris Harrison, who took the championship game MVP award with eight points. "John (Hines) and I have been talking all year about who we can grab and we got the best possible guy we can get."
Gray also had eight points in the final as he and Jake Carlisle (five points) pounded the inside against a worn-out Atlanta squad, which was playing in most likely its last Hoopfest, after winning two titles and making it to five final games.
"It's a grueling two days. I'm not going to lie. It's hard," said Harrison, who played at both North Idaho College and Lewis-Clark State College in the late 1990s. "It comes down to free throws and if you can stop guys from hitting 2s. We did that last year until the championship game and then this year we closed it out."
Temperatures on the Center Court floor reached 100 degrees under the afternoon sun and that didn't help Happy Wife Happy Life, which after losing in its bracket had to play two extra games and three in less than two hours to make it back to the semifinal game.
Even still the team of four former Whitworth players nearly managed to repeat as Hoopfest champs.
"With the heat out here it's tough. But that's no excuse," said Bryan Depew, whose team was also noticeably fatigued in the close loss to Battle in Seattle. "We fought our way back and we're happy. We enjoy playing in Hoopfest every year now and it's fun. The ball just didn't drop for us."
In the elite division for men under 6-feet, Hoop Hearted won a third consecutive championship with title game MVP and former Gonzaga guard Winston Brooks scoring seven points. Hoop Hearted boasted four former college players and overwhelmed Rez Woyers, a team of former high school football players – and one dad – from Inchelium.
Brooks' seven points and former Eastern Washington mainstay Ryan Hansen's eight points were each nearly enough to outscore the Rez Woyers, who managed just nine.
"I was posting up all weekend. This game, I just wanted to get it over with so I went back to my guard game," Brooks said. "I didn't get to play last year, but playing with these guys is always great and getting to represent Gonzaga (is great)."
From Battle in Seattle, Harrison also said it was good to be back in Spokane. Even though the winning team was assembled from all around the globe, it appears that a run for two in a row is a good possibility.
"This is fun," Gray said. "I love the city; Spokane is nice and I'll probably come back."
Local journalism is essential.
Give directly to The Spokesman-Review's Northwest Passages community forums series -- which helps to offset the costs of several reporter and editor positions at the newspaper -- by using the easy options below. Gifts processed in this system are not tax deductible, but are predominately used to help meet the local financial requirements needed to receive national matching-grant funds.
Subscribe to the sports newsletter
Get the day's top sports headlines and breaking news delivered to your inbox by subscribing here.
---