Sports
Zyemtsev no longer unknown
Mon., June 27, 2005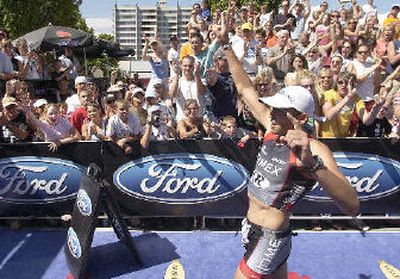 Viktor Zyemtsev came to the third annual Ford USA Coeur d'Alene Ironman with little more than token acknowledgment by race officials that he was scheduled to compete.
A well-known Ironman athlete internationally, Zyemtsev of Ukraine is on his way to making a name for himself in the United States after he sprinted away from the field Sunday.
The three-time Ironman Austria champion hung near the lead pack through the first half of the finishing 26.2-mile marathon before pulling away to a course-record time of 8 hours, 23 minutes, 29 seconds for his first win on U.S. soil.
Zyemtsev picked up $14,000, the winner's share of the $50,000 purse that was doubled for the men since the race was designated as the men's U.S. pro championship. Although Ironman officials haven't made it official, the Coeur d'Alene race next year will likely feature the women professionals. The women's U.S. pro championship will be next month in Lake Placid, N.Y.
Another unknown international athlete, Tom Soderdahl of Finland, finished runner-up (8:29:38), while the first Coeur d'Alene Ironman champ, Michael Lovato, of Boulder, Colo., was third (8:32:06).
Lovato's winning time in 2003 (8:40:59) was the previous best until Sunday.
Defending champ Chris Legh and pre-race favorite Simon Lessing quit at different points in the marathon. Legh was having difficulties breathing after finishing the 112-mile bike portion of the three-leg event, while Lessing was well in front after the bike before starting to falter about 12 miles into the run. He eventually pulled out at the 19.5-mile mark.
The day belonged to Zyemtsev.
"This is a great day for me," Zyemtsev told the finish-line crowd through broken English. "This season in North America has been much better for me. Last year my season in North America was not so good. Last year I had no power … today I had some power."
Zyemtsev placed second behind Lessing at the Florida Half Ironman last month.
Zyemtsev fielded questions through an interpreter. Although he qualified for the world championship race in Hawaii in October, he said he will not compete and instead is focusing on becoming stronger so he can make a run at Hawaii in 2006.
Soderdahl sought immediate medical attention afterward and was unavailable for comment.
Lessing was the early pacesetter in the run, but Zyemtsev and Lovato, who ran side by side through the first 11 miles, were within eyesight of the leader.
They overtook Lessing, who was obviously slowing down, near the 12-mile mark.
It was about at that point that Zyemtsev said he found his running groove. After Lovato briefly tried to open a lead, Zyemtsev overtook the former CdA champion and never looked back.
"He couldn't get into the run at the beginning, but after about 10 kilometers he started to settle in and got going," Zyemtsev said through his interpreter. "He thought he was a dark horse before the race. They were saying a lot about the Americans before the race, but nothing about Viktor."
Lovato proved to be prophetic. He warned that Zyemtsev would be in the mix Sunday.
"Viktor's strong as heck," Lovato said. "I really respect his running – well shoot, his whole game. On the run, I really thought I could put the hurt on him. I should have tried to stay with him a little longer."
Local favorite Matt Seeley of Polson, Mont., who finished second last year and fourth the year before, finished fourth again. But he did so in an all-time best time (8:37:27), topping his runner-up time last year by more than seven minutes.
Although not pleased with their placing, Lovato and Seeley thought they had better races Sunday than in previous CdA races.
"Effort-wise it was a better race (than two years ago)," Lovato said. "Guts-wise it was a better race. I was really trying to push everyone out there, myself included. I came here with one goal – and that was to make whoever won it push himself and really try to get the most out of my own body."
Seeley wasn't surprised by Zyemtsev.
"It's a credit to him that he could bike as hard as he did and still have a pretty good run," Seeley said.
Seeley had never broken 3 hours in the marathon portion of an Ironman until Sunday.
"I had the greatest run I've ever had," said Seeley, who was overtaken by Legh with 1.2 miles to go last year. "I was strong all the way to the end. It kind of gets rid of some of the demons from last year. I still haven't won an Ironman, but I've reached every other goal I have, so I have no regrets."
Local journalism is essential.
Give directly to The Spokesman-Review's Northwest Passages community forums series -- which helps to offset the costs of several reporter and editor positions at the newspaper -- by using the easy options below. Gifts processed in this system are not tax deductible, but are predominately used to help meet the local financial requirements needed to receive national matching-grant funds.
Subscribe to the sports newsletter
Get the day's top sports headlines and breaking news delivered to your inbox by subscribing here.
---