News > Spokane
Foresight helps capture suspects
Wed., June 29, 2005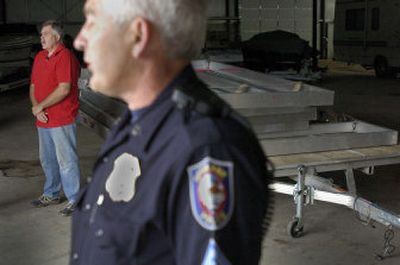 After general contractor Brad Broadwell caught a would-be thief at gunpoint last year at the construction site of his own home, he knew criminals had a new method of making money.
So on June 14, when someone took a trailer filled with specialty aluminum that was to be the frame for the deck on that same house, Broadwell called police and let area recycling centers know that a bunch of unusual metal might be coming their way.
On Monday, his prediction came true.
Police arrested three men, Raymond P. Vansickle, 52, Raffael Coleman, 43, and Karl Andrias Oliver, 38, on Monday after police say they tried to sell some of Brad Broadwell's stolen aluminum framing to Pacific Recycling. The men were being held in the Spokane County Jail on Tuesday after being arrested on multiple charges of first-degree possession of stolen goods and second-degree trafficking of stolen goods. Vansickle's bond was $5,000 and the other men were held at $2,500 bond.
Police Cpl. Jim Muzatko said he believes the men are all heroin users. The case was solved because the victim was active in working to solve the crime, he said.
When Broadwell called police to report the theft he gave a detailed description of the metal, which helped officers give local recycling centers a heads-up about the stolen goods.
Police say the suspects successfully sold $115 worth of the metal, now sawed into pieces to appear used, at Du-Mor Recycling, where workers gave police a description of the suspects' vehicle. Later that afternoon, Muzatko got a tip from Pacific Recycling that the suspects were trying to sell another load of aluminum, this one valued at $378.
Police were waiting when the suspects started to leave.
"Most of the time it doesn't turn out like this," Muzatko said. "This one turned out well."
Recently, instead of targeting items that have serial numbers, criminals are stealing raw materials from storage spaces and construction sites, he said. Items like aluminum can be sold for scrap. Lumber, electrical equipment and paint are also commonly stolen.
In May, police arrested two men after they tried to sell large freeway road signs to recyclers. In that case, the would-be entrepreneurs took the signs from storage areas for the Idaho Department of Transportation.
Almost one year ago, someone stole two historic 250-pound bronze shields from Avista Corp.'s Mission Avenue headquarters. One shield was found at a metal salvage yard, sold for $83; the other remains missing.
In Broadwell's case, the the aluminum was stolen from his job site not long after he parked the trailer and metal, valued at $8,500.
The best way to keep materials safe on job sites is to make sure the area is secure and to contact neighbors and let them know who is working, Muzatko said. If neighbors watch for suspicious activity, especially at night, it will keep thieves away, he said.
"We need people's help," Muzatko said. "You can put up a chain link fence but these guys will just cut down the fence."
Local journalism is essential.
Give directly to The Spokesman-Review's Northwest Passages community forums series -- which helps to offset the costs of several reporter and editor positions at the newspaper -- by using the easy options below. Gifts processed in this system are not tax deductible, but are predominately used to help meet the local financial requirements needed to receive national matching-grant funds.
Subscribe now to get breaking news alerts in your email inbox
Get breaking news delivered to your inbox as it happens.
---