News > Spokane
Petitions stolen from I-901 office
Wed., June 29, 2005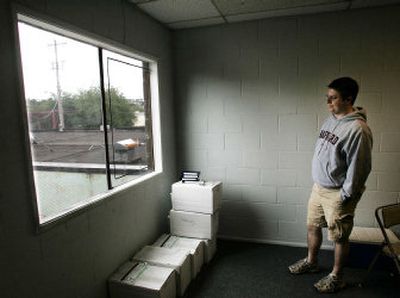 OLYMPIA – As a deadline approaches in the signature drive to put a statewide indoor smoking ban on the November ballot, two break-ins at offices of initiative backers show how contentious the battle is getting in the final days.
Over the weekend, the Seattle office of Healthy Indoor Air For All Washington was burglarized, and an undetermined number of signed petitions were stolen, according to Seattle police. Also, a Lacey office rented by a signature-gathering company was broken into, but nothing was stolen, police said.
While no one has been arrested, supporters of Initiative 901 said Tuesday that nothing can be ruled out in the days leading up to a July 8 deadline for the 225,014 signatures needed to make it to the ballot.
"I hope it indicates desperation because that tells us we're on the path to winning," said Peter McCollum, a spokesman for Healthy Indoor Air.
McCollum said he believes that about 1,000 signatures were lost, though there could have been more.
He said his group expects to exceed the amount of signatures required and plans to submit them next week.
"We are continuing to go right ahead and we're still very confident we're going to make the ballot," he said. "We're aiming for 300,000 and we believe we're going to make it."
A similar measure last year failed to get enough signatures to qualify for the ballot, but this year the move got a boost after a $275,000 pledge from the American Cancer Society in May.
I-901 would prohibit smoking in and near bars, restaurants, bowling alleys, minicasinos, most hotel rooms and most other nontribal businesses. Violations would be punishable by a $100 fine.
A series of television ads that the state Department of Health ran earlier this year hit hard on the issue, featuring smokers and nonsmokers — the latter wearing gas masks — at clubs, bars and other public places.
The announcer says: "It's odd that less than 20 percent of the population smokes yet so many places we all go are not smoke free."
The ads, which ended June 25, don't support the initiative, which would violate campaign finance laws. The ads are legal, according to the state Public Disclosure Commission, because the Health Department didn't change its message to fit the initiative — it's the same message the state has always pushed.
"If they have had in place an anti-smoking campaign they can continue on doing their normal business," said PDC spokeswoman Lori Anderson. "The normal business of a government entity doesn't stop just because an initiative comes up."
Health Department spokesman Tim Church agrees.
"Certainly during an initiative process you have to be careful and make sure you're not out there encouraging people to vote one way or another," he said. "We want people to have the facts and decide for themselves."
But some argue that people aren't getting all the facts.
Opponents say the health risks of second-hand smoke are exaggerated and predict that a ban would drive many customers to tribal casinos and other exempt operations.
"Every tribal restaurant and casino will not only have a monopoly on slot machines, they'll have a monopoly on smoking (customers)," said Linda Matson, former executive director of the Entertainment Industry Coalition, which is no longer in existence.
Gary Murrey, who oversees operations at the Great American Casinos in Lakewood, Kent, Tukwila and Everett, filed a rival measure last month.
Initiative 911 would ban indoor smoking in places accessible by children but allow it in bars, minicasinos and a few other businesses. Murrey acknowledged he was probably under the 100,000 signature mark and didn't expect to make the ballot.
"It doesn't look good for us, which is real disappointing, because I thought it was a real good opportunity to give the residents of Washington a choice," he said.
Murrey cited a 40 percent loss in his business when Pierce County imposed a smoking ban that covered bars, restaurants, bowling alleys, casinos, hotels, private clubs and most other nontribal businesses. The state Supreme Court eventually struck it down, saying it conflicted with state law. The state's less-restrictive Clean Indoor Air Act prohibits smoking in most public places, but specifically exempts restaurants, bars, bowling alleys and casinos.
Two bills that would have expanded the state's clean air act died this past legislative session.
Matson said she thinks there hasn't been much outrage from businesses because they feel overconfident from the state Supreme Court ruling.
"They think it's not going to happen, or they're in total denial," she said, adding that she believes I-901 will make the ballot and will be passed. "When you will see that rage is on the eighth of December, when it becomes law. That's when there will be outrage and disbelief."
Local journalism is essential.
Give directly to The Spokesman-Review's Northwest Passages community forums series -- which helps to offset the costs of several reporter and editor positions at the newspaper -- by using the easy options below. Gifts processed in this system are not tax deductible, but are predominately used to help meet the local financial requirements needed to receive national matching-grant funds.
Subscribe now to get breaking news alerts in your email inbox
Get breaking news delivered to your inbox as it happens.
---