News > Nation/World
Process toward sainthood starts for late John Paul II
Wed., June 29, 2005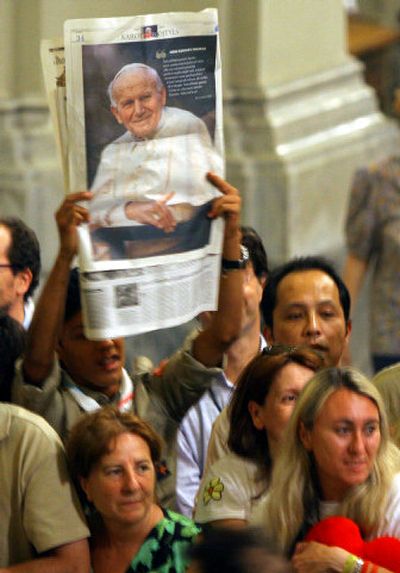 ROME — It began as a solemn ritual in Latin to place John Paul II on the path to sainthood, but the joyful crowd could not contain itself — chanting "Santo Subito!" or "Sainthood Immediately" and breaking into applause.
Cardinal Camillo Ruini, John Paul's vicar for Rome, presided over the ceremony Tuesday that launched the beatification "cause" at the Basilica of St. John Lateran, a rite attended by cardinals, archbishops and other faithful.
Key officials sat at a table set up on the altar, standing to recite an oath to keep their work secret and to refuse any gifts that might corrupt the process.
The faithful remained silent during the oaths, and some in the crowd wept. But once the cause was declared officially open, applause rang out, Polish and Vatican flags fluttered in the pews and there were chants of "Giovanni Paolo" and "Santo Subito!" or "Sainthood Immediately!"
Ruini was interrupted repeatedly by applause as he read a lengthy testimony to John Paul, tracing his life from his birth in 1920, through his years as a priest and bishop in communist Poland to his globe-trotting papacy.
"Any words that I can now add … seem superfluous, so great and universal is the knowledge of him and so profound and unanimous the conviction of his saintliness," Ruini said. "We ask the Lord, with all our heart, that the cause of beatification and canonization that has begun this evening reaches its completion very soon."
Pope Benedict XVI announced May 13 that he was waiving the five-year waiting period and allowing the church's saint-making process to begin immediately for the Polish-born John Paul, who died April 2 after nearly 27 years guiding the church.
It was only the second time in recent history such a waiver had been granted: John Paul placed Mother Teresa on the fast-track for sainthood in 1998. But her cause didn't begin until a year after her death, and although beatified in 2003, she is not yet a saint.
In placing John Paul on a fast track, Benedict was responding to the outpouring of calls for him to be canonized — including chants of "Santo Subito!" that erupted during John Paul's April 8 funeral Mass.
Church officials have said the process will take its regular course, with the investigation into the pope's life and writings, interviews with key witnesses and investigation of any possible miracles attributed to his intercession. One miracle must be verified for him to be beatified; a second for him to be made a saint.
Key clerics, however, have not dismissed speculation that the case might proceed at an unusually quick clip.
"We are working at a regular pace," the cleric spearheading the cause, Polish Monsignor Slawomir Oder, told Poland's TVN24 television. "But the pope is free to take his own decisions and it is not impossible that he may surprise us."
John Paul's longtime private secretary, Archbishop Stanislaw Dziwisz, said he hoped Benedict would announce that John Paul had been made a saint when the pope attends the church's World Youth Day this August in Germany.
Dziwisz conceded in an interview with the Polish Press Agency that "the chances of that happening are close to zero." But he added: "The world already canonized John Paul II, we are now only waiting for the final confirmation of this fact."
That was the sentiment among many of the faithful who gathered Tuesday evening at St. John Lateran for the hymn-filled vespers service to open John Paul's cause. The process was beginning at Rome's cathedral because the first phase of the investigation lies with the Diocese of Rome.
"If it were up to the people, he would be a saint immediately, but you need to respect all the laws of the church," said Marco Iacomino, a 33-year-old seminarian from Brescia.
Local journalism is essential.
Give directly to The Spokesman-Review's Northwest Passages community forums series -- which helps to offset the costs of several reporter and editor positions at the newspaper -- by using the easy options below. Gifts processed in this system are not tax deductible, but are predominately used to help meet the local financial requirements needed to receive national matching-grant funds.
Subscribe now to get breaking news alerts in your email inbox
Get breaking news delivered to your inbox as it happens.
---