News > Business
Something has to give
Wed., June 29, 2005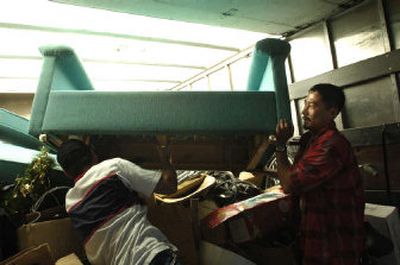 Every week, tens of thousands of items — pink clamshell sinks, toilet seats, even urns full of unidentified ashes — are circulated through the "as-is" department at the St. Vincent de Paul charity on Trent Avenue in Spokane. Nearly every day, hundreds of visitors comb through the outdoor piles and large metal warehouses looking for a bargain.
But "as-is," arguably home to one of the most eclectic mixes of odds and ends in Spokane, isn't half of what it used to be, and St. Vincent Operations Manager Mathew Meeusen is happy with that. When Meeusen applied for the job at St. Vincent more than a year ago, he made a checklist of the things he wanted to see fixed, and sorting the mountains of junk, including leaking containers of automotive coolant and broken computers, was at the top of it.
"I've accomplished everything on my list and lots more," he said. "The whole facility was a mess. We cleaned it up and painted it."
Through organizing, weeding, mowing and building, the more than 40 employees at St. Vincent have transformed what Meeusen described as a junkyard into a complex of retail space, offices and sorting centers the size of a city block.
Meeusen, who worked for Microsoft, Blockbuster Video and KXLY before coming to St. Vincent, is using creative fund-raising to try to lift the nonprofit out of a nearly $60,000 deficit, reported for fiscal year 2003. St. Vincent was in about the same financial position last year, although Meeusen and Mike Fitzsimmons, the nonprofit's district council president and board chairman, declined to give specific figures.
"We are living hand-to-mouth, and we are always living hand-to-mouth," Fitzsimmons said. "We're struggling."
Fitzsimmons attributed a recent fall in donations to misguided concerns that the money could be used to help the Catholic Diocese of Spokane in its bankruptcy struggle.
Although the Society of St. Vincent de Paul was originally founded by the Catholic Church more than 150 years ago, today the charity has no relationship with the church.
"The diocese has nothing to do with us," Meeusen said.
Rising energy costs and a minimum wage increase are adding to the charity's money worries. Plus, Meeusen said, St. Vincent is battling a string of fake checks used in an attempt to purchase thousands of dollars of merchandise; illegal dumping that costs the charity about $2,000 per month to clean up; and nearby prostitution and drug trading.
He said he remains optimistic about cleaning up the area around the charity.
"If I had railroad ties and grass and dirt here, people couldn't back up to my fence and do things, and it would look nice," he said, adding that he has made requests of the city of Spokane to pass an ordinance so he can use the land behind the facility.
Fitzsimmons said Meeusen was hired mostly because of his fund-raising ideas.
Randy Horton, who has worked as a mechanic at St. Vincent for the past five months, spearheaded the latest of Meeusen's campaigns – constructing more than 40 "designer doghouses" to be auctioned at the Spokane Interstate Fair in September and at a separate auction this winter.
"I have a blast with all of them," Horton said. "I get to use my imagination. I try to change every one of them, moving the window around or doorways around and adding or deleting a piece."
The charity gets some lumber donations from Home Depot, and other materials, such as tile and metal, from household construction leftovers.
"The firehouse one has got a brass pole," Horton said. "For the Gonzaga one we did the basketball court."
Meeusen said the funds raised from the auction will go toward fixing three of the organization's seven trucks, which are currently inoperable, and possibly purchasing a new truck.
He said the mechanical problems have made it difficult to pick up donations.
"Our oldest is a 1959, our newest is a 1990," he said of the charity's trucks. "We just need some new blood in our truck fleet."
Other fund-raising projects Meeusen is working on include importing handmade wares from Ghana, Kenya and Nigeria, where St. Vincent has missions, and auctioning antiques and collectibles on eBay.
Spokane's St. Vincent de Paul is the first in the charity's international organization to auction donated items on eBay, where Meeusen said he is able to sell the items for several times the amounts he can get in Spokane. Meeusen said antiques are the most sought-after items at St. Vincent.
"We're fairly picky about what we keep," he said.
He recently received two oil paintings from the mid-1800s that have large, hand-carved frames. With items like these, staffers at St. Vincent do background research, but in this case, the paintings might be sent to New York to be authenticated, he said.
"These are worth a lot," he said. "They came to us from an apartment building. The person had died. Down on their luck, but at one time, they had a very, very rich family."
Clothing and small appliances are the most frequently donated items, something Meeusen partially attributed to people donating something they think is broken but is actually easily repairable.
Appliance repairman Larry Lutz is charged with sifting through two to three shopping carts of appliances every day.
"Half of them work, half of them don't," he said of the approximately 80 large appliances he receives each week. "If I can fix something on it, I do, but if I can't, it goes to the Dumpster."
Local journalism is essential.
Give directly to The Spokesman-Review's Northwest Passages community forums series -- which helps to offset the costs of several reporter and editor positions at the newspaper -- by using the easy options below. Gifts processed in this system are not tax deductible, but are predominately used to help meet the local financial requirements needed to receive national matching-grant funds.
Subscribe now to get breaking news alerts in your email inbox
Get breaking news delivered to your inbox as it happens.
---