News > Voices
A life lived fully
Thu., June 30, 2005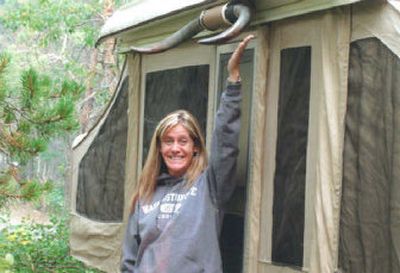 The first thing Kelli Piper can remember about her twin sister is that Tricia could crawl out of the crib before she could. She just must have been eager to meet the world. Maybe she knew she wouldn't have enough time once she got there.
Tricia Anne Piper died May 25 after a 10-year battle with pulmonary fibrosis caused by exposure to chemicals at a dry cleaners. She was 32. In those few years, she volunteered at a museum and helped the ski patrol at 49 Degrees North ski area in Chewelah, Wash.
Tricia was born in February 1973 to Ronald and Sharon Piper. They didn't know they were going to have two babies.
"Raising twins is lots of fun," Sharon said. "I never had to take care of them; they just played with each other."
The fun didn't stop as Tricia and Kelli grew up.
When Kelli was taking classes at Gonzaga University, there was a course she found particularly uninteresting. So Kelli asked her identical twin if she would sit in on the next class and take some notes.
"(Tricia) ended up liking the class, so she just kept going for me. She took the final and everything," Kelli said.
Sharon describes the bond between her twin daughters as a special relationship. "They first and foremost need each other."
So it makes sense that when Kelli married Ryan Murphy four years ago, Tricia was more than the maid of honor. "People would say, 'Ryan and his two wives,' " Kelli said.
When Kelli had a son 15 years ago, she called Tricia "Tony's other mother."
Tricia attended Riverside High School and graduated from Mead High School in 1991.
After high school Tricia took a job at a dry cleaning store. She worked there for one year. Because of exposure to the chemicals trichloroethylene and perchloroethylene (commonly referred to as Tric and Perc), Tricia developed pulmonary fibrosis.
Tricia first became very sick in 1995. She spent five months between Deaconess Medical Center and the University of Washington Medical Center and had major surgery on her lungs. Her strength and positive attitude assisted her recovery. When Tricia was in the hospital, "she learned to see the dignity in all people," said Sharon.
Tricia would talk to anyone who came to her room. She took an interest in the lives of doctors, nurses, cleaning people, and everyone else who walked in.
Tricia never lost her sense of humor. Before one of her operations, Tricia taped a note to her back assuring the surgeon that if he had any reservations whatsoever about the surgery that they could reschedule.
She worked toward a Bachelor of Arts in history at Eastern Washington University. History was a subject that fascinated Tricia. She volunteered at the Northwest Museum of Arts and Culture researching Spokane's history and would often come back with Spokane trivia to entertain her family.
Tricia's brother-in-law credits her interest in history for Tricia's appreciation of nature. She loved the outdoors. She was an avid skier and enjoyed camping in Glacier Park and trips to the lake.
On a visit to Lake Coeur d'Alene several years ago, a young boy asked Tricia about the scars on her back, which were from surgery to repair scar tissue on her lungs years earlier. Tricia joked that she had been attacked by a shark in the lake.
Skiing was a passion for Tricia. She and Kelli taught themselves how to ski on the hills of their front yard when they were 4 years old, and they never looked back.
Going to the mountain was an every weekend thing when the sisters were kids. They became proficient skiers, and by the time they were adults found that they were often assisting others who were fallen or lost on the slopes. So Kelli and Tricia decided to become members of the National Ski Patrol.
Tricia volunteered as a patroller for two years. The ski patrol recognized that Tricia's medical condition wouldn't allow her to be on skis all day. But they found other ways for Tricia's strong personality to help out. Tricia served as secretary of the patrol board and also worked in the first aid room, which she redecorated herself.
"Tricia was not afraid to say anything on her mind or ask anyone any question," Tricia's older brother, Ronnie, said.
Her unabashed nature allowed Tricia to comfort a child who got a bruise after a fall or say "toughen up" to a grown man who got a bruise after a fall.
"Because of her experience in the hospital, she was great in the first aid room," Sharon said.
Over the years, her health slowly deteriorated, but Tricia did not let her sickness get the best of her.
"Even though her body was compromised by her condition, most people didn't know she was sick," Sharon said. "She lived a good, productive life."
Tricia and her family battled through eight years of litigation with the Department of Labor and Industries to prove her condition was work related. Blue Cross, Tricia's insurance agency, hired Seattle-based attorney Will Smart to work on her case in 1998. Smart spent the most hours with the least pay of his career on Tricia's case out of the goodness of his heart, Kelli said. When Tricia died, Smart drove over to attend her funeral.
Her case eventually went to the Supreme Court in Olympia in 2003, and Tricia's claim for medical fees and minor wage compensation was upheld.
Tricia touched the lives of nearly everyone she met. She worked part time at her mother's liquor store, and many times in the past few weeks customers have approached Sharon wondering where Tricia has been. When Sharon tells them that her daughter has passed away, many begin to cry.
"She did the very, very best she could," Sharon said. "And she lived an excellent quality of life."
Local journalism is essential.
Give directly to The Spokesman-Review's Northwest Passages community forums series -- which helps to offset the costs of several reporter and editor positions at the newspaper -- by using the easy options below. Gifts processed in this system are not tax deductible, but are predominately used to help meet the local financial requirements needed to receive national matching-grant funds.
Subscribe now to get breaking news alerts in your email inbox
Get breaking news delivered to your inbox as it happens.
---