News > Spokane
As bingo goes, so do rides
Thu., June 30, 2005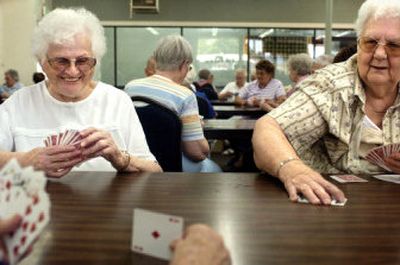 Spokane Valley Foundation Bingo Hall had a last call on Sunday night that ended a 30-year tradition of using bingo proceeds to fund free rides for seniors.
"What hurts the most for everybody is the seniors who might possibly lose service," said Annie Gilpatrick, who became the director of the financially troubled foundation in May.
Bingo no longer packs in the crowds like it used to, she said, and halls struggle to compete with new casinos that boast flashy machines and big payouts.
The bingo hall on North Pines Road is among 176 nonprofit organizations in Washington that closed their games in the past eight years.
Locally, 11 operations closed, leaving nine licensed bingo games that are run at senior centers, lodges and halls throughout the greater Spokane area.
"I think there's just a loss of interest in bingo on a large scale," Gilpatrick said.
The foundation's 26 employees were notified on Monday that there's enough money to pay wages and support programs through July 31.
If no benefactors or agencies step forward, 50 to 70 seniors calling for weekly rides may be left in the cold.
For Lucile Pritchard, 80, losing rides means sitting alone in her Spokane Valley apartment instead of socializing with friends.
"Unless somebody comes and gets us, I guess we're stuck," said Pritchard, who got a ride to Wednesday's lunch and pinochle game offered at the bingo hall.
Rural Feeder Service – a collaborative effort to provide van service for disabled riders living outside Spokane Transit Authority's paratransit boundaries – is losing dispatch services that were provided by the foundation, which initially provided drivers, but had to scale back.
"It's going to have a negative impact. We're scrambling here," said Linda McClain, executive director of Coalition of Responsible Disabled.
CORD has taken a lead role in working with a half dozen nonprofits and STA to get Rural Feeder Service established. It was up and running in January and needs an influx of volunteers and donations to maintain operations.
"It's unfortunate that we're losing them," McClain said. "I don't know what we would have done without them for the past several months."
Dispatch services will likely be moved to CORD's office on North Maple, McClain said. The agency will work toward finding secure hubs to park the four or five specially equipped paratransit vans.
Former foundation director Norman Patton, who started last August and left in May, said initially he thought the foundation's financial picture was rosier.
"I knew that we had challenges. I didn't fully comprehend the financial picture until I walked in," Patton said.
Bingo attendance declined over the past year, he said, and was compounded by challenges in dealing with state gaming regulations.
"I don't think the gaming commission is a friend of nonprofit bingo," Patton said.
Susan Arland, spokesman for Washington State Gambling Commission, said the agency has done multiple studies on how to best help nonprofits, which continue closing.
"We definitely care about our nonprofits," she said, adding such closures are sad "because they do such good work."
Luella Mills, an 81-year-old Good Samaritan Towers resident, can drive herself for pinochle on Wednesdays, but worries that many of her friends will become homebound without the foundation's free transportation service.
The rides keep seniors active and help them avoid social isolation and depression, Mills said. "In every way it will be hurtful to a lot of the elderly," she said.
Marc Hayes, a driver and supervisor for the foundation, frets about his regular riders: "I don't know what these people are going to do. These people don't qualify for anything."
He wonders why casinos can drive elderly gamblers to the game tables but can't take a homebound senior to the store.
"They give free trips to the local casino, but what about the free trips to their doctors, to their hairdressers and to shopping and to visit their friends?" Hayes questioned.
Gilpatrick said commission staff tells her they are reviewing confusing gaming rules to simplify them for nonprofits. Nonetheless, any changes may come too late to help Spokane Valley Foundation Bingo Hall.
On Wednesday, employees called hundreds of customers to thank them for their business and tell them the hall where they drank coffee with pals as they collected numbers in lines, diagonals and corners is closed.
"We didn't know that was going to be the last game," Gilpatrick said. "That's the part that hurts – we were unable to tell them."
Local journalism is essential.
Give directly to The Spokesman-Review's Northwest Passages community forums series -- which helps to offset the costs of several reporter and editor positions at the newspaper -- by using the easy options below. Gifts processed in this system are not tax deductible, but are predominately used to help meet the local financial requirements needed to receive national matching-grant funds.
Subscribe now to get breaking news alerts in your email inbox
Get breaking news delivered to your inbox as it happens.
---