Sports
Be on the lookout for this place
Thu., June 30, 2005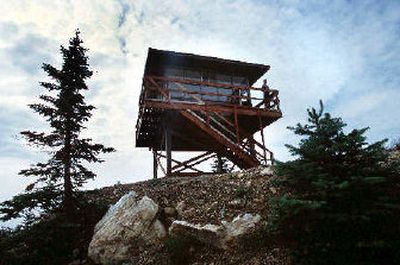 A new room with a view is opening for the public this weekend in Mount Spokane State Park.
The fire lookout, removed in 2001 from Mount Spokane's 5,851-foot summit, has been restored and reassembled nearby on 5,160-foot Quartz Mountain, which is accessible by muscle power on the park's cross-country skiing and mountain biking trails.
The lookout sleeps four comfortably and is available to rent for $40 a night. It's the park's only public overnight lodging, and all four walls are banked with windows to take advantage of its priceless view.
Park Manager Steve Christensen was adding the final touches to the lookout on Wednesday morning as the clouds that had engulfed the park for several days began to clear. From the catwalk around the 12-foot tower, a stunning panorama was revealed a snapshot at a time.
To the northwest, Mount Spokane beamed in the rain-scrubbed alpine air. Portions of Hauser, Twin and Newman lakes sparkled below. Moose droppings on the access road hinted at the potential for other attractions.
"I think the view is better from Quartz than it is from Mount Spokane," said Clayne Perrins, a park ranger who had brought his kids in earlier to be the first to spend a night at the lookout.
"We were surprised how long it stays light," he said, noting that that glow on the western horizon doesn't fade away in June until nearly 11 p.m.
Then the city lights for Spokane and Coeur d'Alene took over, he said: "And the stars were incredible."
Spending a night in a fire lookout is a flashback to an era that began in the Great Depression when the Civilian Conservation Corps was put to work building trails and assembling the nation's forest fire protection system.
Nowadays, with homes and telephone communications widespread through once-wild lands, there's little need for most of the 657 forest fire lookouts that once perched on many of the most prominent peaks in Washington.
Only about 100 lookouts still stand and fewer than 30 are still staffed during the fire season.
Mount Spokane's lookout, the last of several that had been installed on the mountain, was built in 1979 but hadn't been staffed since 1994. The easiest course would have been to dismantle and destroy the lookout or perhaps to let it mysteriously burn down, as was the fate of a fire lookout on a different Quartz Mountain in the Colville National Forest.
But Christensen endured the bureaucratic ordeal of preserving the lookout and its history for public enjoyment.
To meet safety regulations, the expanse of glass windows was replaced with shatterproof Lexan. A new tower was built from treated lumber. Every piece of metal larger than a bolt is grounded with copper cable.
The Forest Service started grounding its fire lookouts with copper 70 years ago, and they haven't lost a lookout or a lookout staffer in a lighting storm since, according to local fire lookout historian Ray Kresek.
Christensen took some advice from Forest Service officials who have rented several lookouts in the region for years.
"We had planned to install a propane stove, but I was warned that it's not easy to educate users on how to use gas safely," he said. "After hearing some stories, we decided to take their advice and keep the lookout simple."
The cabin is spiffy, from the new wood laminate floor, cabinet and counter, table-and-chair set and two single bunks with mattresses. An emergency lantern is available and users can buy a sealed five-gallon jug of drinking water so they can be sure it's pure.
Christensen was planning to bring up another container for non-potable water, plus a wash tub, broom, dust pan and probably a fly swatter, which would provide the brief but furious bit of recreation that's been a lookout tradition for decades. He's also looking for two more mattresses that will slide beneath the bunks.
Below the lookout are a vault toilet and a fire pit with a woodpile and a picnic table, all surrounded by crushed quartz that once was mined on the mountain.
Despite all these comforts, renters will have to invest just enough sweat to make the view an even sweeter reward. Quartz Mountain is in a non-motorized portion of the park, so visitors will have to hike or bike on the road-like ski trails 2.2 miles in from Selkirk Lodge. They'll have to schlep in their own backpacking stove, food, pots and utensils, headlamps and sleeping bags.
"The season will be from late May to October to start," Christensen said. "If it all works out, we might get a heater in here and open it to skiers in the winter."
For reservations, contact the park office, 238-4258. Be patient. The park has no secretary, but Christensen said he's determined to make the new lookout rental a success.
Beargrass bonanza: The next week will be prime time to experience a stunning bloom of beargrass that's only a few sunny days from peaking on Mount Spokane. Drive up the summit road to the Beauty Mountain campground and picnic area. Then cross the road and hike out on Trail 130 for a botanical treat.
Local journalism is essential.
Give directly to The Spokesman-Review's Northwest Passages community forums series -- which helps to offset the costs of several reporter and editor positions at the newspaper -- by using the easy options below. Gifts processed in this system are not tax deductible, but are predominately used to help meet the local financial requirements needed to receive national matching-grant funds.
Subscribe to the sports newsletter
Get the day's top sports headlines and breaking news delivered to your inbox by subscribing here.
---