Sports
Legge has a leg up
Thu., June 30, 2005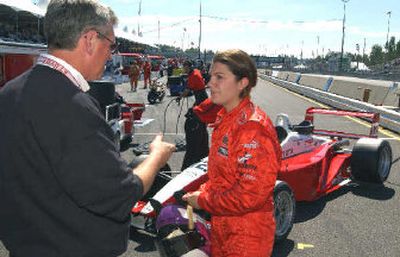 CLEVELAND – Katherine Legge plants her foot on the gas pedal of the modified Ford pickup truck she climbed into for the first time minutes earlier, spins the rear tires and shifts gear.
Barreling down the straightaway at more than 120 mph, Legge (pronounced "leg") seems oblivious to a rapidly approaching tirewall when – VROOM! – she slams down the shift, sending the truck into a turbulent sideways slide through the turn.
"I'm going to get into trouble for this!" she screams above the test truck's roaring engine and screeching rubber. "This really kills the tires, but it's the most fun!"
In her first season driving in the United States, the carefree and confident Englishwoman is having more fun than even she could have imagined.
While Danica Patrick has become racing's darling following her historic rookie run at the Indy 500, Legge already has done something that Patrick couldn't in two years driving in the Toyota Atlantic Series: She's won.
On April 10 at Long Beach, Calif., Legge, who crashed during qualifying and damaged her car in the first few laps, became the first woman to win an open-wheel race in North America.
Patrick may be the one appearing on David Letterman and the cover of Sports Illustrated, but Legge could be gaining on her.
"I'm in her shadow," said Legge.
The bubbly 24-year-old, whose first exposure to racing came as a 9-year-old when she got behind the wheel of a go-kart while on vacation in Spain, is in fifth place in the overall standings in Toyota Atlantic, Champ Car's pipeline program.
A relative novice to pro racing, Legge is getting better every time out of the pits. Her hope is to one day drive in Champ Car or in the Indy Racing League with Patrick.
"If I can learn everything I need to learn, win a few more races and compete for the championship this year," she said. "Then there is no reason why I shouldn't move on to something else. All I need is experience."
Legge has passion and drive – lots of it.
"I've never had anything handed to me on a platter," explains the native of Northampton, England.
After competing in a Renault Series last season, Legge wanted to try IRL and paid her way to Texas for a team test drive. Although she was one of the fastest drivers among a group of men, she was turned down.
Determined to advance her dream, she found out that Champ Car co-owner Kevin Kalkhoven was coming to England to do business at Cosworth, which builds engines for the series. When Kalkhoven arrived at Cosworth, Legge was waiting in the lobby, resume in hand.
"I told him I wanted to drive and that I was as good as any driver he had," she said.
How did she know that?
"That's what he said," Legge recalls with a laugh. "But I had been racing against people in Europe and I always knew that I could do it."
Kalkhoven put her in touch with Pam and Jim Griffith, owners of Polestar Racing, based in Chardon, Ohio. Upon their first meeting with her, the Griffiths were taken by Legge's charm.
Her talent soon caught their eyes, too.
"She's a delight," Jim Griffith said. "When it's 4 in the morning and you're working on a car, you don't mind because it's for Katherine. Everyone loves having her around."
On Kalkhoven's urging, the Griffiths set up a test drive for Legge, who didn't need long to show she could handle the car.
"We actually had to tell her to slow down a little bit," Griffith said. "Within 10 or 15 minutes you could tell how comfortable she was, even though she had a very limited car racing background."
The Griffiths sent a glowing review to Kalkhoven, who agreed to sponsor Legge for the first six races this season. Then, at Long Beach, Legge drove beyond anyone's expectations.
"She's a strong competitor," said Al Unser III, who recently returned to Toyota Atlantic. "As far as whether she belongs, sex is not an issue in a race car. We both have two feet, two hands and everyone can see out of the front of the car. But I'm sure some guys are gunning for her because she's a girl."
Legge is cheering for Patrick, although she wants to make it clear that she isn't drafting off her fame.
Legge is following Patrick. However, she plans to take her own path to the top of her male-dominated sport. Legge said she won't follow Patrick's lead and pose in her bikini for a men's magazine.
"It might be very important for Danica to be seen as a sex symbol," Legge said. "But it's more important for me to be seen as a winner."
Local journalism is essential.
Give directly to The Spokesman-Review's Northwest Passages community forums series -- which helps to offset the costs of several reporter and editor positions at the newspaper -- by using the easy options below. Gifts processed in this system are not tax deductible, but are predominately used to help meet the local financial requirements needed to receive national matching-grant funds.
Subscribe to the sports newsletter
Get the day's top sports headlines and breaking news delivered to your inbox by subscribing here.
---