News > Spokane
Teachers map out a course
Thu., June 30, 2005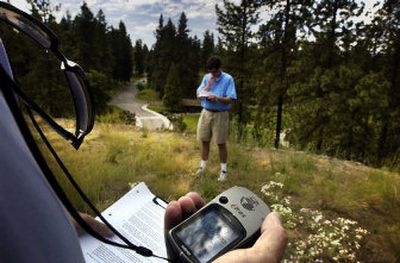 On Wednesday, three men in sunglasses and ball caps with cell-phone-size doohickeys hanging off their necks retraced a route in Manito Park laid out days earlier by an Eastern Washington University professor.
By 11 a.m., they had already circled the duck pond and used global-satellite technology and hand-held Global Positioning System units to capture the pond's coordinates by tapping a button every several steps.
Then they found themselves at the bottom of a knoll with directions to hike to the top.
"I hope she's joking," said John Bell, a science teacher at Republic High School.
Three science teachers from small school districts gave up two weeks of their summer to learn 21st century map-making skills this month.
Later this year they'll offer their students in Colville, Republic and Newport a free summer camp to learn how to capture mapping data electronically and then display it with Geographic Information Systems. GPS and GIS are used by government agencies and companies to better plan for land-use and development projects.
The three teachers are the first of 60 who will benefit from a $1.2 million National Science Foundation grant obtained by The Inland Northwest Community Access Network, a nonprofit group in Spokane that strives to improve the community.
The idea is to train teachers on how to use common technologies so they can better incorporate the training into their classrooms.
The Rural Schools Science and Information Technology project runs for three years. After gathering geographic data this year, the teachers will use next summer to illustrate data with three-dimensional images and simulate an event like the water runoff from a heavy rainstorm. In the final year, they will create computer games that will likely use each town as a backdrop.
Instead of the popular game World of Warcraft, maybe they'll develop World of Newport, SimColville, or Republic Myst.
Before teachers can help students collect data and map key areas in their community, they need to master the tools.
"I thought it sounded like a great way to get kids in the field," said Colville High School science teacher Jim Christian. He had dabbled with GPS systems, but never quite mastered the tools enough to teach his students. It didn't help he bought a unit that couldn't import a map.
To be considered for the program, teachers had to agree to a three-year training that amounts to three weeks each year, and also agree to start an after-school organization to further the student training. In return, they get $300 GPS units and a site license for computer software worth several thousand dollars for their students.
"That's why I'd give up three weeks of my summer for three years to get things into the hands of kids," Christian said. "That's why we're all here."
Christian has already used some photographs of Colville to show students how much the town and school have changed through the years. Now they can map some of the differences and see current sites displayed on the old photos. He hopes that will be the hook to gain student interest. His two comrades nodded in agreement and headed back out to finish their day's lessons.
Local journalism is essential.
Give directly to The Spokesman-Review's Northwest Passages community forums series -- which helps to offset the costs of several reporter and editor positions at the newspaper -- by using the easy options below. Gifts processed in this system are not tax deductible, but are predominately used to help meet the local financial requirements needed to receive national matching-grant funds.
Subscribe now to get breaking news alerts in your email inbox
Get breaking news delivered to your inbox as it happens.
---