News > Home
TREASURE HUNT
Thu., June 30, 2005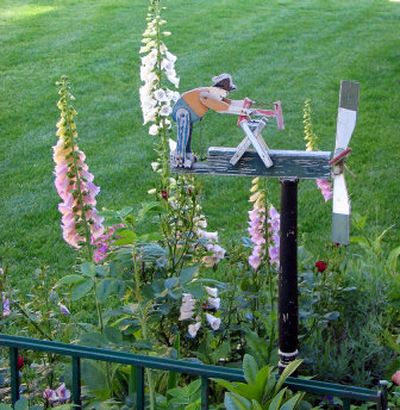 In my back yard there is a little man who, when the wind rises, springs into action. As long as there is a breeze he pushes and pulls a tiny saw through a board that rests on a pair of sawhorses. He is a whirligig.
A whirligig is a simple mechanical or spinning toy, in this instance, made as an ornament for the garden.
For the same reasons that the vintage hand-made decorative items that dressed a woman's home – curtains, slipcovers, rag rugs – appeal to those of us who love to put our own stamp on the interior of our homes, the quaint hand-made pieces of folk-art that ornamented the exterior, usually the work of the man of the house, are hard to resist.
Colorful painted wood cut-outs of Sunbonnet Babies, farmyard animals and larger-than-life flowers were made to be stuck into the grass or in the flower beds.
Wind-toys were mounted on posts to raise them and allow them to catch the moving air.
Many of the cleverly constructed, articulated, whirligigs – a tiny man chopping wood or milking a cow, birds with spinning wings and replicas of European windmills – were made by men, perhaps at the end of a hard work day or as a way to escape to the workshop on a Saturday afternoon.
Vintage and antique whirligigs are pieces genuine folk art. Rare examples are very collectible and prices can be high.
But, because they are so common, many are still whirring away in backyards everywhere.
Vintage lawn-art items are relatively easy to find. They frequently show up at flea markets, thrift stores and estate sales; it's not uncommon to pick them up for less than $20. The wood cut-out pieces are even more plentiful and just as inexpensive.
They are all whimsical and wonderful.
When the whirligigs in my backyard go to work, especially the pair that feature men chopping wood or sawing logs, I can't help but smile.
After all, what is more fun that lying in the hammock watching someone – or in this case, something – do all the work?
Local journalism is essential.
Give directly to The Spokesman-Review's Northwest Passages community forums series -- which helps to offset the costs of several reporter and editor positions at the newspaper -- by using the easy options below. Gifts processed in this system are not tax deductible, but are predominately used to help meet the local financial requirements needed to receive national matching-grant funds.
Subscribe now to get breaking news alerts in your email inbox
Get breaking news delivered to your inbox as it happens.
---