Sports
High-flying cover boy
Thu., March 3, 2005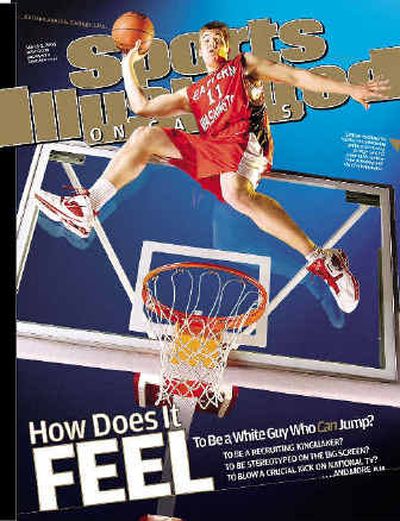 The March 3 edition of "Sports Illustrated on Campus," which is inserted into more than 70 college newspapers, asked the question "How does it feel to be a white guy who can jump?"
They took the question to Henry Bekkering, a 6-foot-6 freshman forward for the Eastern Washington University basketball team, who graces the cover of the mini-magazine. This is what he had to say:
"When people first see me, they don't have any expectations. They're like, 'Oh, it's just a white kid.' I'll play along like I'm a normal white kid who can't really jump, and then I'll surprise them with a crazy dunk. After that people always want to see me dunk. I'm like that NBA Jam arcade machine: All anybody wants to see are the crazy dunks.
"People really started to notice me after I was in a dunk contest my senior year of high school. The contest was taped by Hoop Life, and my highlights were all over the Internet (hooplife.ca/videoclips.asp). When everyone is watching you and cheering you on, your adrenaline is going so fast that you do things you never thought you could. In the contest I had this one dunk where I jumped off of two feet from the free-throw line. I never thought I could do that.
"The other dunk everyone was talking about was when I jumped over another player (which 'SI on Campus' shows in a four-frame sequence). I actually started practicing that dunk back in the ninth grade. I would go out to the court with my brother and put a garbage can in front of the hoop and see if I could jump over it. Then I would have my brother sit down in front of the hoop and I would jump over him, and I kept doing it until I dunked over him while he was fully standing. He's 6 feet tall.
"They had me on 'The Best Damn Sports Show Period' last year and wanted me to dunk over Brian Bosworth. My back was really hurting at the time; I wasn't even practicing. But I still wanted to go for it and take advantage of the opportunity. I didn't jump my highest, but I did hit the dunk; I also hit him in the head with my knee. Still, I jumped over him and made the dunk, so it was all good."
Food for thought
Baltimore Sun columnist Peter Schmuck said he is going on the Sidney Ponson diet, having been impressed with the weight loss experienced by the Baltimore Oriole pitcher on a meal plan that emphasizes grilled fish.
"(It's) a little like the South Beach diet," Schmuck wrote, "except that you actually spend a lot of time at South Beach while you're on it."
Hating himself
Sports Illustrated's Bill Scheft wrote that the failed last-ditch negotiations between NHL players and owners became so contentious that player-owner Mario Lemieux "couldn't be in the same room with himself."
Putting on the gloves
The Oscar victory Sunday for "Million Dollar Baby" prompts this question: How long has women's boxing been around?
The first women's fight in California was held April 28, 1976, at the Forum, with Kim Maybee knocking out Patricia Pineda in the first round.
"It was a terrible fight," said Don Fraser, the former Forum boxing promoter who will be inducted into the International Boxing Hall of Fame on June 12. "It wasn't one of my shining moments."
Jim Murray, the late Los Angeles Times columnist, wrote in advance of the fight: "Apparently the Bill of Rights includes the right to a detached retina, or a hemorrhage, or a nosebleed, aphasia or any of the traumas of the prize ring. Women don't want men having all the fun."
Local journalism is essential.
Give directly to The Spokesman-Review's Northwest Passages community forums series -- which helps to offset the costs of several reporter and editor positions at the newspaper -- by using the easy options below. Gifts processed in this system are not tax deductible, but are predominately used to help meet the local financial requirements needed to receive national matching-grant funds.
Subscribe to the sports newsletter
Get the day's top sports headlines and breaking news delivered to your inbox by subscribing here.
---