Sports
Ain't no stoppin' him now
Sat., March 5, 2005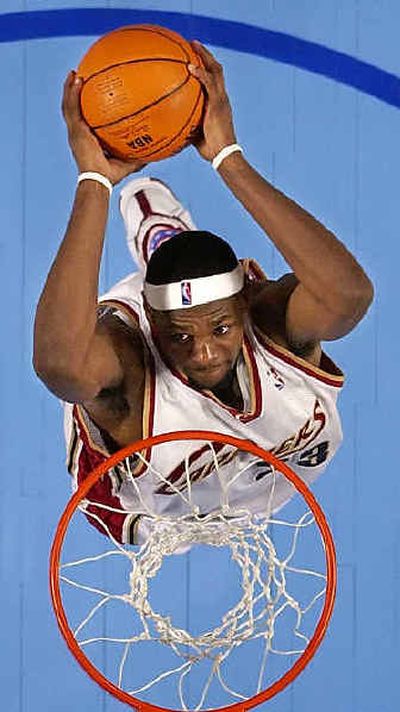 CLEVELAND — The story of LeBron James picks up where it ended for Kobe Bryant. James arrived in Colorado for the first of his many All-Star Games, anointed the NBA's newest icon and latest post-Jordan savior long before the weekend was over. It really is good to be the King.
Of course, that title once belonged to Bryant, himself a former teenage prodigy who achieved fame on the court and a small fortune off it. But then Bryant made a different trip to Colorado nearly two years ago and everything changed. By the time his weekend was over, Bryant was charged with sexually assaulting a hotel worker and his squeaky clean image disappeared along with all of his major endorsement deals.
On that Sunday of Feb. 20, James received the loudest ovation when he was introduced before to the All-Star Game. Bryant was the only player booed.
"Unfortunately, stuff like that happens," James says. "What can you do?"
James and Bryant are in many ways two marketing ships no-look passing in the night.
The corporate takeover started in 2003 when James was the top pick in the draft. He arrived two months after Michael Jordan retired and two weeks before Bryant found trouble in Aspen. The league had a void it needed to fill and James, at 18, instantly became the new marketing face of the NBA.
"A gift to the league," says Kevin Garnett.
"He's done a phenomenal job of handling all the hype that was surrounding him," Tracy McGrady says. "He's handled it better than the guys who came out from high school before he did. A guy like him is not going to come along for another 20 years."
After Jordan's first departure in 1993, the NBA tried its best to force-feed the next great one on the public. Problem is, Grant Hill, Penny Hardaway and Vince Carter couldn't measure up. Now James is the one with the high Q rating. If James is the iPod, then Bryant is the portable CD player, a fad whose best days have passed.
"Kobe made his share of mistakes, but we're all guilty of that," says Eric Snow, the Cavaliers' backup point guard. "LeBron understands that in order for him to expand his own company, because let's face it he is his own enterprise, he has to establish good character and good relationships off the court."
Bryant unknowingly provided James with a road map to follow, beginning with the decision to skip college and enter the NBA. Eventually, James will reach a fork in the road.
"We've talked about certain things to watch out for," says Aaron Goodwin, James' agent. "We didn't just talk about Kobe. This kid understands what is expected of him and how he is viewed."
James, listed at 20 years old, is savvy enough to appreciate his place in today's NBA culture and reap the rewards of owning a brand name. Magic, Bird, Michael, Shaq, Kobe – and now LeBron.
James' salary from the Cavs is $5 million this year plus an estimated $30 million from endorsements with Nike, Sprite, Powerade and Bubblicious gum. Those deals were in the works before Bryant was dropped by Coca-Cola and McDonald's, two companies currently in negotiations with James.
"LeBron is on top of the world, but don't ever forget that these same people that put you on top of the world can put you under," says Allen Iverson, a man who has seen both sides of fame. "Hopefully, he did learn from some of the things that went on in my life or other guys' life to where he won't have to make the mistakes that we made."
James has absorbed both fair and unfair shots from the media. He was criticized for backing out of the slam-dunk contest, and one national columnist reprimanded him for refusing to sign an autograph.
His image, however, remains untarnished, a tribute to his own determination to succeed. There is no formula for creating the perfect basketball player, one who has street credibility and appeals to the league's predominantly white ticket buyers.
Jordan was the gold standard, and Bryant, who had won three titles before his 24th birthday and is multilingual, having spent part of his youth in Italy in a two-parent household, was thought to be in that same class.
James had a less than privileged upbringing in a single-parent home in Akron. His mother, Gloria, was 16 when she gave birth to LeBron. His surrogate father, Eddie Jackson, is currently serving a short prison term for defrauding the government and is scheduled to be released in May.
"I've pretty much got my life under my control," James says. "Nobody eased me into this league, I did it myself. I didn't have anybody to baby me. My attitude was, 'Let me fall first before someone helps me.' "
But there is nothing baby-like about James. Facially, he looks closer to 30. His chiseled 6-foot-8, 240-pound frame belongs in an NFL locker room.
"You can look at my birth certificate if you want to," says James, whose age has been challenged for years. "I'll be 21 (on Dec 30)."
James' mass appeal continues to grow. He appears on more magazine covers than top super models do. Sports Illustrated recently stuck a picture of James on its cover under the headline: "Greatest Ever?"
James has a combination of athleticism and skills that is unmatched. Jordan could fly and Magic Johnson could pass. But James does both.
"What's scary," says Brendan Malone, a Cavs assistant coach, "is that he hasn't even scratched the surface yet. Just think how good he'll be in three years."
Magic admires James but is not ready to declare the young star an all-time great. Remember, Magic was 19 when he led Michigan State to the NCAA title. Fourteen months later he was the MVP of the NBA Finals.
"It still comes down to winning," Magic says. "LeBron has got to pass (Larry) Bird, who has three championships. I've got five, Michael Jordan's got six. I think he's going to be on the greatest that's ever played but that will only happen when you're winning championships."
James is a month away from his first playoff appearance, which brings smiles to the faces of NBA and television executives. LeBron plus playoffs equals ratings. There is, however, a pending civil trial that threatens to interfere with the league's must-see schedule. James is being sued for $15 million by Joseph B. Marsh, a talent agent who also represents magician David Copperfield.
According to Marsh, James broke contractual obligations to allow Marsh to represent him with endorsement deals and to appear in a documentary. Marsh is also suing James' mother to get back the $100,000 he says he loaned the family when James was a junior at St. Vincent-St. Mary High School in Akron.
There is the possibility of a settlement and a small chance that the April 26 trial date will be moved. Summit County Common Pleas Judge Jane Bond has already refused to postpone the date once; the NBA playoffs begin April 23.
In the season of the Pistons-Pacers brawl, the last thing the NBA needs is James to be on Court TV more than NBA TV.
"It wouldn't be good for the team, the city, LeBron or the league," Goodwin says. "We're still hoping that the judge will reconsider."
James refuses to discuss the case. He is protective of his inner circle and wants his privacy respected. James won't publicly acknowledge the name of his and his girlfriend's four-month old son. Gloria, now a 37-year-old grandmother, doesn't grant interviews.
James will gladly talk about his favorite baseball team, the one that is owned by another famous Ohio millionaire.
"I've always been a Yankees fan," says James, who wore a green camouflage Yankees cap while watching this year's dunk competition. "I like winning ballclubs and I like the way they play the game. They're a team. (George) Steinbrenner does what it takes to win. I like that."
Winning is how James wants to be judged. In James' rookie season, the Cavs improved 18 wins from the previous year. They will qualify for the playoffs for the first time since 1998 and could win 50 games.
With Detroit and Miami in the Eastern Conference, the Cavs are long-shots to advance past the second round. The key for James is to experience the postseason, and experience losing.
"Isiah (Thomas) lost for seven years before he won a championship," Malone says. "That's a lot of pain and disappointment. Jordan went six years before he won. LeBron has to feel the disappointment of being eliminated. Pain will be a driving force. It makes the great ones work harder."
James has already experienced pain and humiliation on the world stage. Last summer, he was a backup for the USA team that captured bronze – and a lot of flak – at the Athens Olympics. It marked the first time the USA failed to win gold since recruiting NBA players to the team in 1992.
He was shaken by the experience and, like most of the country, somewhat confused by Larry Brown's decision to play him sparingly. Being a bit player for a third-place team is not a role that suited James. But he turned that disappointment into a source of motivation for his sophomore season and he has emerged as a legitimate MVP candidate. He is on pace to average 25 points, seven rebounds and seven assists, which would put him in an exclusive club of all-time greats.
Jordan, Bird, Oscar Robertson and John Havlicek are the only players to average 25, 7 and 7 during their careers. In his first game against Brown's Pistons, James scored a career-high 43 points. It had a distinct "take that" feel to it.
"I think the Olympics motivated him immensely because he had never lost before," says Cleveland head coach Paul Silas. "He came back with a resolve that we were going to be a good team this year. He doesn't put himself above the team at all. But he also understands he has to be the one to get it done for us."
The Cavaliers are one of the league's top young teams. But their front office knows it must build a better supporting cast in order to become a serious contender.
"You've got to have a great supporting cast to be a great ballclub," said James. "If I get that supporting cast, I can be a winner also."
Local journalism is essential.
Give directly to The Spokesman-Review's Northwest Passages community forums series -- which helps to offset the costs of several reporter and editor positions at the newspaper -- by using the easy options below. Gifts processed in this system are not tax deductible, but are predominately used to help meet the local financial requirements needed to receive national matching-grant funds.
Subscribe to the sports newsletter
Get the day's top sports headlines and breaking news delivered to your inbox by subscribing here.
---