Sports
Bulldogs face Waves
Sat., March 5, 2005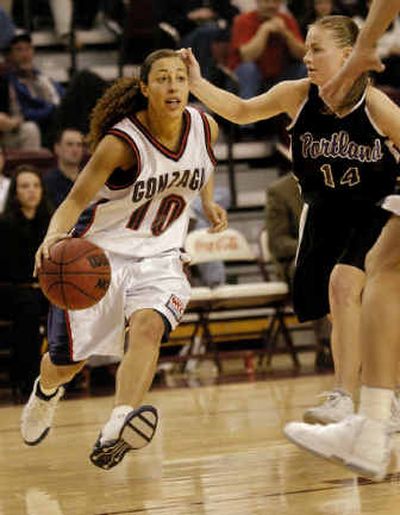 SANTA CLARA, Calif. – Shortly following Thursday's 77-42 rout of Portland in the opening round of the West Coast Conference women's basketball tournament, Gonzaga coach Kelly Graves was asked if he thought the league might change its postseason format next year, reverting back to the not-so-recent past when the regular-season champion and runner-up were rewarded with byes into the tournament semifinals.
Noting that WCC commissioner Michael Gilleran was seated near the back of the press room, Graves nodded Gilleran's way and said, "He knows more about it than I do.
"I'm just a grunt. I show up when they tell me my team's playing."
Later that evening Graves learned that his top-seeded Bulldogs (26-2), winners of 22 straight games, will face fourth-seeded Pepperdine (12-16) in a noon semifinal showdown today at Santa Clara's Leavey Center.
And he seemed pleased that his team would get Friday off to rest up and prepare. The problem is, so did the other three first-round survivors, which means the 23rd-ranked Zags, get little in the way of a reward for the excellent body of work they did during the regular season.
They had to earn their way into the semis, and to capture their first WCC tournament crown and the automatic NCAA berth that goes with it, they will have to win two more tough games, starting with today's showdown against an athletic Pepperdine team that ousted fifth-seeded Saint Mary's on Thursday.
The Bulldogs, who breezed through league play with a 14-0 record, dominated the Waves earlier this year in Malibu, Calif., posting an impressive 71-54 win. But they struggled at home in the second meeting of the two teams before escaping with a 51-47 victory.
The key to tonight's third meeting, Graves insisted, will be his team's ability to share the basketball and establish the same kind of offensive rhythm it found in the second half of Thursday's game when it outscored Portland 51-20.
"The first half we only had five assists," Graves explained of the Bulldogs early offensive struggles against the Pilots. "I can tell when we're playing well, because we have a lot of assists.
"We're not the kind of team who can break anybody down on the dribble, believe me. Our guys can't break me down off the dribble. But when we move the basketball and share the ball really well, and our assists are high, I feel like we're playing pretty well."
Second-seeded Loyola Marymount (16-12) and third-seeded Santa Clara (15-13) will meet in today's second semifinal, which is scheduled to start 30 minutes after the completion of the GU-Pepperdine game.
Local journalism is essential.
Give directly to The Spokesman-Review's Northwest Passages community forums series -- which helps to offset the costs of several reporter and editor positions at the newspaper -- by using the easy options below. Gifts processed in this system are not tax deductible, but are predominately used to help meet the local financial requirements needed to receive national matching-grant funds.
Subscribe to the sports newsletter
Get the day's top sports headlines and breaking news delivered to your inbox by subscribing here.
---