Marketing > Advertorial
Little Reno offers big versatility, value
Sat., March 5, 2005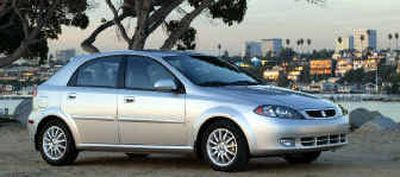 For years, Suzuki was known in the United States primarily as a maker of motorcycles, outboard motors and small sport-utility vehicles.
That began to change in 2002, when Suzuki launched a new-product initiative with the debut of the subcompact Aerio. Since then, the company has launched three new product lines: the compact Forenza sedan and wagon, the midsize Verona sedan and, most recently, the five-door, Forenza-derived Reno.
And they're not done yet: Coming later this year is a small, V-6-powered SUV, and 2006 will see the launch of a midsize SUV with a high-performance engine, a sporty five-door sub-compact and a new midsize sedan.
If Suzuki hasn't been on your radar, it's about to land there.
Like its competitors from Korea, the Japan-based Suzuki competes with the big boys using a combination of price, features and a big, fat warranty. Unlike the Koreans, it hasn't had to fight back from poorly timed and ill-fated U.S. product launches.
The strategy is producing big results — Suzuki sales grew 25 percent last year, an impressive accomplishment, especially considering that key competitors Hyundai and Kia have been growing, too.
So, the all-new Reno five-door hatchback arrives for '05 with a clean slate, as it were, ready to win over budget-minded buyers with its good looks, pleasant ride-and-handling package and long list of standard features.
And if the Suzuki nameplate isn't strong enough to inspire your confidence, the Reno is the beneficiary of Suzuki's transferable seven-year/100,000-mile power train warranty.
In practical terms, the Reno is the progeny of the Forenza sedan and wagon but with sheet metal all its own. Otherwise, it shares the family's 126-horsepower, 2-liter engine and 102-inch wheelbase.
Priced from $13,994, including destination, the Reno should make a good showing in a growing category that includes the Ford Focus, Mazda3, Scion xB, Kia Spectra and the Toyota Matrix/Pontiac Vibe.
For starters, the Reno is priced at the bottom of the pile and, in a category that now tends to include keyless entry and power windows and mirrors as standard gear, it takes the voluminous standard-equipment strategy another step.
The 140-watt audio system includes eight speakers and four playback modes — AM/FM/CD and MP3. The driver's seat is height-adjustable and both front seats have adjustable lumbar support. Side-impact airbags are standard, disc brakes reside at all four corners and exterior mirrors are heated.
Add to the mix a 24-hour roadside assistance program and a free service loan car for warranty repairs, and it's a beguiling little package.
Of course, features lists and warranties won't sell cars that fail to resonate with buyers in other, more ephemeral ways, especially in the fickle first-car market. A car needs a gestalt that satisfies other, unnamable needs.
Does the Reno have it? I'm betting the answer is yes.
Designed by the famed ItalDesign studio, the little hatch cuts a sporty figure, with its deeply sloping hood and rear spoiler. Flared wheel wells and a bold character line that runs the length of the car provide visual interest, as do 12-spoke alloy wheels.
On the inside, Suzuki designers have added about as much sparkle as can be tastefully done for less than $15,000 — there's nothing cringe-inducing here. The controls are neatly assembled in a center stack and, with the exception of the radio-tuning knob, which is asked to do the scan-seek-tune hat trick, everything is clear and easy to use.
There's a surprising amount of interior room; even the back seat area will accommodate two adults.
With all seats in the upright position, there's a meager 8.8 cubic feet of cargo space; fold down the rear seats, though, and it jumps to 45.4 cubic feet.
Materials all seem adequate for the task and fit and finish is better than anyone would have thought possible of an entry-level hatchback a decade ago. The seats are nothing to write home about, but adjustable lumbar goes a long way toward preventing backache on a long drive.
Sporty looks aside, the Reno is a mid-pack performer. Its 126-hp engine makes 131 pound-feet of torque — more than enough for daily driving needs but not enough to scorch the earth. Acceleration is not bad from 0-60, but watch out when passing — there's not much spunk between, say, 50 and 70.
As always, the best way to extract the greatest amount of performance is by ordering the five-speed manual gearbox. Like those found in other entry-level, front-drive cars, the shift linkage is mushy and the throws too long. Still, it makes surer shifts than did the Kia Spectra5 we reviewed last month. Smooth, progressive clutch take-up makes for easy starts from a dead stop.
It's hard not to be impressed with the Reno's ride and handling qualities. It's surprisingly smooth on our beat-up city streets and even handles high-speed surface irregularities with poise. One disconcerting note: Our tester sometimes gave off a thudding sound from the rear end when it encountered certain bumps.
For now, the Reno is available with a limited number of after-market-style add-ons, all of the trim variety. Suzuki, which has a good deal of experience building high-revving, high-performance engines (the lamented first-generation Taurus SHO carried a Suzuki-built engine), will doubtless add a batch of tuner options down the road.
For now, though, the Reno is content to be just what it is, a handsome, comfortable and versatile hatchback seeking an audience in the highly competitive entry-level market. Young buyers could do a lot worse.
Local journalism is essential.
Give directly to The Spokesman-Review's Northwest Passages community forums series -- which helps to offset the costs of several reporter and editor positions at the newspaper -- by using the easy options below. Gifts processed in this system are not tax deductible, but are predominately used to help meet the local financial requirements needed to receive national matching-grant funds.
Subscribe now to get breaking news alerts in your email inbox
Get breaking news delivered to your inbox as it happens.
---