News > Voices
On a roll
Sat., March 5, 2005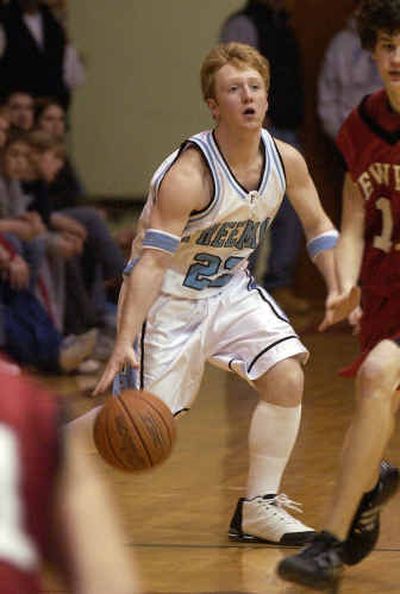 It's a good time to be a Freeman Scottie.
The Class 1A school already has seen its football team play in the state championship game. The school's volleyball team placed in the state tournament.
And now both basketball teams are playing well at the State 1A basketball tournaments in Yakima – the girls ranked No. 1 in the state going into the tourney, the boys ranked No. 2 – both among pre-tournament favorites to win the big, golden ball of a trophy that goes to the state champion.
The girls kept the title dream alive with a 78-67 win over White Pass Thursday. They faced Liberty Bell in the semifinals Friday night.
White Swan upset Freeman's boys 58-40 Thursday. The Scotties needed to beat Napavine Friday to earn a trophy. Results for both can be found in today's Spokesman-Review sports section.
"It was really fun with the football team and how well they did," boys basketball point guard Jason Bailey said. "I think that definitely carried over to basketball. And the really cool thing about it is that now, with the girls team doing so well, the crowds at home games show up to watch them play.
"It wasn't that long ago that the fans would be filtering in during the girls game so they could be in place for when we started our game. It's good that they come to watch the girls play because they play a great game."
The added fan support has been a welcome addition.
"Oh, wow, it's been great," senior basketball co-captain Ashlee Taylor said. "It's been so exciting and so much fun. The atmosphere around school is great, and our home games have been terrific.
"It's great to have the support of our fans, and it really helps us to have those fans come with us and to have them in the stands here (in Yakima)."
That fan support has been across the board – classmates, friends, family, all enjoying the sunshine in the Yakima Valley while wearing Freeman T-shirts.
"I think we brought everybody," Athletic Director Brian Parisoto said. "I think the school is probably dark this week."
Yakima has become a regular March destination at Freeman. The Scotties are playing in their seventh consecutive boys tournament. The girls are in the tourney for the first time since 2000.
"We're not just here for this year," girls coach Matt Gregg said. "We want the program to be just like the boys – where we come here every year. That's where we want to be and that's what we're building toward."
Malcolm Soelberg, for one, is glad to see it.
"I think there are even more people in the stands supporting us this year than in year's past," the senior guard said. "I think having the girls here brought some new people here."
And, of course, neither team has a more enthusiastic fan base then their opposite gender.
During Wednesday's SunDome opener, the most enthusiastic supporters for the Freeman girls afternoon victory over White Swan were boys basketball players, led by a grinning Mike Thacker, the boys coach.
And when the boys tipped off against Seattle Academy Wednesday night at 9, the girls team sat front and center, yelling, waving and stomping their feet.
The group included starting point guard Melissa Baker, who limped off the court after tweaking her right ankle, the same one she sprained earlier in the year.
"It's better," Baker said. "It's going to be fine. I wasn't going to miss this."
Once Scotties both had advanced to Thursday's quarterfinal round, Thacker was concerned that Gregg, his former assistant coach, had allowed his team to stay out too late and hoped the girls were back at the hotel, getting some rest.
"I hope they didn't stay for the whole game," he said. "They need their rest."
When informed that the girls couldn't be pried from the stands with a crowbar and a tow truck, he just grinned.
"Probably," he admitted.
Major difference maker
Taylor, the girls co-captain, has been the poster girl for the girls basketball team's dedication to make this year memorable – working hard over the summer to make this year's trip to the SunDome reality. Teammate after teammate point to Taylor and the hard work and dedication she's given to the team and the inspiration she's become – becoming an all-league selection.
When Colfax coach Corey Baerlocher talked to the Yakima Herald-Republic, giving the defending state champion's perspective on who might win this year's tournament, he pointed out Ashlee Taylor as a major difference maker.
"I think we all worked really hard to make this year happen," Taylor said. "We have a big senior class and we're a close-knit team. We all just decided to dedicate ourselves to being the best team we can be."
The dedication isn't limited to players.
Jesica Jackson has been doing double duty at state.
Jackson plays the drum in the Freeman pep band – when she's not out in front of it as a cheerleader.
"I love doing both," she said. "But it does make for a busy halftime!"
Wednesday afternoon, for example, that meant doing a choreographed dance routine with the cheer squad, then dashing to the stands to play during the band's mid-game performance.
And there was no place any of them would rather be.
Local journalism is essential.
Give directly to The Spokesman-Review's Northwest Passages community forums series -- which helps to offset the costs of several reporter and editor positions at the newspaper -- by using the easy options below. Gifts processed in this system are not tax deductible, but are predominately used to help meet the local financial requirements needed to receive national matching-grant funds.
Subscribe now to get breaking news alerts in your email inbox
Get breaking news delivered to your inbox as it happens.
---