Sports
Send Ichiro home
Sat., March 5, 2005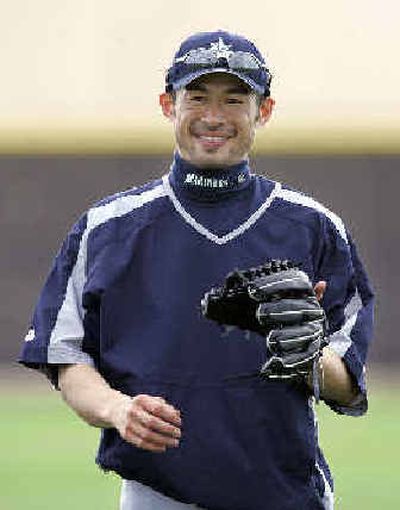 PEORIA, Ariz. – What's in a number?
Well, admiration for one. Fascination for another. Humor and bewilderment for a third. This particular number generated all of those human emotions in the Emerald City and throughout baseball a season ago, and it stirs those same sentiments even as 2005 beckons.
In baseball, numbers are everything. And this one – 262 – will take its rightful place in the sport's pantheon with 73, 755, 4,256, 2,632 and 56. It will be the number always associated with Seattle Mariners right fielder Ichiro Suzuki, who lined, slapped and sprinted his way to more hits in a single season than any player before him.
But it's not the number upon which Ichiro or his teammates seem focused this spring.
"I'd sure like to get him the runs-scored record," new teammate Richie Sexson said.
Indeed, the number that precedes 262 on Ichiro's 2004 stat line is 101. It represents the number of times Ichiro crossed home plate in 2004, and when you mix those two numbers together, you understand how still a third number – 99, as in losses – defined the Mariners' season.
"Obviously, Ichiro had a tremendous year, a magical year," second baseman Bret Boone said. "But the problem was that as much as he was getting on base, we had that much trouble getting him home. If we'd had even a couple of guys have good years, it would've been a different story, but it was just one of those years where everybody seemed to go bad at the same time."
Well, everybody but Ichiro. He got his first hit on Opening Night and collected at least one in all but 27 of the 161 games he played en route to breaking George Sisler's 84-year-old record of 257.
He led the majors with a .372 average and finished with 46 more hits than American League runner-up Michael Young of Texas, the largest differential between Nos. 1 and 2 in major league history.
So what to do for an encore? Let's assume collecting 300 hits is an absurd thought. Hitting .400 for a season isn't, but given that Ted Williams was the last .400 hitter – he posted his own magical number, 406 – some 64 years ago, that may not be in the stars, either.
"I'm not going to say he couldn't do it," Boone said. "But you're talking about a lot of hits. … I look at a guy who's the greatest hitter I've ever seen, and maybe the greatest ever, in Barry Bonds, and he hasn't done it, and he walks 200 times a season. So if he can't do it …
"And Ichiro doesn't walk a lot. It's not his style and never has been, and he shouldn't change that."
Simply put, any Ichiro walk is the equivalent of free money. It happened 49 times last season (he also was hit by a pitch four times). But if 315 appearances on base is adding up to only 101 runs, well, that's not a good rate of return.
Enter Sexson and third baseman Adrian Beltre, two big boppers whom the Mariners added for a combined $114 million over the winter. Beltre (five years, $64 million) tied a major league record for third basemen with 48 homers a year ago and drove in 121 runs for the Los Angeles Dodgers. Sexson (four years, $50 million) hit nine homers in 23 games before a slight tear of his right labrum ended his season with Arizona, but he averaged 39 homers and 117 RBIs in the three previous seasons with Milwaukee.
"It was an amazing thing Ichiro did," Sexson said. "But if it doesn't result in runs, then that's a problem. But the way our lineup shapes up now, I don't see that happening again."
Which leads us to this number: 177. It's the number of times Babe Ruth crossed home plate in 1921 and remains the modern-day record. It's 84 years old, the same age that Sisler's mark was at this time a year ago.
Symmetry?
"That's a lot of runs," Ichiro said through a translator. "It's too many to think about now. I can't set that goal."
He didn't set out with 262 as a goal, either. That's the great thing about it, too, because what's in a number is the drama that leads to it.
Local journalism is essential.
Give directly to The Spokesman-Review's Northwest Passages community forums series -- which helps to offset the costs of several reporter and editor positions at the newspaper -- by using the easy options below. Gifts processed in this system are not tax deductible, but are predominately used to help meet the local financial requirements needed to receive national matching-grant funds.
Subscribe to the sports newsletter
Get the day's top sports headlines and breaking news delivered to your inbox by subscribing here.
---