News > Spokane
Volcano sends up ash plume
Wed., March 9, 2005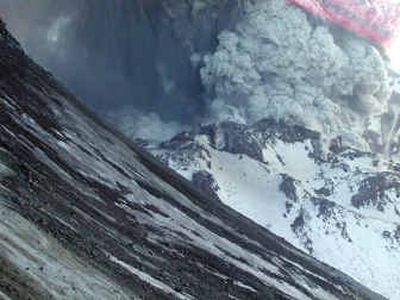 MOUNT ST. HELENS, Wash. – A plume billowing thousands of feet into air slowly drifted to the northeast Tuesday as Mount St. Helens released a towering column of steam and ash.
The explosion happened around 5:25 p.m., about an hour after a 2.0 magnitude quake rumbled on the east side of the mountain, said Bill Steele, coordinator of the Pacific Northwest Seismograph Network at the University of Washington.
The National Weather Service issued an ashfall advisory after pilots reported spotting ash higher than 30,000 feet, National Weather Service meterologist Danny Mercer said.
Hours after the burst, the Weather Service received reports of light ash falling across the Yakima Valley, roughly 75 miles east of the mountain. Late Tuesday, the ash cloud continued to slowly drift east, across Yakima and Kittitas County.
Steele said he did not believe the explosion had increased the risk of a significant eruption and noted that recent flights over the volcano's crater did not reveal high levels of gases.
"We don't expect another explosion," said Peggy Johnson, a UW seismologist.
The volcano has vented ash and steam since last fall, when thousands of small earthquakes marked a seismic reawakening of the 8,364-foot mountain.
Steele said Tuesday's ash burst may have been triggered by partial collapse of a lava dome in the crater, which has been growing steadily over the last several months. "Until we get a better view in the crater we won't know," he said.
Johnson said there had been no increase in quake activity before the explosion. "The seismicity had been continuing just as it had been," she said.
Geologists have said there is little chance of anything like the massive explosion that blew off the top of the peak on May 18, 1980, killing 57 people and covering the region with gritty ash.
Mount St. Helens rumbled back to life Sept. 23, with shuddering seismic activity that peaked above magnitude 3 as magma broke through rocks in its path. Molten rock reached the surface Oct. 11, marking resumption of dome-building activity that had stopped in 1986.
Scientists have said a more explosive eruption, possibly dropping ash within a 10-mile radius of the crater, is possible at any time.
Local journalism is essential.
Give directly to The Spokesman-Review's Northwest Passages community forums series -- which helps to offset the costs of several reporter and editor positions at the newspaper -- by using the easy options below. Gifts processed in this system are not tax deductible, but are predominately used to help meet the local financial requirements needed to receive national matching-grant funds.
Subscribe now to get breaking news alerts in your email inbox
Get breaking news delivered to your inbox as it happens.
---