Sports
Crucial bench marks
Thu., March 10, 2005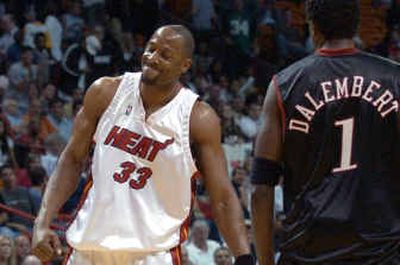 FORT LAUDERDALE, Fla. – Others with his resume might have agonized about accepting a reserve role. Yet after years of fractured feet and shattered plans, Bill Walton, nearly 33, was grateful for any good break.
"I begged, pleaded and ultimately fought my way onto a championship team," Walton said, recalling the 1985 trade sending him from the struggling Los Angeles Clippers to the contending Boston Celtics for Cedric Maxwell and a first-round pick. "My job was to be Larry Bird's valet. And I wanted it. My whole life was about the dream of being part of something special."
The former league and Finals MVP helped make it so, winning the NBA's Sixth Man Award with averages of 7.6 points, 6.8 rebounds, 2.1 assists and 1.3 blocks in 19.3 minutes, while backing up Robert Parish and Kevin McHale. Boston won the title, which was Walton's second. Bird, owner Red Auerbach and all of New England won his eternal gratitude.
"For giving me not just my career back, they gave me my life back," said Walton, now an ABC and ESPN analyst. "The chance to sit on the bench and watch great players deliver every night, the Celtics were my boyhood dream team, Bill Russell was my favorite player. To be in Boston Garden, with fans chanting, 'Larry, Larry,' there's nothing like it."
How close can Alonzo Mourning, who has started his second Miami Heat stint, come to duplicating it?
Mourning, 35, is also past his prime, has overcome uncommon adversity and has been pushed to keep playing by a passion only he truly understands.
Can he embrace and enjoy his reduced role as much as Walton embraced and enjoyed his? Will a ring result?
Walton deems Mourning's addition critical for the Heat keeping pace with the Detroit Pistons, still his team to beat. He expects Mourning to relish one last opportunity in this game the stars can never quite leave, whether finding work in television, the front office or back on the court.
The Heat is hoping Mourning can contribute much like Walton did, if over a shorter stretch, since nearly three-fourths of the regular season is gone. It sees him spelling Shaquille O'Neal for about 15 minutes per game, with rebounding, low-post scoring and defensive intensity. It also expects to see the proud, strong-willed man graciously accept roles on the court and in the locker room that are much reduced from those he filled from 1996 through 2002.
In a sense, Mourning's situation is unique: Never has a franchise's former frontman returned in a reduced role for a serious championship chase, after something so traumatic as a kidney transplant. Still, there is some positive precedent for each individual circumstance. Sean Elliott performed well after a transplant. David Robinson and Reggie Miller, long-time franchise icons in San Antonio and Indiana, respectively, successfully slipped behind new stars on those teams. Walton, Bob McAdoo and Mychal Thompson warmed to reserve roles on contenders after prolific runs as starters.
It takes a selfless mentality, as well as acute recognition of one's basketball mortality.
Thompson was 32 when the Lakers acquired him with 33 games left in the 1986-87 season, to fill the "Walton role" – in this case, resting Kareem Abdul-Jabbar and A.C. Green. Like Walton, Thompson had been a No. 1 overall draft pick. Like Walton, he didn't mind getting his minutes cut as long as he could get a cut of a championship.
Which he got.
"It's a great opportunity for Zo at this stage of his career, just like it was for me," said Thompson, a Miami Jackson High graduate and current Lakers TV analyst. "He will feel rejuvenated, reborn, being around great players. I enjoyed it so much."
Robinson had won a scoring title and a league MVP, but no championship, until Tim Duncan arrived. Robinson settled in as the second option on the 1998-99 champions, and the fourth on the 2002-03 champions, when he supplemented 8.5 points with leadership and defense.
"It was easy," Robinson said. "All those guys could do their jobs well, and I just did mine. I think Alonzo will just be happy to be on a team that has a chance to win, and he'll do whatever it takes. At a certain point, winning is all that matters. The guys who retire without a ring will tell you."
McAdoo had won three scoring titles and a league MVP, but never a championship, until joining the Lakers in 1981 at age 30 and putting his ego aside.
"I got into that mindset because I had been on three bad teams before that," said McAdoo, now a Heat assistant coach. "I was frustrated. It was time for me. I had already done everything in Buffalo and New York. And I was ready to play on a team that had more players, because I wanted to win a championship. Now, if I had been 26, 25, no way I would have accepted coming off the bench."
Especially because "I was a superior player to the guy (Kurt Rambis) playing in front of me."
McAdoo averaged 9.6 points in 18.1 minutes per game. "I became that special piece that got them over the hump," he said. "Hopefully, (Mourning) can do that for us."
Local journalism is essential.
Give directly to The Spokesman-Review's Northwest Passages community forums series -- which helps to offset the costs of several reporter and editor positions at the newspaper -- by using the easy options below. Gifts processed in this system are not tax deductible, but are predominately used to help meet the local financial requirements needed to receive national matching-grant funds.
Subscribe to the sports newsletter
Get the day's top sports headlines and breaking news delivered to your inbox by subscribing here.
---