News > Spokane
Pilot in Glacier crash lost his course
Thu., March 10, 2005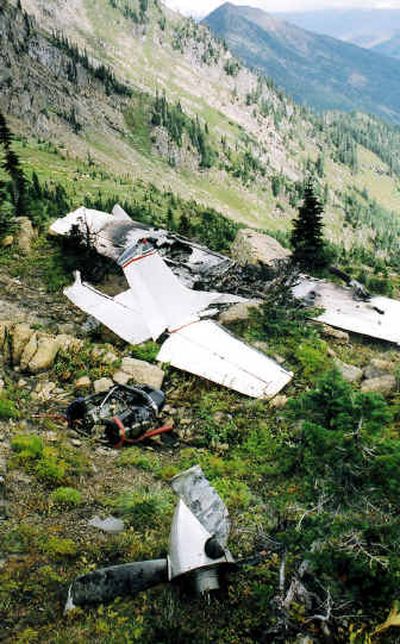 BILLINGS – A pilot ferrying four U.S. Forest Service workers to the backcountry near Glacier National Park last September had limited experience flying in the wilderness in poor weather and strayed from his intended course before he crashed, the agency said Wednesday.
The Forest Service, in its preliminary report on the Sept. 20 crash, said it would review procedures for backcountry flying, including the level of experience required of contract pilots.
The crash killed pilot Jim Long and two of the four Forest Service workers on board. Two others survived and walked out of the wilderness to safety, despite serious injuries.
Randy Moore, an accident investigator for the Forest Service, said agency investigators were charged with reviewing administrative procedures leading up to the crash and during the search and rescue operation to "learn from what happened and to improve our safety procedures for the future."
Determining the cause of the crash is up to the National Transportation Safety Board, which expects to issue its final report later this year.
The Forest Service chartered the Cessna 206 to take four workers to a backcountry air strip near Glacier to conduct a vegetation survey and work on telecommunications equipment.
Weather that day was constantly changing, with thunderstorms and intermittent poor visibility. Long, described by the agency as "highly skilled" but "limited in documented experience in this terrain in marginal weather conditions," had delayed the flight once for better weather, but eventually took off around 3 p.m.
He had intended to use a major highway and a river drainage as reference points along the way, but the investigation concluded he turned up the wrong canyon, one that was much steeper.
When Long radioed he was over the small town of Essex and inbound to the backcountry landing strip, investigators said, he was actually about five miles north of Essex. Witnesses there reported seeing a small airplane flying up a different drainage.
Investigators later found the charred wreckage in that drainage. Three of those aboard – Jodee Hogg, Matthew Ramige and Ken Good – made it out of the plane, but Good later died of injuries. Also killed along with Good and Long was Davita Bryant.
Hogg and Ramige emerged from the wilderness two days later after walking several miles from the crash site – injured and having maneuvered rocks, logs and rough terrain – to reach a road and flag down motorists for help.
The investigative team said Long's paperwork showed he had spent 100 hours flying in "typical terrain," while the Forest Service contract required 200 hours. The report, however, said that there was no clear definition of "typical terrain," and there were no specific contract requirements for backcountry training.
In addition, Moore said, a Forest Service flight inspector approved Long after an interview and test flight.
The charter company, Edwards Jet Center, had no documented training program for backcountry operations, according to the report. A telephone message left for a company spokesman was not immediately returned.
In addition to reviewing requirements for backcountry pilot experience, the agency also plans to look at protective gear requirements for backcountry flights.
Local journalism is essential.
Give directly to The Spokesman-Review's Northwest Passages community forums series -- which helps to offset the costs of several reporter and editor positions at the newspaper -- by using the easy options below. Gifts processed in this system are not tax deductible, but are predominately used to help meet the local financial requirements needed to receive national matching-grant funds.
Subscribe now to get breaking news alerts in your email inbox
Get breaking news delivered to your inbox as it happens.
---