News > Nation/World
Pope blesses crowd from hospital window
Thu., March 10, 2005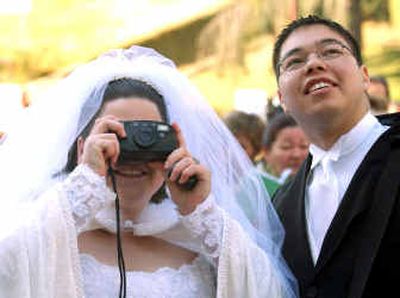 VATICAN CITY – When the crowd calls, Pope John Paul II can't resist.
With several hundred people, including singing children, gathered beneath his 10th-floor hospital suite, the frail pontiff appeared at a window Wednesday to wave and give the sign of the cross.
The brief appearance was his third since he was rushed back to Rome's Gemelli Polyclinic for throat surgery nearly two weeks ago and came as a surprise – his spokesman had said he had no plans to do it.
The 84-year-old pontiff appeared shortly before noon on a day when he traditionally holds his weekly public audience at the Vatican, an event that draws thousands of pilgrims.
John Paul's left hand trembled as he clasped his hands together, but he waved and made the sign of the cross with a steady right hand. The pope suffers from Parkinson's disease, which causes a gradual loss of muscle control.
The Vatican says the pope has been recuperating well since the Feb. 24 surgery and is expected back at the Vatican in time for Palm Sunday, March 20, the start of Holy Week leading to Easter.
The large crowd of well-wishers gathered at Gemelli hospital cheered as the curtains parted and John Paul came into view, shouting: "The pope! The pope!" and "He is blessing us!"
The pope wore purple vestments and sat behind a window that remained closed to keep out the unseasonably chilly air.
"Ever since I was a little girl, I wanted to see the pope," said Eva Polyaka, a 15-year-old from Poland. "Today, my dream came true."
"We came for his blessing and we got it," said Darlene Marquez of New Mexico, dressed in a wedding gown with her new husband, Christopher Marquez.
With Romans closely following John Paul's convalescence, Mayor Walter Veltroni announced the city plans a fireworks display on the pope's 85th birthday May 18.
"It will be like all Romans popping champagne corks together," Veltroni said.
John Paul has spent nearly two weeks at Gemelli, where he is resting and doing speech and breathing exercises following surgery to insert a tube in his windpipe and ease his latest health crisis.
Local journalism is essential.
Give directly to The Spokesman-Review's Northwest Passages community forums series -- which helps to offset the costs of several reporter and editor positions at the newspaper -- by using the easy options below. Gifts processed in this system are not tax deductible, but are predominately used to help meet the local financial requirements needed to receive national matching-grant funds.
Subscribe now to get breaking news alerts in your email inbox
Get breaking news delivered to your inbox as it happens.
---